Leaderboarding: Players with 100+ extra-base hits in a season
Only 15 times in history has a player recorded triple-digit extra-base hits in a single season. Here's the list.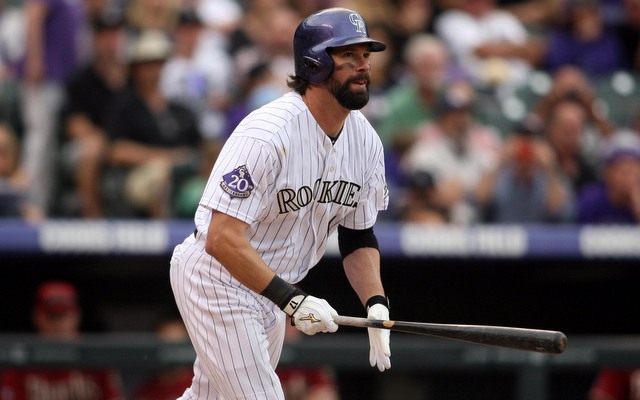 Earlier today, as part of our All-Time Single-Season Team series, I noted Albert Belle became the first and still only player in baseball history to rack up 50+ doubles and 50+ home runs in a single season back in 1995. Add one triple to his 52 two-baggers and 50 homers and you get 103 extra-base hits total, tied for the sixth most all-time.
Recording triple-digit extra-base hits in a single-season is a rarity. It has only been done 15 times in history by 12 different players, and no one has ever done it more than twice. You're talking about five extra-base hits for every eight games played during the season at a minimum. There's a reason it has only happened 15 times in history and only six times since 1950. Here's the 100 extra-base hit club:
Players with 100 Extra-Base Hits in a Season
Player
XBH
2B
3B
HR
ISO*
Babe Ruth, 1921 Yankees
119
44
16
59
.469
Lou Gehrig, 1927 Yankees
117
52
18
47
.392
Barry Bonds, 2001 Giants
107
32
2
73
.536
Chuck Klein, 1930 Phillies
107
59
8
40
.301
Todd Helton, 2001 Rockies
105
54
2
49
.349
Sammy Sosa, 2001 Cubs
103
34
5
64
.409
Helton, 2000 Rockies
103
59
2
42
.326
Albert Belle, 1995 Indians
103
52
1
50
.374
Stan Musial, 1948 Cardinals
103
46
18
39
.326
Hank Greenberg, 1937 Tigers
103
49
14
40
.332
Klein, 1932 Phillies
103
50
15
38
.298
Rogers Hornsby, 1922 Cardinals
102
46
14
42
.321
Luis Gonzalez, 2001 Diamondbacks
100
36
7
57
.363
Jimmie Foxx, 1932 Athletics
100
33
9
58
.385
Gehrig, 1930 Yankees
100
42
17
41
.353
* ISO is isolated power, which is simply slugging percentage minus batting average. It removes singles to give you extra-bases per at-bat. The 2013 MLB average was .143 ISO, for reference.
Some observations and minutiae:
• 1932 Chuck Klein holds the distinction of posting the lowest slugging percentage in a 100 extra-base hit season at a mere .646. Slacker. Belle had the fewest total bases at 377.
• Not only did two players (Klein and Foxx) record 100 extra-base hits in 1932, they did it in the same city. The Athletics didn't move from Philadelphia to Kansas City until 1955.
• Three players cracked 100 extra-base hits in 2001 and all three have been connected to performance-enhancers: Bonds and Sosa have been linked to banned substances while Helton played in the friendly confines of Coors Field. Thin mountain air enhances performance, no? Helton is the only player in history with back-to-back seasons of 100 extra-base hits.
• Gonzalez probably qualifies as the most random 100 extra-hit man. Aside from that big 2001 season, he never recorded more than 80 extra-base hits in a season and only four times did he top 70+. Every other one of those players is either in the Hall of Fame, has an excellent Hall of Fame case, or remained on the ballot for multiple years. Gonzalez fell off the ballot this year after receiving only five votes (0.9 percent).
• Ruth and Gehrig are just so fascinating. They're the only players in history with 110+ extra-base hits in a season and they're two of the 10 greatest players ever. Maybe two of the of the top five. Yet they were on the same team at the same time for nearly their entire careers. Crazy.
• If you're curious, here's the list of players with exactly 99 extra-base hits in a season. Seven guys have done it a total of eight times (Ruth did it twice), most recently Derrek Lee with the 2005 Cubs.
Show Comments
Hide Comments
Our Latest Stories
Alonso High School now has its collection of Fernandez jerseys intact

Ground-rule double or not? It's complicated, and so's challenging a play at the end of a g...

Rain cut things short in Pittsburgh on Thursday night, so nobody won
Here's a look at the postseason race standings with four days left in the regular season

A certain Yankee legend was on hand to honor Big Papi before his final appearance at Yankee...

The outfield grass will be looking good for David Ortiz's final regular season appearance in...