Leyland revived the Tigers, but knew now that it was time to go
Jim Leyland turned around a Tiger team that hadn't won for years. But when he saw that his energy wasn't the same, he decided it was time to go.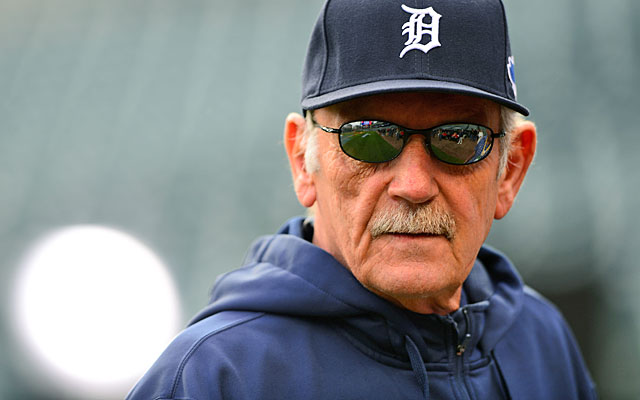 The question eight years ago was whether Jim Leyland still had the fire.
Eight years and one completely revived franchise later, it's more than clear that he did have it. But as every season wore down, Leyland asked himself the same question.
The answer this time was different.
When the Tigers were eliminated Saturday night in Game 6 against the Red Sox, Leyland told his team what some Tigers people had already suspected. After an eight-year run with the Tigers that included two trips to the World Series and four to the American League Championship Series, Leyland decided it was time to go.
Leyland told his players he had known for about a month, even citing a specific day -- Sept. 7 -- when he made the decision, a person in the room said Monday morning. He asked the players and staff to keep quiet over the weekend, not wanting to take any attention away from the Red Sox winning the pennant.
Leyland will turn 69 in December, but this was never going to be about a number. The Tigers have fallen short of the ultimate goal of winning a World Series for owner Mike Ilitch, but this was never going to be completely about wins and losses, either.
The question was always going to be the one Leyland had to answer in that first job interview the day after the 2005 season ended: Did he still have the fire?
In his meeting with the team late Saturday night, Leyland said he just didn't have the energy to continue doing the job the right way.
"The fuel's getting a little low," Leyland said during an emotional Monday press conference.
Leyland said he'll remain in the Tigers organization, with a job title still to be determined. But he didn't feel right continuing as manager, even though the Tigers had made clear that he was welcome to stay on in the job.
With energy, Leyland was one of the best managers in the game, the one who took a 100-loss Pirates team and turned it into a three-time division winner, the one who brought the expansion Marlins their first World Series title, and the one who engineered the turnaround in Detroit.
The Tigers were always special to Leyland, who grew up just outside Toledo, in Perrysburg, Ohio. He wasn't a Tigers fan as a kid, but he became one when he signed with the team out of high school. Leyland managed six years in the Tigers' minor-league system, leaving only because Tony La Russa offered him a job as a big-league coach with the White Sox (and only because the Tigers wouldn't match the offer).
He and La Russa remain the closest of friends, and Leyland's decision to leave now is reminiscent of La Russa's decision to leave the Cardinals two years ago.
Leyland left managing once before, walking away from the Rockies after just one year and leaving a significant amount of money on the table. He just felt it wasn't right, that he wasn't doing the job right, that he didn't seem to have the energy to do it right.
That was in 1999. The Tigers called six years later.
They were firing Alan Trammell after three years and 300 losses. They were ready to spend more money, and Ilitch was determined to try to win a title.
Leyland drove to Detroit from his Pittsburgh home for a job interview that might as well have included just one question. He had the job, as long as he convinced general manager Dave Dombrowski (also his boss with the Marlins) that the fire and energy were there.
He proved it to Dombrowski that day, and proved it to his team for eight seasons. He took over a Tigers team just three years removed from 119 losses, a team that hadn't even had a winning season since 1993 and hadn't made the playoffs since 1987.
In 2006, Leyland's first year, the Tigers made the World Series before losing to La Russa's Cardinals. His next seven years in Detroit included just one losing season (2008), and a trip back to the World Series last year.
"My moments here, they're priceless," Leyland said. "What's going on here has been unbelievable."
His final team won 93 games and a third straight division title, but fell short in a close series with the Red Sox.
"This one hurt," Leyland said. "I really felt like we let it get away. I felt like the Detroit Tigers should be playing here [in the World Series] tomorrow."
But long before the ALCS began, Leyland had decided this was it, either way.
He was ready to go.
Show Comments
Hide Comments