Local radio station launches 'Save Tampa Bay Baseball' campaign
With their favorite team stuck in a dreadful lease with the city of St. Petersburg, a local radio station is rallying to "Save Tampa Bay Baseball."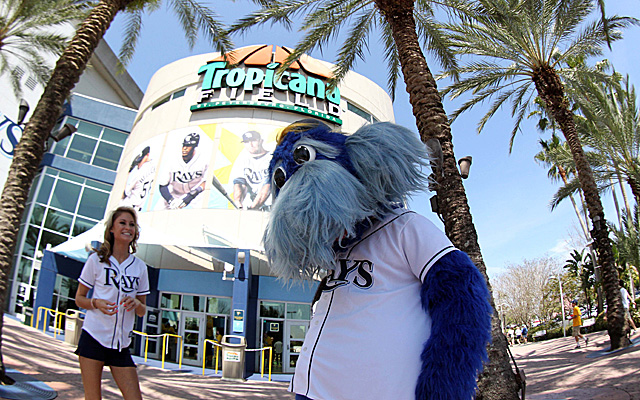 More MLB: Scoreboard | Standings | Probable Pitchers | Sortable Stats | Odds
The Tampa Bay CBS radio affiliate 98.7 The Fan is putting together a petition to "Save Tampa Bay Baseball." Click here to get through to the petition and sign it.
Here are the details:
It's unfathomable to think that Tampa Bay may soon be without a major league baseball team, but it's a VERY real possibility – and one we won't accept.

Major League Baseball is making demands and so are we!

If you're a Fan or a local business owner who wants to show your support, sign the petition below and do your part to help keep the Rays where they belong, right here in the Bay area.

Then, we'll do our part by delivering the message to Major League Baseball: we love our baseball team and we want to keep it right here, where it belongs!

Join Booger and Rich on Thursday afternoon from 3pm to 7pm for their Save Tampa Bay Baseball rally at Ferg's Sports Bar (1320 Central Avenue St. Peterburg, FL. 33705)! Show your support and tell Major League Baseball that you value baseball in the Tampa Bay community+!!!

Look for the Fan Event Team to get your Save Tampa Bay Baseball sticker or stop by the Fan studios during business hours. If you are a business owner who wants to show support with your Save Tampa Bay Baseball window sticker, then send us your business name and mailing address by clicking here, and we'll send you a decal so you can proudly show your support for big league ball in our community!
Despite possibly making the playoffs for the fourth time in the past six seasons -- a stretch that would make almost any ballclub, save for a handful or so, jealous -- the Rays rank dead last in attendance in the majors this season.
Heading into Tuesday, the Rays have drawn an average of 18,719 fans per game. They even trail the Marlins (19,244) and Astros (19,595).
The culprit would be Tropicana Field, both the location and the state of the stadium. Unfortunately, the Rays are trapped in a lease with St. Petersburg, which is set to keep them in The Trop through the 2027 season. If it's not a dump by today's standards (it is), then it will be utter dregs by then.
Obviously from there, the next question is would the Rays move before seeing the lease through? It's possible, though there hasn't been much substantive conversation about it to this point. In fact, earlier this season Rays owner Stuart Sternberg told foxsports.com that it is "very unrealistic" to see the Rays leaving the Tampa Bay area.
Still, I have no issue with the sentiment that something needs to be done. That club the Rays are putting on the field on a consistent basis deserves more in-person fan support during home games.