Lohse's price is dropping; wants to at least match Dempster's deal
Free agent right-hander Kyle Lohse wants to at least match Ryan Dempster's contract with the Red Sox. His price continues to drop as the season nears.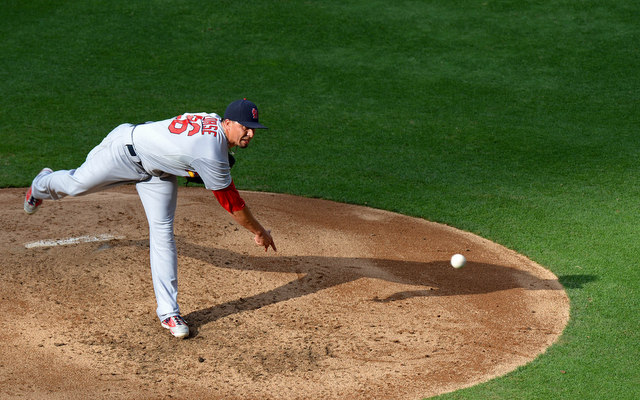 Although he went 16-3 with a 2.86 ERA last season, right-hander Kyle Lohse remains unsigned with just 10 days to go before the start of the season. There's no shortage of teams in need of pitching help, but apparently a satisfactory offer still hasn't come along.
A week into spring training, Lohse was seeking three years and $45 million, Jeff Passan of Yahoo! Sports reports. But the price continues to drop. Meanwhile, Ken Rosenthal of Fox Sports hears the Scott Boras client wants to at least match Ryan Dempster's two-year, $26.5 million contract with the Red Sox. Lohse turned down a $13.3 million qualifying offer from the Cardinals early in the offseason, so whatever team signs him will be required to forfeit a high draft pick.
Lohse, 34, is working out at home in Scottsdale, Ariz., and is facing college hitters in simulated games, according to Jeff Wilson of the Fort Worth Star-Telegram. He's been following a normal spring training schedule and could presumably step right into someone's rotation come opening day. The Rangers, Rockies and Brewers all remain in contact with the righty.
Lohse went through a similar ordeal before the 2008 season, when he had to wait until March 13th to sign with St. Louis. He was coming off a 9-12 record with a 4.62 ERA for the Reds and Phillies in 2007, but he was also just 28 years old and right in the prime of his career. Lohse took a one-year deal with the Cardinals and parlayed it into a four-year extension.
Show Comments
Hide Comments