Lonnie Chisenhall's breakout campaign a nice little reminder
Lonnie Chisenhall was once a highly-touted prospect. A few years later he's "finally" having his breakout season. It lends hope to others who still aren't too old (Mike Moustakas, maybe?).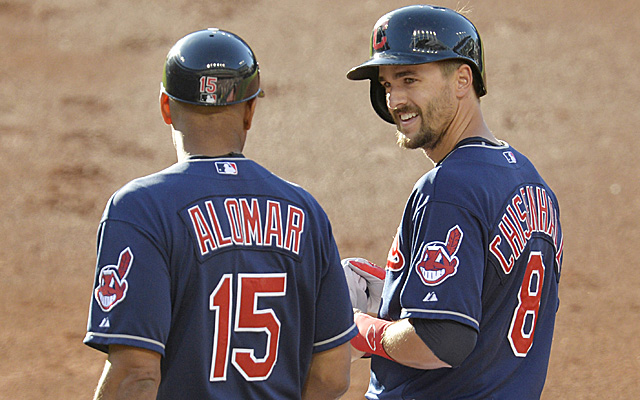 More MLB: Power Rankings | Expert Picks | Latest news & notes | Fantasy news
Earlier this week, Indians third baseman Lonnie Chisenhall got all stupid up in the Rangers, going 5-for-5 with a double, three homers and nine RBI. It got everyone's attention and then he followed it up with a pair of two-hit games, but the thing is, he was already in the midst of a breakout season. His triple slash line prior to Monday's explosion was .365/.413/.538.
As things stand, Chisenhall leads the majors with a .393 batting average (an almost-60 point lead over everyone not named Troy Tulowitzki , who himself trails Chisenhall by 37 points). He's also boasting a .438 on-base percentage (2nd in AL), .619 slugging percentage (6th in AL), 17 doubles (10th in AL), seven homers and 32 RBI in just 189 plate appearances.
We're talking about a guy who entered the season with 203 career games played in the majors, in which he hit .244/.284/.411.
So he must be a fluke and is destined to flop, right? Well, no. I mean, obviously he's not gonna hit .390 and he'll have a slump or two, but there's plenty of talent in Chisenhall. He was a first-round pick in the 2008 draft and was ranked as a top-40 prospect before the 2010 and 2011 seasons by multiple outlets. He hit well at every stop in the minors and, in fact, owns a career line of .305/.374/.506 in Triple-A. It's just that up until this season, Chisenhall hadn't yet put everything together in the majors. Oh, and one more thing ...
Chisenhall is only 25 years old.
Names like Mike Trout (debuted at 19) and Bryce Harper and Manny Machado (20) and Giancarlo Stanton in recent years have a tendency to cloud our judgement of other young players who don't immediately stick in the majors and instead take a few years to develop. All of those players debuted at an insanely young age and have already been All-Stars. They are the exception, not the rule.
The average age of Triple-A players? Around 26. Double-A? Around 24. In order to find the average age in the 21 range in the minors, you need to dip down to Low-A. While, yes, career minor-leaguers skew the average ages a bit, the fact remains that a 22-24 year old major leaguer playing poorly is pretty ordinary. It happened with Chisenhall and now he's playing like an All-Star.
It happens all the time. We don't even have to leave the division for another recent example. Alex Gordon was the second overall pick in the 2005 draft and widely considered the top prospect in all of baseball heading into the 2007 season. After four years of disappointing and shuttling back-and-forth between the majors and minors, Gordon had a breakout season in 2011 -- at age 27 -- and has remained one of the league's better players since.
This got me thinking about another Royal, third baseman Mike Moustakas . Like Gordon, he was the second overall pick (2007 in Moustakas' case). Moose was a consensus top 10 prospect entering the 2011 season and though he already has a 20-homer season to his credit (2012), he has largely disappointed and already had a Triple-A stint earlier this year.
Of course, Moustakas is still only 25. He's actually 5-for-14 (.357) with a double and homer in his last four games, so maybe it's the start of a turnaround. Even if it's not, there's still time for his talent to prevail. Look no further than Chisenhall and Gordon.
While we're here, I thought I'd list a few prominent players and their respective ages, just to keep in perspective how young some of them are. Ages listed are as of June 30, because that's their "official" age for the 2014 season. I'll keep this among position players, just to stick with this specific discussion. We'll also show guys 23-and-younger, because around 24 the list would start to get too long.
23 year olds
Nolan Arenado , Rockies
Nick Franklin , Mariners
Billy Hamilton , Reds
Wil Myers , Rays
Marcell Ozuna , Marlins
Yasiel Puig , Dodgers
Kolten Wong , Cardinals
Mike Zunino , Mariners
22 year olds
Nick Castellanos , Tigers
Chris Owings , Diamondbacks
Gregory Polanco , Pirates
Jonathan Schoop , Orioles
Jonathan Singleton, Astros
Oscar Taveras , Cardinals
Mike Trout, Angels
Christian Yelich , Marlins
21 year olds
Xander Bogaerts , Red Sox
Bryce Harper, Nationals
Manny Machado, Orioles
Jurickson Profar , Rangers
20 year olds
Rougned Odor, Rangers
Yes, Machado is still the seventh youngest player in all of baseball. Harper is third.
Just remember -- if any of the above struggle at any point -- how far ahead of the curve they already are for their respective ages. Players like Chisenhall and Gordon prove that patience can be a virtue. To be clear, I'm not saying to keep the guys in the minors. I'm saying not to give up on them too easily if they struggle in the show. Just listen to Axl Rose. All we need ... is just a little Patience.
Show Comments
Hide Comments