LOOK: The Red Sox are at the Jays' game, and they have good seats
Can you identify the three Red Sox players enjoying these plum seats at Monday's A's-Blue Jays game?
More MLB: Scoreboard | Standings | Probable Pitchers | Sortable Stats | Odds
So look who's enjoying some primo seats at Monday's Athletics-Blue Jays game (visual-aid arrows -- ranging in hue from blood-red to safety-orange -- helpfully included) ...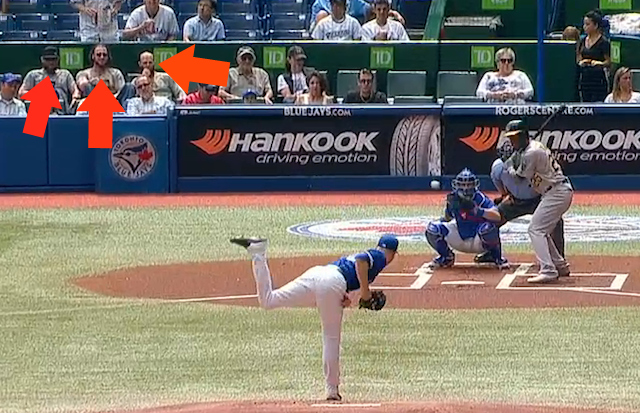 The discerning observer has already identified the three baseball-going gentlemen in question as -- from left to right -- Jonny Gomes, Jarrod Saltalamacchia and Dustin Pedroia. Crack Internet research reveals that these three gentleman all play for the Red Sox of Boston, who, it should be noted, are in Toronto for a three-game set that begins Tuesday.
To be fair, though, the guy in the middle might actually be Steven Hyde.
UPDATE: So Twitter-goers and the Blue Jays broadcast tell us that's Rush front man Geddy Lee two spots to the right of Mr. Pedroia. Excelsior!
(Wink of CBS eye: Our own Danny Knobler, who brought this to our attention)
Show Comments
Hide Comments