Looking at Barry Bonds' complicated Hall of Fame candidacy
Barry Bonds was a historically great player who did things on a baseball field that have never been done before. Alleged PED use has complicated his Hall of Fame case.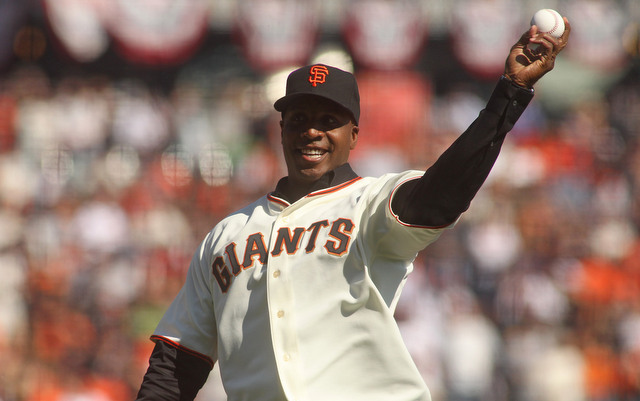 Hall of Fame cases: Luis Gonzalez | Moises Alou | Lee Smith | Fred McGriff | Don Mattingly | Jack Morris | Rafael Palmeiro | Sammy Sosa | Edgar Martinez | Jeff Kent | Alan Trammell | Larry Walker | Mark McGwire | Tom Glavine | Frank Thomas | Mike Piazza | Mike Mussina | Curt Schilling | Craig Biggio | Tim Raines | Jeff Bagwell | Roger Clemens
The vote for the 2014 BBWAA Hall of Fame class will be revealed in just one day. As we've been doing for the past several weeks with almost every player on the ballot, we'll now take a look at the cases for and against outfielder Barry Bonds.
THE BARE ESSENTIALS
Bonds played in parts of 22 big league seasons -- seven with the Pirates and 15 with the Giants. He retired as a .298/.444/.607 (182 OPS+) career hitter with 2,935 hits and 1,996 RBI. Bonds is baseball's all-time leader in home runs (762), walks (2,558) and intentional walks (688), and he is second all-time in WAR (162.5) behind Babe Ruth.
Bonds won a record seven MVP awards (1990, 1992-93, 2001-04) and finished second in the voting twice (1991, 2000). He's a 14-time All-Star as well. Bonds never won a World Series but he helped San Francisco to the 2002 NL pennant.
This is Bonds' second year of Hall of Fame eligibility. He appeared on only 36.2 percent of the ballots last year. As a reminder, a player needs to receive at least 75 percent of the vote for induction.
THE CASE FOR INDUCTION
There is really no other way to put this: Bonds is one of the two best position players in baseball history and likely the greatest player many of us will see in our lifetimes. He racked up more career WAR just with the Pirates (50.1) than 43 of the 165 position players in the Hall of Fame had in their entire careers. If Bonds had retired after 10 years -- the minimum needed to be eligible for entry into Cooperstown -- he still would have been the 51st best player in history at 73.7 WAR.
From 2001-04, Bonds had what amounts to the greatest four-year stretch in the history of the universe: .349/.559/.809 (256 OPS+) with an average of 59 home runs, 213 walks, 68 strikeouts and 12.3 WAR per 162 games. Earlier in his career, from 1990-93, he hit .310/.433/.595 (185 OPS+) with an average of 37 homers, 123 walks, 82 strikeouts and 9.8 WAR per 162 games. He had two separate four-year stretches in his career that are among the best four-year stretches in history.
Bonds owns or shares a ton of MLB records, as you can imagine. Here are just a few:
• Most home runs in a single-season (73 in 2001), a single postseason (eight in 2002) and a career (762).
• Most consecutive seasons with 30+ home runs (13 from 1992-2004).
• Highest single-season on-base percentage (.609 in 2004) and slugging percentage (.863 in 2001).
• Most walks (232 in 2004) and intentional walks (120 in 2004) in a single-season.
• Most consecutive plate appearances reaching base (15).
Bonds led baseball in home runs only twice (1993 and 2001) but he won two batting titles (2002 and 2004), 10 on-base percentage titles (1991-93, 1995, 2001-04, 2006-07), seven slugging percentage titles (1990, 1992-93, 2001-04), nine OPS titles (1990-93, 1995, 2001-04) and nine OPS+ titles (1990-93, 2000-04). He also owns the three highest single-season OPS+ marks in baseball history (268 in 2002; 263 in 2004; 259 in 2001).
This tends to get overlooked given his home run production, but Bonds was also an excellent defender and base-stealer, especially earlier in his career. He won eight Gold Gloves and produced 13.0 dWAR (the defensive component of WAR) during the first 13 years of his career, and he also stole 514 bases in 655 career attempts (78 percent success rate). Bonds stole as many as 52 bases in a season (1990) and has nine seasons of 30+ steals. He is one of only four players in the 40-40 club (did it in 1996) and is the only man in history with 400+ homers and 400+ steals in his career.
THE CASE AGAINST INDUCTION
Bonds was a notorious jerk -- especially to the media but occasionally fans as well -- but the only reasonable case that can be made against him as a Hall of Famer involves performance-enhancing drugs. He testified as part of the BALCO scandal in 2003 and was eventually indicted on perjury and obstruction of justice charges in 2007 under allegations he lied under oath about PED use.
During the grand jury testimony, Bonds admitted to using a cream and a clear substance provided by personal trainer Greg Anderson, though he said he was told it was a nutritional flaxseed oil supplement for arthritis. Bonds was convicted of the obstruction of justice charge in 2011 for giving an "evasive answer" while under oath. He was sentenced to two years probation and 30 days house arrest.
In the book Game of Shadows, Bonds was said to have used the banned substance stanozolol and other PEDs. He also appeared in the Mitchell Report but never test positive for PEDs under MLB's official testing program.
---
Bonds is one of the most polarizing Hall of Fame candidates in history. His on-field credentials are beyond reproach but the off-the-field stuff, specifically the alleged PED use, casts a giant cloud over his candidacy.
Wednesday: The cases for and against Greg Maddux. Also, the Hall of Fame announcement at 2pm ET.
Show Comments
Hide Comments