Love of the game: Craig Finn
Eye on Baseball talks to noted Twins fan Craig Finn of the band The Hold Steady about his love of baseball and the relationship between rock 'n' roll and baseball.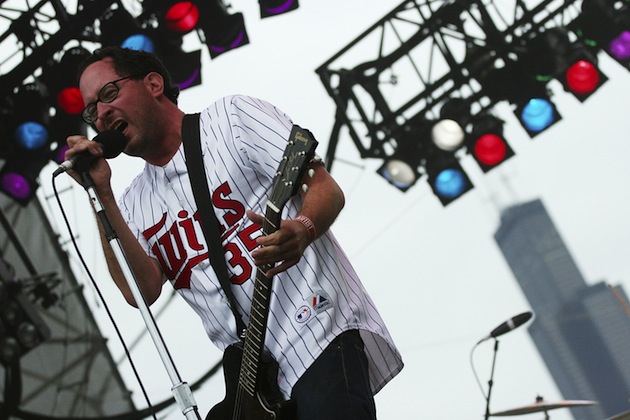 Occasionally we here at Eye on Baseball will take a break from watching baseball and branch out to talking to other people about watching baseball. Today we're talking to Craig Finn, the lead singer of the Hold Steady, who also just released his first solo album,
Clear Heart, Full Eyes
. Finn's been known to wear Twins jerseys on stage and plays a guitar with a Twins sticker. He also
joined the band the Baseball Project for the song, "Don't Call Them Twinkies."
Eye on Baseball: Where did your love of baseball start?
Craig Finn: I started probably with baseball cards. My grandfather owned a company that distributed candy and tobacco, so they had a lot of baseball cards lying around when I was a kid. I'd try to divide them up into all the different teams. When my parents moved to Minneapolis when I was six, I knew the Twins were there and at the time they were in first place and I was moving from Boston and the Red Sox were not in first place -- so we'd be moving to a place with a good baseball team, in my mind. But then they collapsed at the end of the season and didn't make the playoffs. But that's when I started as a Twins fan. And then, of course, '87 was the year I got my drivers license, my first girlfriend and the Twins won the World Series, so that was a pretty good fall.
EOB: Can you rank those three?
CF: Well… you know? I don't want to. My first car, I'll definitely put down at the bottom. The girlfriend, I just went to her wedding this past weekend. I'm feeling good about how it ended with her. Many years later, I was invited to her wedding, so it ended well.
EOB: And you got another World Series…
CF: Yeah -- in '91 I lived in Boston and was in school. So I wasn't as emotionally attached to that one. Even though that's the best Game 7 I've ever seen. It's the best game I've ever seen. But I watched it alone, so I don't have as many fun party memories around that one, I was celebrating on my own. When you look at a lifetime of being a Minnesota sports fan, we have no other championships -- no Super Bowl, no Stanley Cups, no basketball. So those are two pretty special moments. … When I moved to New York, I think [my fandom] got ramped up a bit. For one, I had to listen to Yankee fans, so I got more into my own team. But also the contraction thing, the talk about contraction they had -- that made me sort of angry and made me realize the Twins really are great. They handled that season by making the playoffs and they were calling them the "Contraction Kids" and I really love that team of the early 2000s. Then I have some friends in New York, my lawyer and a couple of other guys, are huge Twins fans. We get together in New York and watch the Twins. It's something that keeps growing.
EOB: Is it almost more fun being a Twins fan in New York just because everyone's a Yankees fan, they win and you can be the underdog…
CF: There's something great -- it's a small group of friends that I'm always keeping in touch with once baseball season rolls around and then we spend a lot of time together.
EOB: When you're on the road, is it almost comforting to be on the road during baseball season because you always have a touchstone?
CF: Yeah. And even with the fans, there's always something to talk about. People ask me about it after shows all the time. You can always watch a game (on the road), but I find it easier to stay at home during baseball season because I have the package at my house and it's a Tuesday night and we've got a game, I'm just going to stay in, watch and make some dinner. It sounds like a good night.
EOB: With MLB.tv you can do it from anywhere on your iPhone and iPad...
CF: It's amazing. With the Hold Steady, Galen (Polivka), our bass player, especially, is a big baseball fan, a Brewers fan, so there's always a lot of baseball talk around the bus. He's a Strat-O-Matic guy and all that, too. If there's a TV available, we have a game on.
EOB: It seems like baseball is almost goes hand-in-hand with the rock star life -- you have the travel, the late nights, the whole thing.
CF: Also, with 162 games, you can't win them all. And that's very artistic, it's very much like a rock band. Some shows are going to be great, some are not going to be your best for a variety of reasons, but you learn to accept them easily.
EOB: And every room is different, every ballpark is different -- it's not 100 yards or 1,000 seats…
CF: Yeah, absolutely. That's a very good point actually.
EOB: You have to know what park you're playing in…
CF: Absolutely. You know it a little bit because you've been there, but you adjust your game accordingly.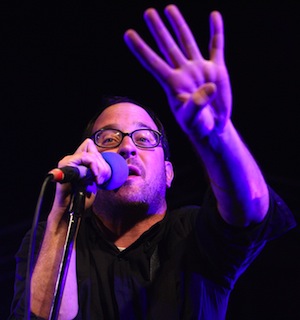 EOB: Is baseball more lyrical than any other sport -- more stories, more time to tell them?
CF: Yeah, that's the part that baseball fans love. I don't know if you know who Will Johnson (of Centromatic) is but his art (available here) has the trivia about the players, and the stories. There's something about the stories that other sports don't have -- I wonder if that has something to do with the travel and down time of baseball.
EOB: I'm assuming you've been at a Twins game at least, where they've played one of your songs, but what was it like the first time you heard your own song at a baseball game?
CF: It was at the Metrodome. The music guy there got in touch with me and knew I was going to be at the game and he played eight Hold Steady songs during the Twins game. And the other music he played was Bruce Springsteen and the Replacements. So I felt like I was being serenaded by my own mix, so it was pretty amazing. I feel like my relationship with Minneapolis is strong. I sing about it a lot and we get good crowds there. There are times where I always feel like I'm really accepted by the city and that was one of them. I've heard (the Hold Steady) once in Target Field. Unfortunately they let that guy go and they used to have amazing music at the dome, they'd play smart music, stuff you don't always hear at the ballpark. I was disappointed they let him go and they got some sort of Top 40 DJ, playing Lady Gaga.
EOB: That's terrible when you have a place like Minneapolis that's so rich in music history.
CF: You want the park to be connected to the city both architecturally and vibe-wise. I thought when I'd go to a game and hear the Replacements, this is what makes our city different. That we really understand what we have musically and honor that. I thought that was unfortunate that it's gone away. But whatever.
EOB: How often on tour do you get to go to games?
CF: The timing can be tough, we've certainly made it work. The Hold Steady we had a pretty good day in Chicago last August, we went to a Cubs game and played the Metro in Chicago, which is one of our favorite rooms. As far as good days go, that's one of them. We do get to do some of that stuff. We go to a number of the parks, those of us who are interested, anyway. When I'm home, I'll go. In New York I go to the Yankees games and sometimes the Mets, but not as often. It usually depends on who has tickets. Then I share with my friends a 20-game package at Target Field, so I try to get back a couple of times there.
EOB: What's your favorite park?
CF: Target Field.
EOB: Besides Target Field, that's too easy.
CF: After that, I'd say Fenway. I like Fenway even more than Wrigley. I like Wrigley a lot, but Fenway is just kind of dingy. I haven't been since the remodel, but I used to go to games fairly often when I was in college there.
EOB: Well, I know you wrote about your love Kirby Puckett, but do you have a favorite player now?
CF: I'd say my favorite player right now -- last year I was really into Delmon Young, but they traded him -- so I need a new one. I guess mostly, it's Joe Mauer the hometown guy and our hopes lie on him, we really need him to be a better baseball player and get back to his old form. I'm going to make my favorite this year.
EOB: You could write a great song about the struggles of Mauer and Justin Morneau.
CF: Yeah, there's a nice alliteration built right in.

Show Comments
Hide Comments