Luke Hochevar and the oddest move of the offseason
The Royals made one of the oddest moves of the offseason when they decided to keep former first overall pick Luke Hochevar.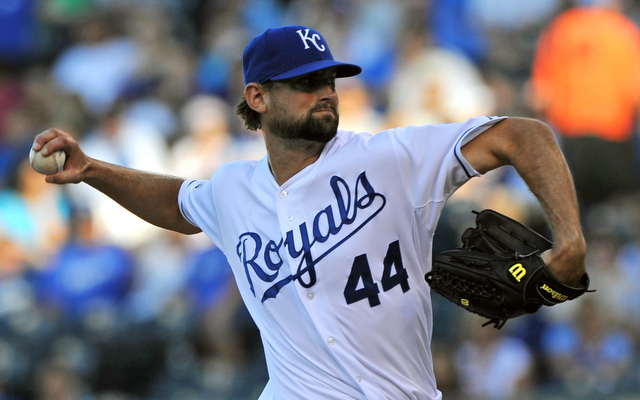 It's safe to say right-hander Luke Hochevar has not given the Royals what they expected after drafting him with the first overall pick in the 2006 draft. The 29-year-old owns a 5.39 ERA and 1.40 WHIP in more than 770 career innings, including a 5.73 ERA and 1.42 WHIP in 185 1/3 innings last summer. His career -0.3 WAR is basically replacement level, meaning Kansas City could have stuck a Quad-A journeyman in their rotation and received similar production.
RELATED -- Full spring training coverage |  Royals Team Preview
In November, the Royals had a decision to make. Do they tender a contract to Hochever for the 2013 season, or do they cut their losses and walk away? Because of his service time, the righty was projected to earn roughly $4.4 million in 2013 by Matt Swartz of MLB Trade Rumors. That's not a small chunk of change, especially for a pitcher who is best described as "emminently replaceable." Even if they wanted to keep him, the Royals could have non-tendered their 2011 opening-day starter and re-signed him for less than projected.
Instead, Kansas City not only tendered Hochevar a contract for the 2013 season, they also agreed to pay him a more-than-projected $4.56 million. Less than a week later, they agreed to a blockbuster trade with the Rays, adding not one but two new starting pitchers in James Shields and Wade Davis. A few weeks before the Hochevar decision, the Royals had acquired Ervin Santana and re-signed Jeremy Guthrie. Add in the incumbent Bruce Chen, and suddenly the club had six starters for five spots, all making decent money.
It's easy to understand why any club would hesitate to admit defeat and walk away from a former first overall draft pick. The Royals wound up saddling themselves with a very expensive long reliever by retaining Hochevar. Sure enough, Bob Dutton of the Kansas City Star reported last week the club is roughly $10 million over its payroll break-even point. Cutting Hochevar would have lessened that hit quite a bit.
An injury could force Hochever back into the rotation, or the Royals could find a trade partner in the next four weeks. Right now, they're stuck with an extra starter who isn't very good or affordable. Non-tendering Hochever appeared to be an obvious move at the outset of the offseason, but GM Dayton Moore and his front office decided against it. It was a puzzling move in late November, and it still doesn't make sense in early March.
For more baseball news, rumors and analysis, follow @EyeOnBaseball on Twitter, subscribe to the RSS feed and "like" us on Facebook. Also, individually interact with us on Twitter: @MattSnyder27, @daynperry and @mikeaxisa.

Show Comments
Hide Comments