Major changes to Cuban policy may impact market for baseball players
Cuba announced a major policy change on Friday that figures to have a big impact on the market for baseball players.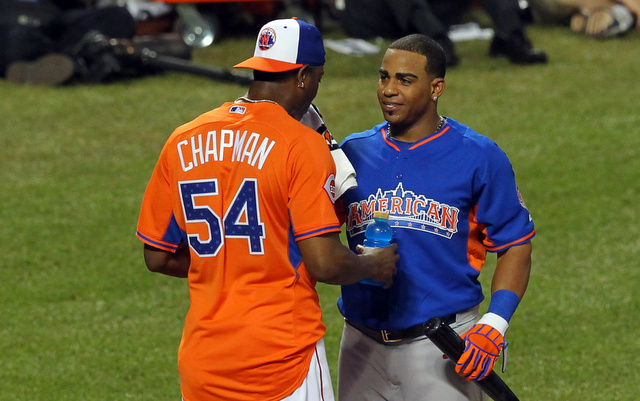 More MLB: Scoreboard | Standings | Probable Pitchers | Sortable Stats | Odds
According to the Associated Press, Cuban athletes will now be allowed to sign contracts and compete in foreign leagues. That represents a major shift in the country's philosphy and would increase the amount of money their baseball players can earn. Any money earned by athletes playing in foreign countries will be taxed.
Ben Badler of Baseball America has more details:
Mexican League officials are in discussions with the Cuban government to import top Cuban players to play in the Mexican League next season. Those players, Baseball America has learned, would play in Cuba's top league, Serie Nacional, during the winter, then could play in Mexico during the spring and summer.

More meetings are expected to occur within the next month to hammer out the mechanics of how Cuban players could be brought to the Mexican League, whose teams are not affiliated with major league organizations, even while the league is technically a member of Minor League Baseball.

The system could potentially allow the Cuban government to make money off the players by leasing their rights to a Mexican team, while the players would be allowed to make a salary from their Mexican club, something they receive little of in Cuba. After the Mexican League season, the players would return to Cuba.
Under the new policy, Cuban athletes will be allowed to play abroad as long as they fulfill their commitments at home. The Associated Press says the decision was approved at a recent session of the Council of Ministers, which is headed by President Raul Castro. The system takes effect in November for baseball players and January 1 for other sports.
Major league teams would not be able to immediately sign Cuban players when they are in Mexico, but they would be able to extensively scout them firsthand. They currently have to rely on limited video access and international tournaments. Badler says Japan, which already has a history of signing Cuban-born players, could get involved as well.
Cuba can not directly "sell" players to MLB clubs at this point, but allowing them to play in Mexico and other countries is a significant step by the socialist republic. It stands to reason that it would be easier for players playing outside of Cuba for part of the year to defect and pursue a job in the big leagues.
"A change in Cuban laws does not affect our licensing procedure," said John Sullivan, spokesman for the Treasury Department's Office of Foreign Assets Control, to the Associated Press. The OFAC enforces embargo laws that limit the amount of money transferred to Cuba. Players who defect and hope to sign with an MLB team must first be cleared by the OFAC.
Players like Aroldis Chapman, Yoenis Cespedes, Yasiel Puig, Jose Iglesias, Jorge Soler and Dayan Viciedo, among others, have defected from Cuba and landed lucrative contracts with MLB teams in recent years.
Under the current Collective Bargaining Agreement, international players under the age of 23 are subject to signing restrictions. Players older than 23 can sign for any amount