Manager Don Mattingly on Dodgers: 'We're just not that good'
Dodgers manager Don Mattingly had some harsh words for his team following their latest loss on Wednesday night.
More MLB: Power Rankings | Expert Picks | Latest news & notes | Fantasy news
Despite coming into the season with the largest Opening Day payroll in baseball history, the Dodgers currently sit in second place in the NL West, eight games back of the rival Giants. They just dropped two of three to the White Sox (at home) and have lost six of their last eight games.
There are still roughly 100 games left in the season, but, needless to say, the team is getting frustrated. Manager Don Mattingly vented that frustration with some harsh words for his ballclub following Wednesday's loss. From Mark Saxon of ESPN Los Angeles:
"Obviously, (ChiSox starter John) Danks was good tonight," he said.

Someone followed that up by asking whether Dodgers hitters helped Danks out with impatient at-bats.

"He was just better than us tonight," he said.

So, someone said, did plate umpire Kerwin Danley's big strike zone play a part?

"No, I thought he was just better than us tonight."

After yet another "better than us," comment, Mattingly finally said, "I mean, I really think you should talk to them. I'm tired of answering the questions, honestly."

But Mattingly did get in one more zinger, a profane one, when he was asked about the Dodgers' 13-19 record at Dodger Stadium.

"Well, home, away, whatever, I don't know that that's got anything to do with it," Mattingly said. "It's just being basically s----. We're just not that good."
Ouch. You know he's serious when he starts cursing like that.
The Dodgers are 31-30 right now -- but through their first 61 games last season, they were 27-34. Then they got molten hot and went 65-36 the rest of the way, so yes, things can turn around in a hurry. That isn't guaranteed, however.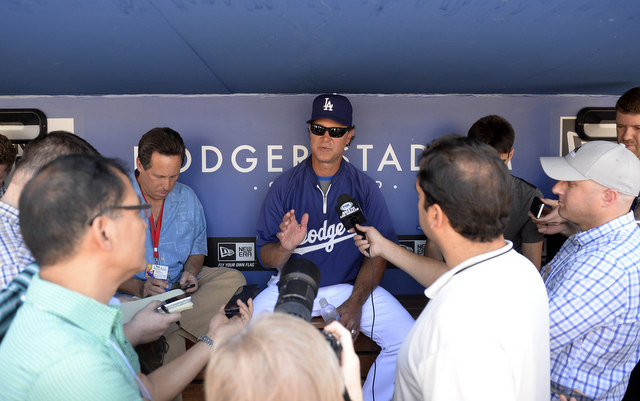 This year's Dodgers team doesn't have a Yasiel Puig ready to come up from the minors and play at an MVP level the rest of the way. Well, maybe they do, but that would be very unexpected. Joc Pederson is awesome, but it's hard to think he'll have that much immediate impact.
Also keep in mind that this year's Giants are way better any non-Dodgers team in the NL West last year. Los Angeles has some very real competition for the division crown. They need more from their non-Puig outfielders, more from Hanley Ramirez, and definitely more from the bullpen.
Mattingly's right, his team isn't very good right now, but I think it would be foolish to count out a club with this much talent and money.
Show Comments
Hide Comments