Mariano Rivera downgraded from definite to likely to maybe for 2013
Rivera tells Yankees GM Brian Cashman he isn't sure whether he will pitch in 2013 after missing almost all of 2012 with a knee injury.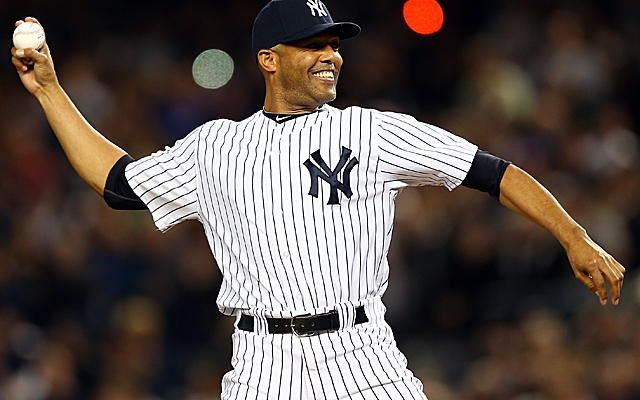 Rivera is still recovering from surgery to repair his right ACL, an injury he sustained in May. (Getty Images)
Yankees all-time closer Mariano Rivera told Brian Cashman on Thursday he is uncertain about a possible return for 2013, New York's general manager acknowledged.
"He's not sure,'' Cashman said.
It had been reported Thursday by ESPNNewYork.com that retirement was still under consideration, and it appears to be a very real possibility indeed.
Things, in fact, seem to be moving in that direction.
Rivera proclaimed he would return after suffering the torn ACL injury while shagging flies early in the season, but manager Joe Girardi slightly downgraded Rivera's chances to play in 2013 when he said in the post-year press conference he thought Rivera "probably" would pitch based on Rivera's hard work following his surgery. But in Rivera's conversation with Cashman on Thursday, the all-time great closer gave no indication one way or the other.
Being that he seems to be moving in the direction of a possible retirement, from surely pitching to likely pitching to maybe pitching, Cashman was asked whether he thinks retirement seems the more likely option at this point. Cashman responded, "That's not for me to speculate."
The Yankees' keen interest in bringing back Rafael Soriano, who saved 42 of 45 chances in replacing Rivera, seemed to carry some hint that they understood nothing is certain when it comes to Rivera, who is 43 years old. Soriano seems likely to opt out of the contract that would pay him $14 million in 2013 and take the $1.5 million buyout, with the Yankees all but sure to make the $13.3 million qualifying offer to him.
It will then be up to Soriano whether he's satisfied making what would amount to $14.8 million (counting the buyout money) on a one-year deal. The Yankees could offer him a multiyear deal, but they will weigh deals that include 2014 carefully since they intend to get their payroll below $189 million for 2014.
Cashman declined comment on their 2013 budget, but it hasn't been said to be similarly constrained.