Mariano Rivera prefers Dustin Pedroia to Robinson Cano
As far as second baseman go, former Yankees closer Mariano Rivera would have rather had Dustin Pedroia on his team over Robinson Cano.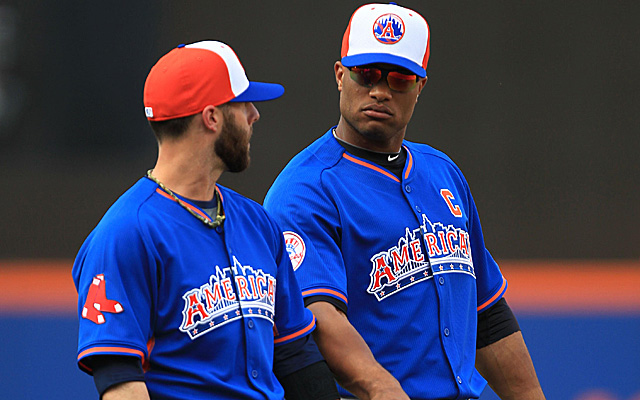 More MLB: Power Rankings | Expert Picks | Latest news & notes | Fantasy news
Former Yankees closer -- and all-time great -- Mariano Rivera has a new book that has hit bookshelves Tuesday. It is, fittingly and simply, titled "The Closer." I'm looking forward to reading the whole book, but there's a juicy little detail that the New York Daily News published due to having an advanced copy.
That detail would be that Rivera would have preferred Red Sox second baseman Dustin Pedroia over his long-time teammate, Robinson Cano.
In his new autobiography, "The Closer," Rivera writes about how much affection he has for his former teammate, but adds, "This guy has so much talent I don't know where to start... There is no doubt that he is a Hall-of-Fame caliber (player). It's just a question of whether he finds the drive you need to get there. I don't think Robby burns to be the best... You don't see that red-hot passion in him that you see in most elite players."

As for his favorite second baseman, Rivera says Red Sox Dustin Pedroia is "at the top of the list" of players he admires, adding: "Nobody plays harder, gives more, wants to win more. He comes at you hard for twenty-seven outs. It's a special thing to see."

He later writes, "If I have to win one game, I'd have a hard time taking anybody over Dustin Pedroia as my second baseman."
All the drama!
Seriously, the Boston media and New York media getting their hands on this material is glorious.
I'm sure someone like -- oh, I don't know, let's just say for argument's sake -- Derek Jeter will never be asked his opinion on this, right? [Blatant, over-the-top sarcasm alert] And if he is, Jeter will definitely pick a side instead of declining to answer and being political, right?
This probably would have been a lot more dramatic had Cano re-upped with the Yankees through free agency this past offseason. Instead he "sold out," per some Yankees fans (please note I said "some" and not all) and signed with the Mariners.
Regardless, these published statements are still going to be a lightning rod of sorts among Yankees and Red Sox fans.
Show Comments
Hide Comments