Mariners activate Mike Morse, designate Jason Bay for assignment
Michael Morse is back from his DL stint that was due to a quad injury. As a corresponding move, Jason Bay has been DFA'd. He has 10 days to be traded, released or accept his assignment to the minors.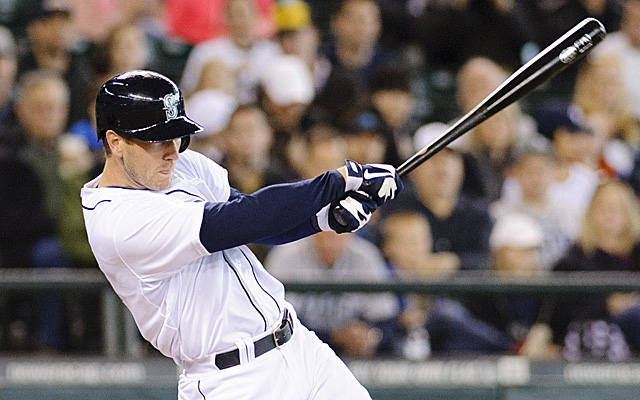 More MLB: Scoreboard | Standings | Probable Pitchers | Sortable Stats | Odds
Mariners outfielder Michael Morse has been activated from the 15-day disabled list, as it's been determined he's ready to rejoin the club after a quad injury and six-game minor-league rehab assignment.
As a corresponding move, outfielder Jason Bay has been designated for assignment. That means there's now a 10-day period where the Mariners can trade Bay, he can accept his assignment to Triple-A Tacoma or be granted his outright release.
Morse first suffered the quad injury in late May. He was out of action from May 29 through June 5, but then played 11 games between June 6 and June 20 before being placed on the DL. The 31 year old had a monster first week-plus of the season, but has since struggled. He's hitting .251/.313/.454 with 11 homers and 23. Six of those homers came in the first nine games of the season.
Morse hit .250/.308/.417 with a double and homer in his six rehab games.
Bay, 34, is hitting .204/.298/.393 with 11 homers and 20 RBI. Being designated for assignment is yet another setback in what was once a great career. He was an All-Star in 2009 for the Red Sox -- his third time being an All-Star. A 2010 concussion was obviously at least part of the issue. Since leaving the Red Sox to sign with the Mets prior to the 2010 season, Bay has hit .229/.314/.373 with 37 homers in 356 games. With the Red Sox in 2009, he hit .267/.384/.537 with 36 homers.
Bay signed a one-year deal with the Mariners this past offseason.
Morse will certainly start against left-handed pitchers instead of Michael Saunders, otherwise he has competition for at-bats at the corners and designated hitter spots with Saunders, Raul Ibanez, Justin Smoak and Kendrys Morales.
The Mariners enter Monday 50-55 and 12 games out in the AL West. Considering the glut of corner types with power, Morse rejoining the club could be a precursor to someone getting traded, whether it's Morales, Ibanez or Morse himself.
Show Comments
Hide Comments