Mariners with early reasons for optimism
Though they've only played five games (three percent of their season), the Seattle Mariners have several reasons to be excited about this season.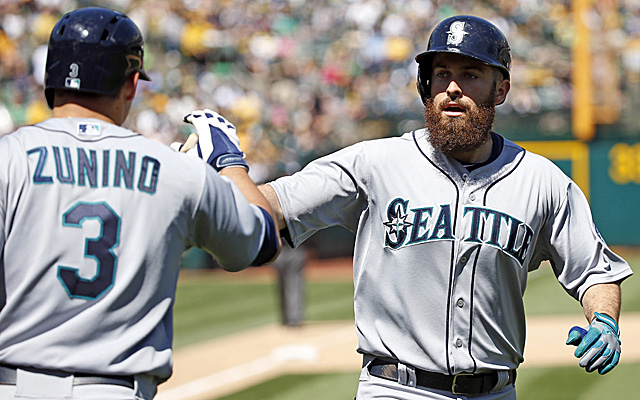 More MLB: Scoreboard | Standings | Probable Pitchers | Sortable Stats | Odds
First things first: The Seattle Mariners have only played five games. Or, rather, three percent of their season (being that Seattle is home to the Super Bowl champs, I'll note here that three percent of the NFL season is less than one half of the first game). So everything I'm about to say below comes with the obligatory caveat that it's folly to completely pass judgement on what is going to happen for the entire season based upon five freaking games.
Having said that, the Mariners have done some things so far this season that should leave room for encouragement in the Pacific Northwest.
First of all, they've won four of their five games. That's always a recipe for optimism, but there are several layers here of performances to date that bode well, too. Let's take a look.
•King Felix and Robinson Cano are awesome at baseball. We knew that and it won't change. 
•They have gotten outstanding starting pitching, despite Hisashi Iwakuma and Taijuan Walker being out with injuries. James Paxton has an excellent ceiling and he's sporting a 1.16 career ERA in five big-league starts. At age 25, he could well be poised for a breakout season, just as Walker may be as well. Once Iwakuma and Walker are back, the rotation is formidable. In fact, with the injury woes of the Rangers and A's, it could prove to be the best rotation in the AL West.
•Could Dustin Ackley pull an Alex Gordon? Gordon was once a big-time bust, having failed to live up his immense hype for four seasons. He's now an All-Star, as he finally broke through in his age-27 season. Ackley was a first-rounder (second pick overall) who came into the league in 2011 and played well as a rookie, but he was terrible in 2012 and not much better last season. Still, he's only 26 and is coming off a huge spring (.382/.408/.603). Through five games, he's hitting .300/.364/.600 with a double, triple, homer and six RBI. Even with just the eye test, he's squaring balls up and looks a lot more comfortable in the box than in the past two years.
•In a similar story, Justin Smoak is 27 years old and is hitting .286/.348/.667 with two homers and seven RBI. He was once considered a top-15 prospect with huge upside. Maybe he's also a late bloomer. Like Ackley, he's squaring a lot more balls up.
•Brad Miller and Mike Zunino have both shown flashes of their relatively high upside, too. It's not unreasonable to believe in a breakout for either of the two.

•Corey Hart and Kyle Seager aren't hitting well yet, and the Mariners are still 4-1. I'm not worried about those two. They'll produce. Hart is a former All-Star and Seager was one of the most underrated players in baseball last year.
Now, obviously that was a quick, glass-half-full type breakdown and it ignores the downside of many of the names listed above. Paxton and Walker could easily go through growing pains during their respective rookie seasons, in which case the rotation would be top-heavy and not great overall. Iwakuma could be poised for a big step back, too. Offensively, Miller and Zunino could struggle with consistency while Ackley's and Smoak's early success could prove to be a mirage.
To reiterate: It's ridiculously early. I'm just saying that if you're a Mariners fan right now, you have a lot of reasons to be excited. Enjoy it.
Show Comments
Hide Comments