Matt Carpenter on becoming an All-Star in first year at second base
Despite not playing the position regularly before 2013, Matt Carpenter of the Cardinals has become an All-Star second baseman.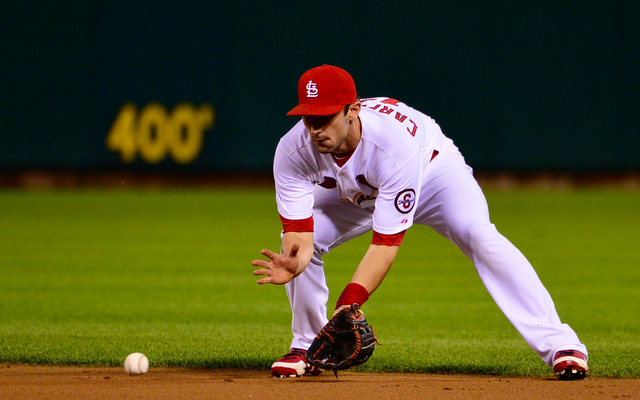 More All-Star: Delabar: From sub. teacher to All-Star | Fernandez: From Cuba to All-Star
NEW YORK -- Cardinals second baseman Matt Carpenter is a first time All-Star this year, his second full season in the big leagues. That is impressive by itself, but it's even more impressive when you consider he didn't play second base regularly until this year.
"No. I'd be lying if I said I did," Carpenter said Monday when asked if he ever thought he'd be an All-Star at second base. "This was the first year in my life I've ever played it. No way I would have told you this would have happened."
The decision to move Carpenter to second was born out of depth. The 27-year-old hit .294/.365/.463 (125 OPS+) in 114 games as a role player in 2012, and St. Louis wanted to find a way to get his bat into the lineup every day. The problem was they already had a very good player at every position he could play -- they have David Freese at third, Allen Craig at first and Matt Holliday and Carlos Beltran in the outfield corners.
The Cardinals approached Carpenter with the idea of playing second base full time at the end of the 2012 season, and he jumped at the opportunity even though it was completely foreign to him.
"I was really looking forward to finding a way to get on the field every day," he said. "I knew that this was probably going to be the best chance. Looking at our club, I knew we had a lot of great players at the positions that I had already played. I knew that if I had a chance to play every day, this was going to be it. I was excited for the opportunity and really happy with the chance I've had."
Carpenter spent the offseason working on his quickness and agility, then underwent what amounted to a second-base crash course with the team's third base coach/infield instructor Jose Oquendo in spring training.
"I have to give [Oquendo] a lot of the credit for this," Carpenter said. "He's an unbelievable infield instructor and really helped me a lot."
The experiment has been a smashing success so far. Not only is Carpenter hitting like an All-Star -- .321/.394/.497 (146 OPS+) while settling in as the everyday leadoff man -- but the fielding metrics like UZR (-0.1 runs saved) and DRS (one run saved) rate him as a league-average defender, for all intents and purposes. Considering his inexperience at second, being an average defender at this point is pretty darn good.
"I feel good. Every day it gets better," said Carpenter when asked how comfortable he feels at second after half a season. "Obviously, I haven't figured it all out. That's the great thing about baseball, you can never figure it all out. I'm always learning, constantly adapting and trying to get better every day."