Matt Kemp plays the outfield for first time this spring
For the first time this spring, Dodgers center fielder Matt Kemp saw action on defense. He's recovering from ankle surgery.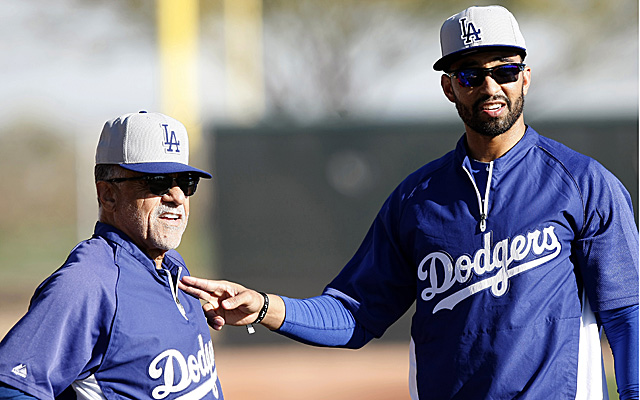 MORE: Spring Training | Scoreboard | FA tracker: hitters | FA tracker: pitchers
While it was only a minor-league intrasquad game, Dodgers center fielder Matt Kemp appeared on defense in game action for the first time this spring Wednesday. Kemp previously appeared in two intrasquad games, but only as a designated hitter.
This time, Kemp spent two innings in center. Here's how he feels, via latimes.com:
"I'm still trying to get my legs under me," he said. "I just wanted to feel good. The legs feel a little heavy and tired at times, but that comes with getting back into shape. You can lift as many weights as you want, but nothing prepares for the game speed out there on the baseball field."

--snip--

"I actually feel really good at the plate," he said. "I'm not really looking for results. I just go for feeling and I feel pretty good. Sometimes, I'm a little quick. Hitting-wise I'm where I need to be. Now it's just playing defense, running bases and getting the feel for being out on defense and the bases again."
Kemp is recovering from offseason ankle surgery and is said to be making good progress, though he specifically told reporters Wednesday that he is taking the recovery process slow. It's already been decided he won't travel with the team to Australia for the two-game series against the Diamondbacks to open the season.
After being a veritable iron man from 2008-11, Kemp has been unable to stay on the field the past two seasons. After offseason shoulder surgery, his shoulder and ankle were issues last year and he only managed 73 games. He then had to undergo ankle surgery this past season.
When he was fully healthy in 2011-12, he was among baseball's best players.
Show Comments
Hide Comments