Methodical, 'egoless' La Russa is just what doctor ordered in desert
Hall of Fame manager Tony La Russa is expected to bring extra thought and restraint to a Diamondbacks organization known for very bold moves in recent years.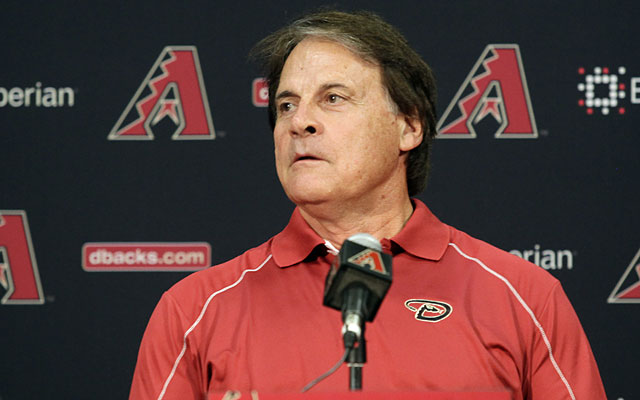 More MLB: Power Rankings | Expert Picks | Latest news & notes | Fantasy news
The Diamondbacks considered a few other alternatives before making the bold decision to hire managerial great Tony La Russa to become their new chief baseball officer.
Among the main other considerations were, 1) replace GM Kevin Towers, 2) replace manager Kirk Gibson, and 3) replace both Towers and Gibson.
Under those circumstances, Diamondbacks management made the right call.
They are happy to have bought more time before making any rash judgments, but they are especially thrilled to add La Russa, a consummate competitor and winner, who will bring a reasoned, fresh and neutral voice to a team that has made a lot of big gambles with gutsy moves but hasn't always won the bets.
D-Backs president Derrick Hall said he can hardly "stop pinching myself" since luring La Russa, who is said to have been courted by a few other teams and to have turned down at least one other big opportunity because he didn't believe he was needed there.
Here in the desert, it seems he is.
The Diamondbacks were expecting to take a step forward on the field following two straight disheartening .500 seasons (they don't take mediocrity well there, so you can only imagine what they are thinking now), and instead have come close to burying themselves within the first weeks of the season.
Their just-concluded home series victory against the disliked Dodgers was their first in a season that's seen them begin 6-18 at Chase Field, which is unsurprisingly and easily the worst home mark in baseball.
They've had some very bad luck, starting with the Tommy John surgeries for ace Patrick Corbin and setup man Daniel Hernandez, as well as shocking underperformance by most of the team's seemingly serviceable remaining starting rotation. But they've also made some questionable calls, too.
The result is that they are in a big hole, and what's more, they've also somewhat depleted their impressive young player/prospect largesse with trades of Justin Upton, Adam Eaton, Tyler Skaggs, Trevor Bauer and some others. Previously, Towers had close to full autonomy to make the moves within their small-to-mid-market budgetary constraints, but now he'll run everything by La Russa, who is one of baseball's great thinkers, the guy who practically invented the bullpen matchup, and while not a sabermetrics guy in the new strict sense, certainly was among the earliest users of advancing statistics.
The Diamondbacks in recent years looked at times like a team that too easily has fallen in and out of love with players and people, and this gives them a better chance to fairly ascertain how they should feel about their top management setup and staff going forward. Towers and Gibson were given what was seen as lukewarm votes of confidence with extensions of unannounced length heading into spring training (at least Gibson's is thought by a couple people to have been a short-term thing), but 46 additional games with an injury-depleted roster this year is not enough to make calls to let two largely successful (before this start) veteran people go.
Towers has some great qualities, including about the biggest guts in baseball to make the boldest moves, but his bosses probably don't mind the idea of someone above him to take to a step back, and to put on a "stop" sign when it's deemed necessary. La Russa may be viewed in some circles as a bit of gamble since his resume is that of a Hall-of-Fame manager with limited front office experience, but no one who knows him sees him failing at anything.
La Russa has impressed MLB officials in his short time at the main office at 245 Park Ave., leading the rules committee not only with his smarts but, perhaps surprisingly, an "egoless" approach.
"He's not a me guy," Hall said. "He's all about the success of the group."
La Russa went quickly for a closed-door meeting with Gibson, and asked the ultra-intense manager whether he's in favor. Not that he had much of a choice, but Gibson is said to have answered, heck yeah, or words to that effect.
There have been questions about whether Gibson's ultra intense mindset may stifle some of the club's younger players, with a few of them said to have told other folks they were afraid to make mistakes. La Russa, winner of six pennants and three World Series, probably heard similar criticisms at times in his career. So perhaps there is simpatico there.
In any case, Gibson seems to have close to a fresh slate, and he is said to seem rejuvenated. "Even Tony wouldn't have been able to win," Hall admitted of the depleted roster.
Towers has been similarly on board, and he's said to hold great reverence for La Russa, though it's obvious the move cuts into his power and makes clear he's on a clock of undetermined length. La Russa is said to have the ultimate respect for Towers' abilities as an evaluator -- though now it is La Russa doing the evaluating of Towers.
Top Diamondbacks brass are thrilled, as it gives them time to observe and provides an "outside" expert who will bring an unbiased viewpoint of what's happening here. Hall admittedly feels extremely close personally to both "Gibby" and "KT," so La Russa brings a new and neutral perspective to the mix.
The move seemingly had to be made.
But if there's one concern, it has to be whether all that intensity can fit into one hierarchy. Ann Killion (@ankillion), columnist of the San Jose Mercury News, humorously tweeted, "Tony La Russa is now Kirk Gibson's boss. That will be a super relaxed work environment."
Hard to believe, but La Russa does seem to have mellowed a bit starting with his final season managing, which resulted in a Cardinals World Series win, so perhaps intensity won't be a big issue. La Russa, to the contrary, is being viewed as an additional thoughtful voice to add an extra layer of consideration and restraint, to in effect make the decision-making process more methodical.
Along those lines, it's said that he will give his top two baseball guys -- Towers and Gibson -- at least the season to show that they have the D-Backs back on track. All things considered, that's the right result.
Show Comments
Hide Comments