Mets and Conforto agree on main terms but there's still a bit of work left
There's strong optimism a deal will get done, but there's apparently at least one final issue to work out.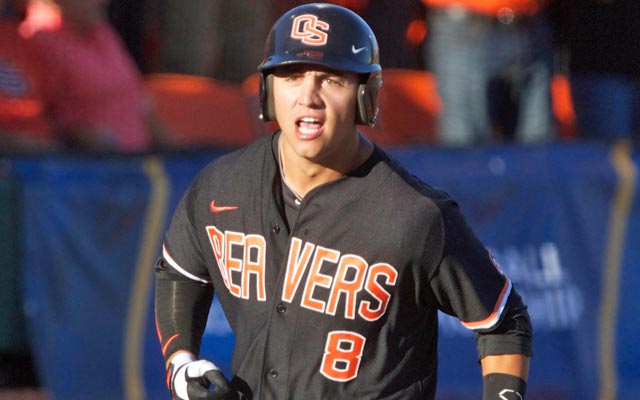 The Mets and their first-round draft choice Michael Conforto, an Oregon State outfielder, have agreed on the main terms of deal, but the sides are still working on a different final issue before the deal can be completed, possibly one involving contract language.
The sides are said to be comfortable at the $2,970,800 slot value, or thereabouts, for the No. 10 overall pick, who was considered close to the best college hitter in the draft, maybe just slightly behind Kyle Schwarber, the No. 4 overall pick by the Cubs.
It isn't clear what the holdup is, and it's hard to imagine a language issue derailing a big deal, but people familiar with the talks suggested that there's still something to work out before the deal is official and final. CBSports.com reported a few days ago that there's a strong belief the deal would get done, but it still hasn't quite happened.
Conforto's adviser Scott Boras did a previous deal with the Mets on a top draft choice, the No. 7 overall pick of the 2010 draft, a pitcher named Matt Harvey. So there is precedent for big amateur deals between the sides.
The Cubs were a candidate to take Conforto, but it's believed he wasn't displeased to go the Mets in New York if it wasn't the Cubs. There's some belief the big Citi Field would suit him well as he is a gap hitter. Conforto, noted as an excellent left fielder, is viewed as a player who could make it to the majors quickly, but there's still apparently one more gap to negotiate first.
Show Comments
Hide Comments