Mets officially name David Wright team captain
The Mets have officially named David Wright team captain.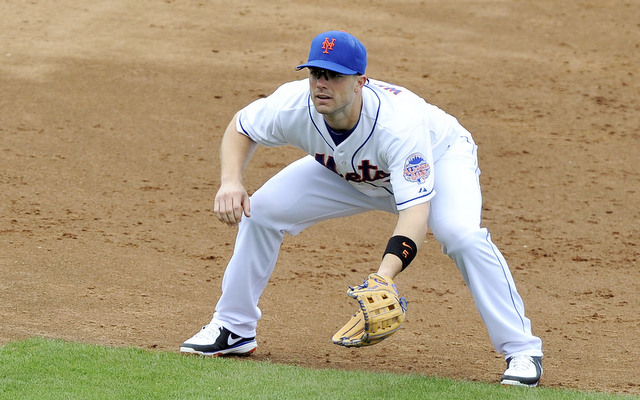 Following Thursday afternoon's game against the Cardinals, the Mets officially named David Wright team captain. We heard an announcement was likely to happen earlier this week.
"To be viewed in this light -- both by ownership, by [GM Sandy Alderson] and the front office, by the coaching staff and most importantly the players -- means a great deal to me," Wright said. "A dream come true, to say the least. Something I'm very, very proud about.
"I think that the responsibilities are kind of the same as what I've always tried to do," he added. "I'm not a real 'rah rah,' yell and scream kind of guy ... I think it's more lead by example. I'm going to take the responsibility seriously and with a great deal of pride."
The Mets are now the third team with an active captain, joining the Yankees (Derek Jeter) and White Sox (Paul Konerko).
Wright, 30, is the franchise's all-time leader in hits (1,426), runs (790), doubles (322), RBI (818), walks (616), and WAR (39.1). He hit .306/.391/.492 with 21 homers and 15 stolen bases in 156 games last year, which earned him a new eight-year, $138 million contract over the winter.
Wright becomes just the fourth captain in Mets history, joining Keith Hernandez (1987-89), Gary Carter (1988-1989) and John Franco (2001-04). Both Hernandez and Franco wore a hockey-style "C" on the front of their jerseys, but Wright said he will not do the same after conferring with the coaching staff, front office and teammates.
The Mets also officially announced left-hander Jonathon Niese will start on opening day given Johan Santana's continued arm issues.
Show Comments
Hide Comments
Our Latest Stories
Check out this Sunday home run by Dodgers prospect Cody Bellinger

A different kind of rain delay

Gray had been slated to pitch for Team USA but was denied insurance coverage
Axford is a big fan of "La La Land" -- will he flirt with perfection again?

Hamilton's chances of making the Rangers are worsening

Ventura was tragically killed in a car crash last month