Michael Young: 'I guarantee you I've had a gay teammate'
Former Rangers star Michael Young says he'd have no problem with the baseball version of Michael Sam.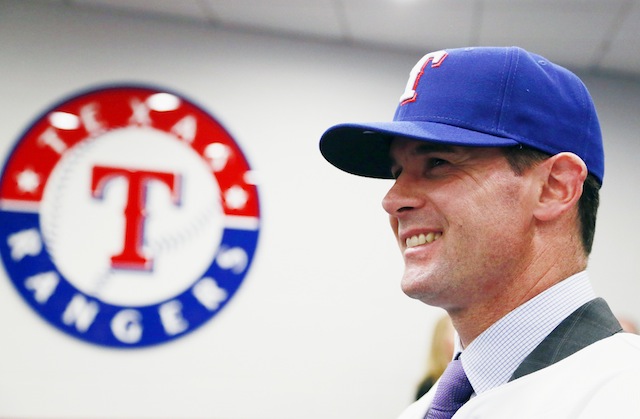 MORE: FA tracker: position players | FA tracker: pitchers
On the subject of football's Michael Sam, the outgoing Missouri d-lineman and NFL draft prospect who recently came out, here's what the recently retired Michael Young told ESPN 103.3 in Dallas regarding the possiblity of a having gay teammate in MLB:
" ... I guarantee you I've had a gay teammate. This may be the first openly gay player in the NFL, but clearly we know there have been tons in every sport -- male, female, there have been tons in every sport.

"We just don't know about them or who they are. They're out there right now. They're out there in the NBA, in the NHL, in the big leagues and in the NFL. Hopefully players are just comfortable being themselves.

...

"For me, it comes down to, 'Can this guy help us win? Is he a winning piece? Can he execute on the field and be a good teammate in the locker room?' I'd like to think it wouldn't be an issue at all, and all the teams I played on, I know it definitely wouldn't have been an issue."
Young of course spent parts of 14 seasons in the majors with three different teams, primarily the Rangers, so he's certainly an authority on prevailing clubhouse attitudes and dynamics. 
Show Comments
Hide Comments
Our Latest Stories
Luis Severino and J.A. Happ were on the mound

Gordon's home run came after an emotional ceremony honoring Fernandez

The Marlins paid tribute to their ace Monday, one day after he was killed in a boating acc...
Solarte's wife passed away earlier this month following a battle with cancer

They might not necessarily be 'retiring' the number at first, but no other player will wear...

The loss of Fernandez strikes a very common chord among all of us