Michael Young to announce retirement Friday in Texas
Seven-time All-Star Michael Young has decided to retire. He'll officially make the announcement Friday at Rangers Ballpark in Arlington.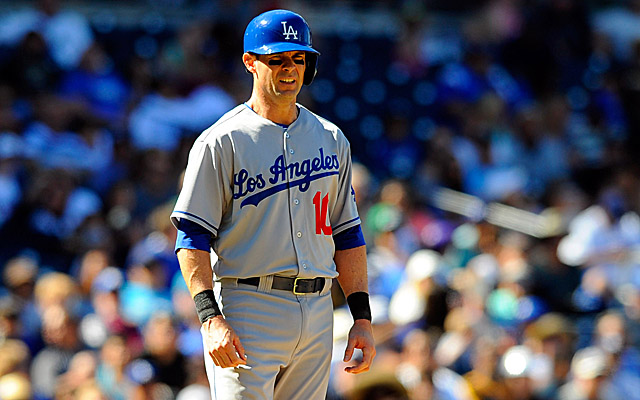 Leaderboarding: Young is Rangers career leader in several categories
Seven-time All-Star Michael Young has decided to call it a career. He'll make the announcement official during a press conference Friday at Rangers Ballpark in Arlington. 
Young had "three good offers," per Ken Rosenthal of Fox Sports, but instead elected to begin spending more time with his family. The Youngs aren't likely struggling financially anyway, as Young has banked over $90 million in his career, according to baseball-reference.com.
Young, 37, hit .279/.335/.395 (102 OPS+) with 26 doubles, five triples, eight homers and 46 RBI for the Phillies (126 games) and Dodgers (21 games) last season -- his first for anyone other than the Rangers, for whom he spent 13 seasons.
The Rangers have released the following statement:
"The Texas Rangers want to congratulate Michael Young on his outstanding major league career. For 12 seasons in a Rangers uniform, he was a standout performer on the field and the consummate role model in the community.

"Michael is a leader, and he demonstrated those skills every day of the season, year in and year out. We are proud to say that Michael Young is this franchise's all-time leader in games, at bats, runs, hits, doubles, triples, and total bases. He excelled at multiple positions and came through in the clutch.

"When Texas advanced to postseason play in 2010 after an 11-year drought, teammates and fans everywhere were especially happy that Michael had reached the playoffs. And he was an integral performer in those Rangers' back-to-back World Series runs.

"The Rangers wish Michael, his wife Cristina, and sons Mateo, Emilio, and Antonio the very best as they enter a new chapter in their lives. And we want them to know there will always be a place for the Young's in the Texas Rangers family."
On his career, Young finishes with a tidy .300 average along with a .787 OPS (104 OPS+). He accrued 2,375 hits, including 441 doubles, 60 triples and 185 homers. Young led the majors in hits twice (2005, 2011) and led the AL with a .331 batting average in 2005.
The All-Star Game was also a pretty good stage for Young. Back in 2006, he had a two-RBI, two-out triple off Trevor Hoffman to put the AL on top 3-2 in the top of the ninth, which would end up being the final score. Young won the MVP for the game. Also, in the 2008 All-Star Game, Young hit a walkoff sacrifice fly to finally end the 15-inning affair in Yankee Stadium.
Young appeared in the playoffs the last four seasons of his career after opening it without seeing the playoffs for the first 10 years. He played in the World Series in both 2010 and 2011 for the Rangers.
We won't see him in Cooperstown, but Young had a very admirable career.