Might Yanks revisit their low-key winter plan and shoot for Scherzer?
There's been some initial contact between Scherzer and the Yankees, who could probably use some more certainty at the top of their rotation and may consider baseball's best free agent after initially planning not to do any headline-grabbing moves this winter.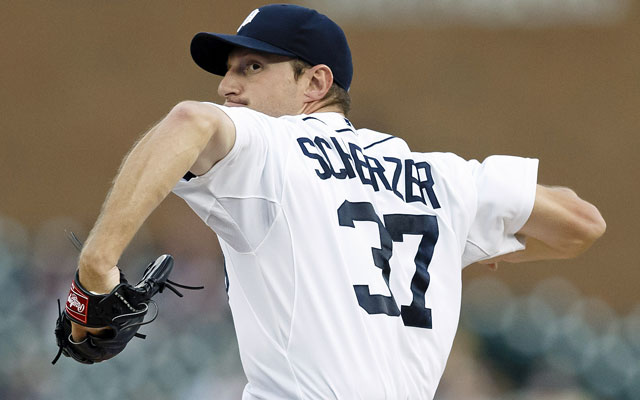 So far this offseason, there hasn't been much that's new and interesting tied to the New York Yankees -- baseball's most storied franchise and usually among its most active winter players.
And there has been very little, if anything, that's been linked to right-hander Max Scherzer -- baseball's top free-agent pitcher.
So it shouldn't surprise anyone that there's a chance that the Yankees and Scherzer may start becoming tied together, at least in terms of talk. It's a match that might make sense.
Nothing has been decided yet, but it seems the Yankees may revisit their initial instinct to largely sit this winter out, at least when it comes to baseball's biggest free agents. They still may do that,  but if there's one name that seems to intrigue them it's very likely Scherzer, baseball's leader in wins (55) and strikeouts (723) among all pitchers over the past three seasons.
Scherzer looks like such a standout as a free agent -- a 30-year-old pitcher with a dynamic fastball, stellar change-up and slider, and an emerging curve -- that it's been shocking to see such abject silence to this point. In a way, though, it's not such a surprise, as the biggest free agents often take the longest to find suitable landing spots.
But at this point, a week after the general manager meetings, it is somewhat unusual how little is known about Scherzer's market. You've heard of the mystery team. This is the mystery market.
It is assumed the Chicago Cubs are in on him to some degree because the Cubs are in on anybody who's anybody -- though the perception is that Jon Lester or a trade target such as Cole Hamels may be more likely for the Cubs because of the attachment of a draft choice in Scherzer's case, not to mention the familiarity of Cubs honchos Theo Epstein and Jed Hoyer with Lester. The Boston Red Sox also presumably have to take a look at Scherzer, but they, too, have a longtime link to Lester.
Lester has been tied so far also to Boston, Kansas City and Toronto, too. As for Scherzer, the 2013 Cy Young winner who went 18-5 with a 3.15 ERA last year, it's so silent that it's almost eerie.
This is basically the first public notice of any team's involvement, however preliminary it may be.
The Yankees and Scherzer's agent, Scott Boras, are said to have had a brief contact sometime since returning from the GM meetings, and word is the Yankees may "revisit" their inclination not to make any big expenditures this winter.
The early word was that they were going to avoid the biggest free agents beyond their own closer David Robertson, and that seems to hold true, with the possible exception of Scherzer. Yankees people have long admired Lester, the other big-time free agent pitcher in his prime, but it seems Scherzer is the one they are seriously considering.
Meantime, they seem intent on bringing the old gang back together. They already re-signed outfielder Chris Young , they've tried to bring back third baseman Chase Headley , and they've considered Chris Capuano . They also will make an effort to keep Robertson, the elite closer who along with set-up man Dellin Betances comprised the team's greatest strength in 2014.
Most notably, they checked in early on their own free agent Brandon McCarthy, who did such a nice job for them in the second half. But with McCarthy looking around, they've looked at several other pitchers of that ilk, or maybe slightly better. Those would likely include Jason Hammel , Francisco Liriano and Edinson Volquez .
But the Yankees haven't made the playoffs two straight seasons for the first time in 20 years. And they really don't have a sure thing at the top of their rotation. They have Masahiro Tanaka , who had a bit of an elbow issue, and CC Sabathia , who had knee surgery. And Ivan Nova , who had elbow surgery. And Michael Pineda , who generally had trouble staying healthy.
With a rotation that leads the league in question marks, it's no wonder the Yankees might rethink their original plan. Two weeks ago, the word was no way they would. Later it was upgraded to probably not. And now it seems to be bordering on a maybe.
One reason they like Scherzer is an unusual lack of wear and tear on his arm. For instance, he didn't reach 1,230 innings until he was 29, compared to 26 for Sabathia, and an amazing 24 by Tanaka, who obviously started young.
Among the top free-agent pitchers, Scherzer has thrown by far the fewest pitches, with 20,954, to 26,321 for Lester, and 29,461 for James Shields .
Another reason is his tough demeanor. Lester scores high here, too, obviously. But Scherzer is an underrated postseason pitcher, with a lifetime 1.13 WHIP in the postseason, better than his regular-season mark of 1.22. He also is 2-0 against the Yankees in October, with a 1.38 ERA.
The Yankees still haven't decided whether to pursue Scherzer, though if they do they have to assume there will be strong competition -- though, curiously, to this point no other teams have publicly surfaced as a suitor for the biggest star of this market.
Show Comments
Hide Comments