Miguel Cabrera leaves game with abdominal irritation
For the second straight game, the AL MVP frontrunner had to exit the game with a abdominal problem.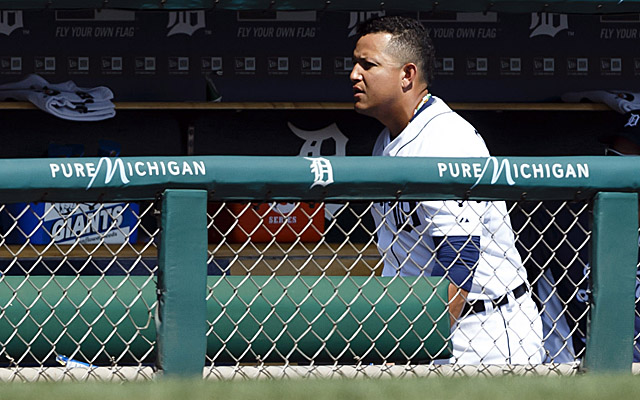 More: Cabrera left Thursday's game, too | Axisa: Injuries, Tribe could cut Triple Crown bid short
Tigers superstar Miguel Cabrera had to leave Friday's game with what the team is calling "irritation of the abdominal area." The club says he's listed as day to day, however, this is the second consecutive game he's had to exit early and this came after just one plate appearance.
Don Kelly replaced Cabrera at third base.
Cabrera, the AL MVP frontrunner has been dealing with a hip issue for a while, so we know he can play through pain. With him leaving two straight games, that seems a sign that this is a rather painful issue.
On the year, Cabrera is having a monster season, hitting .358/.449/.681 with 43 homers, 130 RBI and 95 runs. Obviously the Tigers need him in the lineup on a daily basis to remain one of baseball's elite teams, but they do have a bit of a cushion in the division, entering Friday with a 6.5 lead over the Indians.
Show Comments
Hide Comments