Mike Leake may start for the Reds in Game 4
The Reds say they don't know who is starting Game 4 of the National League Division Series on Wednesday, but Tuesday starter Homer Bailey said right-hander Mike Leake would get the nod.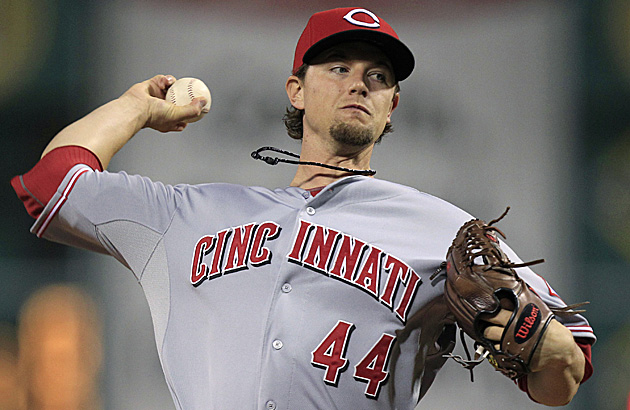 Mike Leake may start Game 4 of the NLDS for the Reds. (AP)
CINCINNATI -- The Reds haven't announced who will start Game 4 of the National League Division Series, but Game 3 starter Homer Bailey said in an interview televised on MLB Network that the team was planning on using Mike Leake on Wednesday.
Leake is not on the team's NLDS roster, so some sort of move will be needed, whether it's putting Game 1 starter Johnny Cueto or another player on the disabled list. Whoever is taken off the roster will be ineligible to play in the NLCS if the Reds advance.
Cueto left Game 1 of the series after just eight pitches, with Mat Latos -- the scheduled Game 3 starter -- stepping in and pitching four innings in his place. Latos, though, is reportedly ill. Although he denied it to the media after Game 3, his wife tweeted that he's been sick since the Reds were in St. Louis for the last series of the regular season.
Hahaha to every mother effer speculating that Mat is hung over. He's been sick since we were in STL. Sorry you get your "news" weird.

— Dallas Latos(@DallasLatos) October 9, 2012
Leake, 24, was 8-9 with a 4.58 ERA for the Reds this season and was left off the NLDS roster. Leake threw a complete game in a victory over the Giants on June 29 at AT&T Park in San Francisco, allowing just one run on nine hits in his only appearance against the Giants this season.
Barry Zito (15-8, 4.15) will start Game 4 for the Giants.
After the Game 3 loss, Reds manager Dusty Baker said the team hadn't decided who would start Game 4.
"As of right now, we're not sure yet," Baker said immediately following the game. "We're going to go in and discuss it and find out all the parties involved and then try to come up with a solution tonight. I mean, I wish I had an answer, but I don't."
Bailey's TV interview was shown after Baker's, and Bailey's locker is next to Leake's in the Reds clubhouse.
When asked what options the Reds had, Baker said it was Latos or Leake. 
"You have to go with the healthy bodies," Baker said. "You hate missing -- that's part of the consideration, you know, is us going without [Cueto in the NLCS]. We realize what's at stake and that's part of the deicsion if a guy can -- if we think he's going to be able to go in the next series."
For more baseball news, rumors and analysis, follow @EyeOnBaseball on Twitter, subscribe to the RSS feed and "like" us on Facebook.
Show Comments
Hide Comments