Mike Matheny doesn't think new collision rule is strong enough
Cardinals manager -- and former Gold Glove catcher -- Mike Matheny wants all collisions at home plate banned.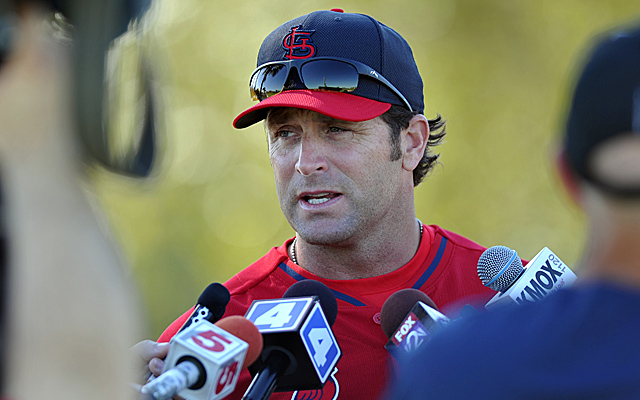 Related: MLB officially enacts new home-plate collision rule
Major League Baseball officially announced a new rule on home-plate collisions Monday, but -- contrary to the belief of some who apparently can't read the rule -- it wasn't a ban on collisions. For Cardinals manager, and former MLB catcher, Mike Matheny, that's not good enough.
"I did think we were making some pretty good progress and then the progress was stopped," said Matheny (via stltoday.com). "After talking with people from the players' association and with Major League Baseball, I think we have the same end game in mind, and that's eliminating collisions altogether. It's just pretty difficult to pull off at this time."
"We're making it very clear to everybody in the league that we're giving the plate," said Matheny. "We're making it clear for a purpose because if (opposing players) start taking runs at us, this new rule should protect our guys to some degree.

--snip--

"The bad thing is there's that gray area. There's still that 'Am I going to run over him or not? Is he really  blocking the plate or is he not?' There are going to be those plays where the throw takes you a little up the line more than you want and you kind of lose your position ... I think there are still going to be some train wrecks at home plate. I'm just encouraging my guys to do what they can to avoid it -- if it is avoidable."
This, Internet Tough Guys, is coming from a guy who caught 1,285 games in the majors and won four Gold Gloves. I'm sure he's just part of the "wussification" process, though, right?
To reiterate, collisions are still allowed. Catchers can't block the plate without the ball and runners can't stray from their path in order to hit the catcher, but close plays -- or so-called "bang, bang" plays -- can still have collisions at the plate.
For example, as far as I can tell from the rules, this would still be acceptable:
Show Comments
Hide Comments