Mike Napoli says Elvis Andrus should shave off 'embarrassing' beard
How did Mike Napoli describe former teammate Elvis Andrus' beard? How about "embarrassing" and "horrendous." Ouch.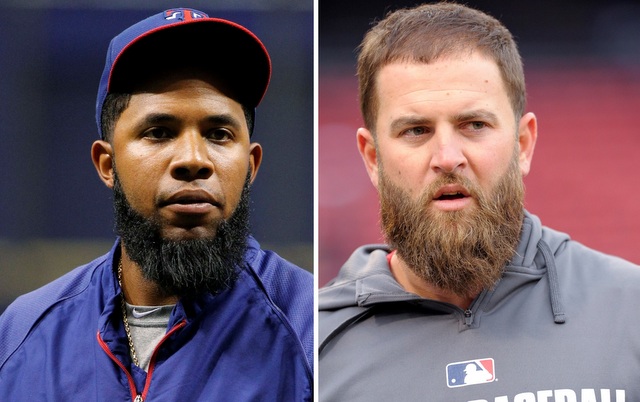 More MLB: Scoreboard | Standings | Probable Pitchers | Sortable Stats | Odds
Red Sox first baseman Mike Napoli has apparently become the foremost authority on beards in Major League Baseball. His beard is generally groomed now, but last season it was a unkept mess as the team stormed to the World Series. It was pretty gross, really.
As you can see above, shortstop Elvis Andrus has something of an Abraham Lincoln beard going on this season. It's ... unique. Let's call it that. The Rangers are in Boston to play the Red Sox this week, so what did Napoli have to say about Andrus? This, during an interview with KRLD-FM 105.3 on Monday (via Dallas Morning News):
"Elvis' beard is terrible, by the way. Horrendous. He cuts half of his chin off, too I was just up there getting on him about it. Yeah it's terrible. He looks like Abe Lincoln. ... He has to cut that thing off. It's so bad, it's almost embarrassing.. .. I can't even look at him it's so bad."
Is Napoli calling out Andrus and looking to embarrass a rival player? No, these two were teammates in Texas a few years ago and this is just some good-natured ribbing. Besides, Napoli is right. Andrus' beard is pretty awful. Not that his is any better.
Show Comments
Hide Comments