Mike Trout continues to nip at history books in a lost Angels season
Sophomore jinx? What sophomore jinx? What Mike Trout is doing this season might be even more remarkable than what he did in 2012: He's following up a rookie season for the ages with a historical second season. Night after night, Trout provides a reason to tune in the Angels. ...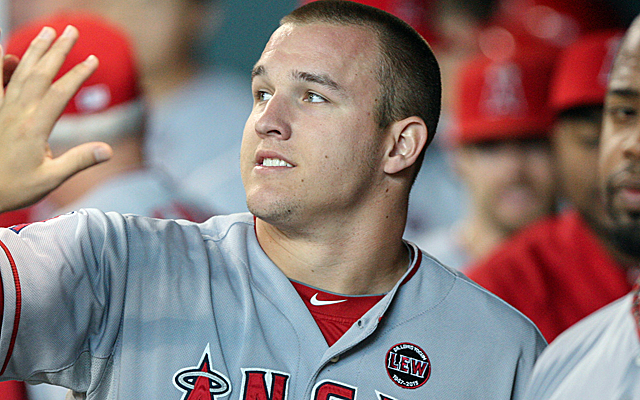 Mike Trout is baseball's answer to the iPhone. This year's model is fast pushing last year's onto the back shelves … and it wasn't long ago that people couldn't get enough of last year's dizzying product.
Silly? Sure it's silly. So is what the kid continues to do each night in a season that, statistically, is going to wind up even better than last summer in many areas. And hordes were marching in 2012 demanding that his freshman season end with an MVP award.
No, what Trout is doing now in applying the finishing touches on his second season is borderline ridiculous. At this point, spring training is fast becoming too antiquated. When it's time, baseball should roll out the 2014 version of Mike Trout at a runway show this winter.
"I wasn't here last year, so I didn't get to see him other than on the highlights," Angels rookie outfielder J.B. Shuck says. "Coming in, I knew this guys was good. But every day, he does something to impress you.
"It's been almost a whole year, and every day he does something you get wowed by."
His on-base percentage, .437, is up over last year's .399. His OPS, .995, is up over last summer's .963. His WAR is down according to the BaseballReference.com version – 8.7, as opposed to 10.9 last year – yet it is dead even according to the FanGraphs model – a perfect 10.0 last year, and the same 10.0 now. Calling Bo Derek, can you figure that one out? Whatever, Trout leads the majors in WAR in both models.
Already, Trout this year became the first player in major-league history with at least 50 homers and 70 steals before turning 22, according to the Elias Sports Bureau. And he is one of just four players all-time with at least 50 homers, 200 runs scored and a .320 batting average in his first two full seasons.
The other three? Joe DiMaggio, Ted Williams and Albert Pujols.
The biggest shame of the Angels' now-annual disappearing act is that because of it, they've failed to get Trout in front of the largest audience possible. Which is a shame, because those who haven't paid enough attention to him this year have shorted themselves.
Similar to last year, Trout races out to play each night without thinking too much about the MVP award he surely will collect in multiples one day.
"I just go out, and whatever the numbers are at the end of year year," Trout says. "Other things they put into it, WAR and whatever, you can't take away from a guy whose team is in first place by seven or eight games and is pushing for another Triple Crown.
"We're both having fun, and whatever happens at the end of the year happens."
Maybe what happens at year's end is that the Tigers' Miguel Cabrera wins his second consecutive MVP award, though his sore abdomen isn't helping. Maybe voters tilt toward the Orioles' Chris Davis.
Probably, Trout finishes third after his second-place finish in 2012.
Which, again, is far more of an indictment of his team than himself. Because if you were conducting an expansion draft today and all 750 players were eligible, surely 30 teams out of 30 would take Trout.
If he can get to 200 hits this year, he'll hit another historic plateau: Nobody in major-league history, in his age-21 season or younger, has ever produced 200 hits, 25 homers, 30 steals and 100 runs in a season.
Trout's ledger currently reads 181 hits, 23 homers, 33 steals and 104 runs with 13 games remaining.
Strangely, more than any opposing pitcher, it is Albert Pujols' season-ending foot injury that stands the best chance of keeping Trout from 200 hits. With Pujols out of the lineup since July 27, Trout has collected a major-league leading 50 walks in his past 44 games, during which time his .529 OBP is 45 points higher than any other major leaguer.
"Seems like I get just a couple of pitches each at-bat to get a hit," Trout says. "They're trying to get me to chase."
This is where his game hits overdrive. Safe to say, most other 22-year-olds (Trout's birthday was Aug. 7) eventually would lose patience and start swinging from their heels in a situation like that. Not Trout.
"I don't think he has that in him," teammate Mark Trumbo says. "He's so disciplined at the plate."
Trout recognized what was going on, and assimilated it, immediately.
"With Albert behind me, great hitter that he is, you're going to see a lot more pitches to hit," Trout says. "With me being on base and him hitting, it's a lot more dangerous than just with him at the plate and no one on base. It's tough having big hitter like him out of the lineup."
But within that, Trout still recognizes his own key.
"Having a strike zone when you go to plate," he says. "If the ball's not going in your strike zone, you're not swinging. Just try to discipline yourself more and try not to get too overanxious."
Easier said than done, especially with the Angels in free fall most of the season until the past couple of weeks.
Trout's 100 walks lead the American League and rank third in the majors behind two Reds, Joey Votto (119) and Shin-Soo Choo (101). His steals are down this year, from 49 to 33, but he ranks second in the majors in runs scored to the Cardinals' Matt Carpenter (116).
The alarm caused when he reported noticeably bigger this spring – 241 pounds, up 10 of 11 from the end of 2012 – turned out to be unfounded. He says he's at 233, 234 pounds right now, and he finished 2012 at 231, 232 pounds. Basically, the added spring bulk did exactly what he hoped it would do: Gave him a foundation for strength that would last the entire summer. He knew he would lose weight during the season, as he always does.
Never overanalytical about much – his mantra, which he repeats over and over again, is that he just tries to "go play and have fun" – Trout's increased OBP is evidence that he has succeeded in the one thing he wanted to improve in 2013.
"Be more disciplined at the plate," he says. "The majority of strikeouts … were just chasing. [I was] amped up a little bit. Try and get the walks up. Tighten that up a little more."
He's walking more and striking out less (18.3 percent of his plate appearances this year, 21.8 percent in 2012). He finished last season with 139 whiffs, and he's on pace to finish with 132 this year in more games.
Watching him, it's impossible to pick out an area of his game that needs tightening up. Though he readily volunteers one: Gaining experience in left field.
"You can't really teach yourself of practice as much getting game experience," he says. "Other than that, I'm happy with my play, just trying to do everything I can."
No question he still prefers playing center field ("Definitely") but he's never once squawked about that, either.
Mostly, he just goes out and plays and, yes, has fun. Sunday, he became the first Angel since Chone Figgins in 2009 with a 100-run and 100-walk season, and those 100 walks also put him in historical company. Only five others in history collected at least 100 walks in their age-21 (or younger) season: John McGraw, Jimmie Foxx, Mel Ott, Ted Williams and Rickey Henderson.
He also is only the seventh player with 100 or more runs in both his age-20 and age-21 sasons, following John McGraw (1893, 1894), Mel Ott (1929, 1930), Buddy Lewis (1937, 1938), Ted Williams (1939, 1940), Vada Pinson (1959, 1960) and Alex Rodriguez (1996, 1997).
"Last year, he had an unbelievable year with such high benchmarks, and people were asking, 'Can he repeat it?'" Trumbo says. "It's not fluke. This season's been just like last year. It feels like he's getting two hits a game, an RBI, a steal … and the numbers probably reflect he's having a better year this year."
Some, no. Many, yes.
Trout's perspective?
"You know, I just go out there and play," he says. "I don't really think of the numbers. I don't really look at them.
"Maybe in the offseason, I'll check them out. But I just try and do everything I can day-in and day-out to help the team win."
Show Comments
Hide Comments