Minor league team allows 11 walks, no hits
Six pitchers for the Double-A Huntsville Stars combined for an 11-walk no-hitter on Thursday, provoking mixed emotions from the team's pitching coach.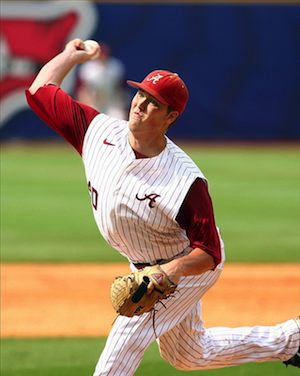 Jimmy Nelson was the Brewers' second-round pick in 2010 out of Alabama. (US Presswire)
After his team threw a no-hitter, Chris Hook, the pitching coach at Double-A Huntsville said, "I was disappointed about it," and "I'm not real happy about that" and described the game as "ugly … with a capital 'U'."

Those quotes are from MiLB.com and when you know the rest of the story, they make a little more sense.

Five Brewers minor-leaguers -- Jimmy Nelson, Dan Merklinger, R.J. Seidel, Darren Byrd and Brandon Kintzler -- combined for the Southern League's second no-hitter of the season and the 13th in the minors this season. But the six pitchers combined to walk 11 Chattanooga batters in a 3-1 victory.

Nelson, ranked the Brewers' No. 10 prospect by Baseball America, was on a 65-pitch limit and need nearly all of it to work four innings. The 6-foot-6 right-hander walked four and struck out four. Of his 64 pitches, 34 were for strikes.  He only had one inning without a baserunner, the first, walking two batters in the third.

Nelson had been on the disabled list for a week due to shoulder fatigue.

It was Merklinger that really struggled, though. The 26-year-old lefty walked four -- including one with the bases loaded -- in the fifth inning and was relieved by Seidel, who got out of the jam with an infield liner. He walked two batters in the sixth before giving way to Byrd, who walked just one in his two innings. Only the closer, Kintzler, didn't walk a batter. He struck out one in his perfect inning of work to earn his seventh save of the season.

Hook said he was happy to see how Kintzler and Byrd finished out the game.

"You could see they took it upon themselves as a challenge," Hook said (via MiLB.com). "You could see the intensity on their faces. Obviously, they want to get those nine outs and finish up the win, but there was a little something extra, too."

In the Stars' previous game, three pitchers combined to throw a one-hitter against Chattanooga. Starter Johnny Helleweg, recently acquired in the Zack Greinke trade, allowed just one hit in five innings, walking two and striking out seven.

For more baseball news, rumors and analysis, follow @EyeOnBaseball on Twitter, subscribe to the RSS feed and "like" us on Facebook.