MLB injury, news and rumor roundup for March 27
You know about the Miguel Cabrera news (right?!), but let's roundup everything MLB here in one tidy little post -- news, injuries, rumors, the works.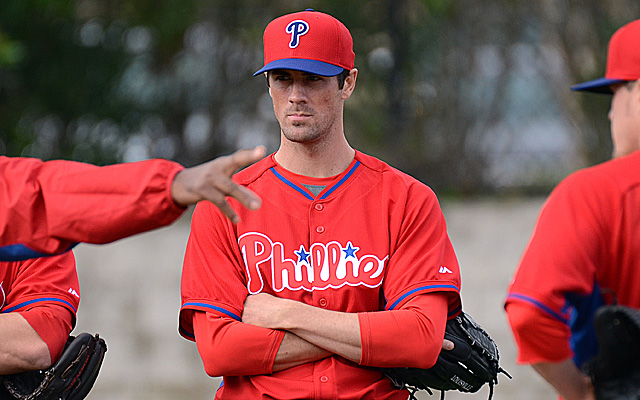 MORE: Predictions | Spring Training | Scoreboard | Team previews
We only have to get through three more measly days until we have multiple baseball games on nearly everyday until sometime in October -- aside from those pesky All-Star break days. Basically, it's here. We're now in the final few days of the offseason. Not that there wasn't anything newsworthy ...
THE BIG NEWS
As first reported by Jon Heyman of CBSSports.com, the Tigers and two-time defending AL MVP Miguel Cabrera agreed to a monster contract extension. He'll now make $292 million over the next 10 seasons -- and there are even two vesting options worth $30 million each.
SIGNING
Mariners: They inked starting pitcher Chris Young to a minor-league deal.
INJURY UPDATES
Blue Jays: Jose Reyes (hamstring) is now scheduled to play shortstop Friday (John Lott). Originally he was only slated for a DH role in the Jays' exhibition game in Montreal.
Brewers: Jean Segura (shoulder) played catch Thursday and felt fine. His status for opening day is still unknown, though (Adam McCalvy).
Nationals: Starting pitcher Doug Fister left his start due to a right lat strain.
Orioles: Nelson Cruz was hit in the helmet by a pitch and had to get a CT scan, but all indications are he came away unscathed (baltimoresun.com). Also, Johan Santana threw a bullpen session and reported that he felt "pretty good." (masnsports.com)
Phillies: Cole Hamels threw two innings in minor-league action Thursday -- throwing 30 pitches and saying he felt "great." He also mentioned it was like the beginning of his own spring training, which should help provide a reasonable timetable for his possible return (csnphilly.com).
Rangers: Elvis Andrus has battled shoulder and arm issues through much of the spring, but he says he's ready to go for the season (ESPN Dallas).
Red Sox: Reliever Craig Breslow has been placed on the 15-day disabled list with a left shoulder strain. He may not have to be on it long, though, as the move is retroactive to March 21. Also, Shane Victorino has recovered from his sore left side and will play Friday (csnne.com).
Reds: Catcher Devin Mesoraco (oblique) took batting practice and felt fine (C. Trent Rosecrans). Manager Bryan Price is confident Mat Latos (knee surgery) will be ready either the 13th or 14th of April to join the rotation. In the meantime, Alfredo Simon will serve as the Reds' fifth starter (Rosecrans).
MISCELLANY
MLB: The league is still getting closer to agreeing upon increased PED penalties with the MLBPA.
Cubs: Ryan Roberts has opted out of his deal and become a free agent (Heyman). This is because youngster Mike Olt has made the team and there wasn't a spot for Roberts.
Diamondbacks: Big-time pitching prospect Archie Bradley was re-assigned to minor-league camp (Jack Magruder).
Orioles: Pitcher Alfredo Aceves didn't make the club, and has chosen to opt out of his deal (Britt Ghiroli), meaning he's a free agent.
Show Comments
Hide Comments