MLB injury, news and rumors roundup for June 20
Ready for all your newsworthy MLB updates? We've got you covered.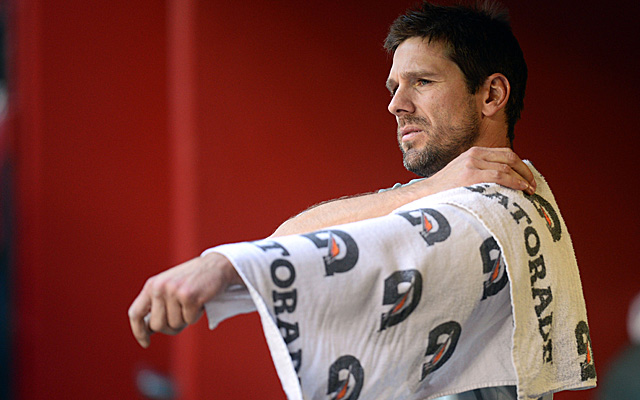 More MLB: Power Rankings | Expert Picks | Latest news & notes | Fantasy news
On the field, Major League Baseball just wrapped up an amazing night of action. There was late drama in more than half the games and almost every team has something positive on which to grasp. As for the news, injuries and rumors, let us dive in.
As a reminder, these are just quick-hitting summaries. For the full story in any given bullet, click on the provided link.
ROSTER MOVES
Angels: Infielder/outfielder Grant Green was recalled from Triple-A.
Diamondbacks: They have designated former closer J.J. Putz for assignment.
Indians: They promoted reliever Vinnie Pestano from Triple-A and sent down starter Zach McAllister.
Orioles: They have optioned red-hot starter Kevin Gausman to Triple-A.
Padres: Yonder Alonso was placed on the DL and admitted that he's been trying to play through pain for a while (Padres.com).
Reds: Tony Cingrani was sent back to the minors, and in his place the Reds brought up a career minor-leaguer who has never been to the bigs.
Rockies: Left-hander Christian Friedrich will be recalled from the minors to start Saturday against the Brewers (Rockies.com).
INJURY UPDATES
Athletics: Josh Reddick told manager Bob Melvin that he felt great in his first rehab game (MLB.com). Also, catcher Derek Norris took a foul ball off the forearm Friday night and left the game. X-rays were negative (John Shea).
Blue Jays: Former ace (now farmhand) Ricky Romero is out for the season after having left leg surgery (BlueJays.com).
Braves: Justin Upton continues to deal with dizziness and light-headedness. He'll see a doctor (ajc.com).
Cardinals: Reliever Kevin Siegrist is making progress in coming back from his shoulder discomfort (Cardinals.com).
Dodgers: Juan Uribe began his minor-league rehab assignment Thursday night (Dodgers.com). Also, Yasiel Puig left Friday night's game with a hip muscle injury.
Giants: They're hoping to have Angel Pagan (lower back stiffness) back in the lineup before they leave Arizona this weekend (SFGiants.com). Also, Marco Scutaro may finally be ready for a minor-league rehab stint (SFGiants.com).
Padres: Chase Headley had an epidural in hopes that it would ease the pain in his lower back -- where he has a herniated disk (utsandiego.com).
Phillies: Cliff Lee is making progress in returning from his elbow injury. After a 30-pitch bullpen session he said he could feel "something" but it wasn't pain (csnphilly.com). Also, Ben Revere missed his fourth straight game (Phillies.com).
Nationals: Bryce Harper took live batting practice and did some fielding work and his injured thumb reportedly responded well (nationals.com).
Rangers: Geovany Soto has begun squatting and receiving pitches in his recovery from knee surgery (dallasnews.com).
Rays: Jeremy Hellickson is set for his fourth rehab outing, but it's unclear what the Rays will do with him after that (Rays.com).
Tigers: Torii Hunter's sore hamstring again kept him out of the lineup.
Yankees: Kelly Johnson was out Friday with bruised fingers (Yankees.com).
MISCELLANY
David Price: Some of the teams with scouts watching the potential tradee Friday night were the Blue Jays, Cardinals, Giants, Indians and Yankees (Marc Topkin).
Braves: Alex Wood appears to be the man who will replace Gavin Floyd in the rotation (ajc.com). In light of them losing Floyd, Jon Heyman wonders if they'll be interested in Jeff Samardzija. The club has liked Samardzija for a while.
Cardinals: Michael Wacha's next start will be skipped, but he's not hurt. The Cardinals are monitoring his workload. Also, third-rounder Tyler Megill will not sign and will instead return to college for his senior year (Cardinals.com).
Cuba: Big-time power hitter Yasmani Tomas had defected.
Diamondbacks: The club officially announced the signing of its first rounder, right-handed pitcher Touki Toussaint.
Mets: They haven't yet decided who to bump from the rotation when Dillon Gee returns to the rotation (Mets.com).
MLB/Red Sox: Remember David Ortiz having an issue with the Fenway Park official scorer? MLB executive vice president Joe Torre had something to say to Ortiz.
Phillies: The Phillies, among others, have reached out to Grady Sizemore, reports Jon Heyman.
Pirates: Jason Grilli out, Mark Melancon in as closer.
Red Sox: Manager John Farrell still isn't sure who he's going to start on the hill Wednesday. His options: Clay Buchholz, Felix Doubront and Brandon Workman (RedSox.com).
Yankees: Alex Rodriguez has dropped his lawsuit and it appears everything is set for a reunion with the Yankees next season. Also, Brian Cashman expects to make a trade in the next few weeks, per Newsday.
Show Comments
Hide Comments