MLB injury, news and rumors roundup for June 22
A review of all the pertinent Major League Baseball news -- including injuries, rumors and more -- from Sunday.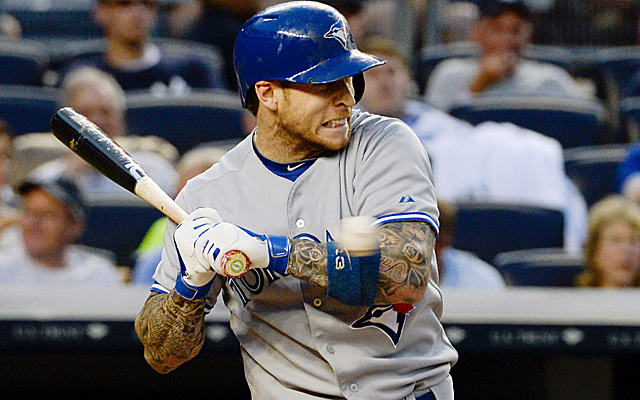 More MLB: Power Rankings | Expert Picks | Latest news & notes | Fantasy news
Time for another nightly roundup, concerning all the news you need to know when it comes to non-game MLB stuff. As a quick reminder, this is just a summary. For the full story in each case, click through on the provided linkage.
To the roundup!
ROSTER MOVES
Cubs: Welington Castillo was activated from the disabled list and, in a corresponding move, the club designated Eli Whiteside for assignment.
Orioles: They have agreed to sign Randy Wolf to a minor-league deal.
Tigers: Ian Krol was placed on the 15-day disabled list due to inflammation in his pitching shoulder. Lefty reliever Patrick McCoy was called up from Triple-A to take his spot.
INJURY UPDATES
Athletics: Derek Norris was again hit in the head by an opposing hitter's bat. Also, Kyle Blanks left the game with a calf strain (MLB.com).
Blue Jays: Both Jose Bautista (lower leg tightness) and Brett Lawrie (fractured right index finger) were removed from the game Sunday due to injuries.
Cardinals: Injured second baseman Kolten Wong will have an MRI on his left shoulder Monday (Cardinals.com).
Cubs: They are taking a patient approach in the recovery of Emilio Bonifacio (Cubs.com).
Diamondbacks: Eric Chavez is "taking it easy" in his recovery from a knee injury (Diamondbacks.com).
Dodgers: Juan Uribe's rehab assignment has been extended (Dodgers.com).
Giants: Angel Pagan missed his sixth straight game due to a back injury.
Mariners: Corey Hart has started a Triple-A rehab assignment (Mariners.com).
Nationals: Wilson Ramos caught seven innings in his second rehab game (Nationals.com).
Orioles: Bud Norris left his Saturday start with groin tightness, but he's hopeful he'll be good to go Friday (Orioles.com). Also, top pitching prospect Dylan Bundy struck out nine in five shutout innings in a Class A rehab start (baltimoresun.com).
Pirates: They expect to have second baseman Neil Walker back during the next series (Pirates.com).
Red Sox: They'll soon get Clay Buchholz back from the disabled list, so they have some questions to answer within their rotation (redsox.com). Also, Shane Victorino will play a rehab game in Class A Monday (Scott Lauber).
Reds: Brandon Phillips left Sunday's game with a bruised right heel.
Rockies: Brett Anderson and Tyler Chatwood are ready to start throwing live batting practice (Rockies.com).
Yankees: Mark Teixeira had to leave Sunday's game after getting hit in the foot by a pitch (nydailynews.com).
MISCELLANY
All-Star Game: Here's the latest AL balloting update.
Angels: Hitting coach Don Baylor could be back with the club by the end of the month as he recovers from a broken femur (Angels.com).
Athletics: They'll skip ace Sonny Gray's turn in the rotation during this upcoming road trip to give him a little extra rest (MLB.com).
Mets: Catcher Travis d'Arnaud is scorching hot in Triple-A. Is it time for him to get another shot? Mets.com discusses.
Padres: The club fired general manager Josh Byrnes. Also, Andrew Cashner has been scratched from his scheduled start on Monday, but he's apparently not injured or traded.
White Sox: The status on Andre Rienzo remaining in the rotation is up in the air (whitesox.com).
Show Comments
Hide Comments