MLB injury, news and rumors roundup for May 11
Our nightly roundup of all news -- including injury updates -- and rumors from Major League Baseball.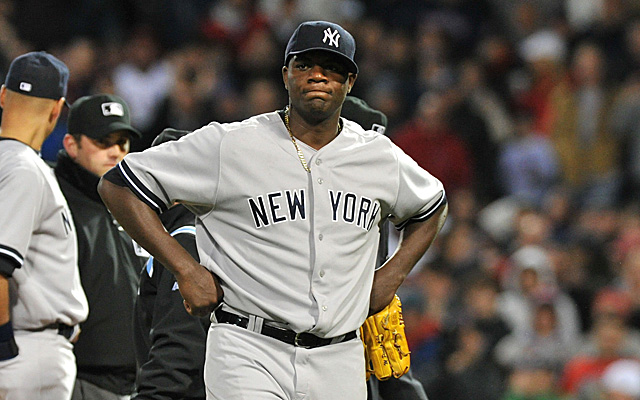 More MLB: Power Rankings | Expert Picks | Latest news & notes | Fantasy news
Twas a busy day in terms of news surrounding Major League Baseball -- not even mentioning the action-packed day we saw on the diamond. Let's get to our nightly roundup, keeping in mind that this is just quick-hitting bulletpoints and the full story can (most of the time) be found by clicking through on the provided links.
Onward!
ROSTER MOVES
Blue Jays: Closer Casey Janssen is back from the DL.
Blue Jays/Twins: Outfielder Kenny Wilson was claimed off waivers by the Jays from the Twins (Rhett Bollinger).
Orioles: They got Chris Davis back, but lost Matt Wieters to the DL.
Rangers: Scott Baker has cleared waivers and accepted his assignment to Triple-A (Anthony Andro).
Rays: Heath Bell was granted his release (Joe Smith).
Yankees: CC Sabathia was placed on the 15-day DL with knee inflammation.
INJURY UPDATES
Angels: Third baseman Ian Stewart was hit by a pitch in the left hand Sunday. He might need a DL stint, despite X-rays being negative (MLB.com).
Athletics: Coco Crisp is still day to day with a stiff neck (MLB.com).
Brewers: Aramis Ramirez is headed to the DL with a hamstring injury.
Dodgers: Despite a hamstring strain, the Dodgers have been reluctant to place Juan Uribe on the DL (MLB.com).
Giants: Brandon Belt's surgery on his fractured left thumb will happen Tuesday, and he's going to have two pins inserted (csnbayarea.com).
Mariners: Both James Paxton and Taijuan Walker threw bullpen sessions Sunday in Safeco Field (MLB.com). Also, Michael Saunders is day to day with a hyperextended knee (MLB.com).
Orioles: There's still a chance that Wieters will need surgery on his elbow. MASN Sports has the full story.
Phillies: Freddy Galvis suffered a broken collar-bone in Triple-A (Ryan Lawrence).
Rangers: Martin Perez will miss at least one start with an elbow injury.
Reds: Mat Latos threw all three pitches from his arsenal in a 26-pitch bullpen session, his first since being shut down back on April 8 (Cincinnati.com). Also, catcher Devin Mesoraco will be back from his hamstring injury soon. He could go on a short rehab stint this week before joining the Reds (Cincinnati.com).
Royals: Danny Duffy will start Saturday's game instead of Bruce Chen, who is still on the DL (MLB.com).
Twins: Top prospect Byron Buxton has re-injured his wrist.
White Sox: Adam Eaton is set to start his minor-league rehab stint Wednesday (MLB.com).
Yankees: Manager Joe Girardi told reporters that Michael Pineda is going to need more than four weeks to get back from his shoulder injury. Pineda just started playing catch Saturday, per Girardi (Jorge Castillo). Basically, it sounds like it could be quite a while.
MISCELLANY
Indians: Catcher George Kottaras has cleared waivers, per Jon Heyman.
Mets: Jeurys Familia is nearing a shot at being the team's closer, according to manager Terry Collins (Adam Rubin).
Padres: Everth Cabrera missed Sunday's game due to the birth of his daughter (MLB.com).
Rockies: They re-shuffled their rotation due to some back spasms from Jorge De La Rosa. They pushed him back to Friday, which moved up Franklin Morales to Tuesday and Jhoulys Chacin to Wednesday (MLB.com).
Show Comments
Hide Comments