MLB news and rumors for Jan. 8: Brewers would trade Ryan Braun
Jimmy Rollins is reportedly open to playing second base in 2016. Nationals might try to trade for Ben Revere in order to replace Denard Span. How hard should MLB be on the Cardinals for the hacking scandal?
Here's what we need to know regarding the comings, goings and rumors in the world of Major League Baseball as of Friday night:
The Brewers totally would trade star Ryan Braun except for...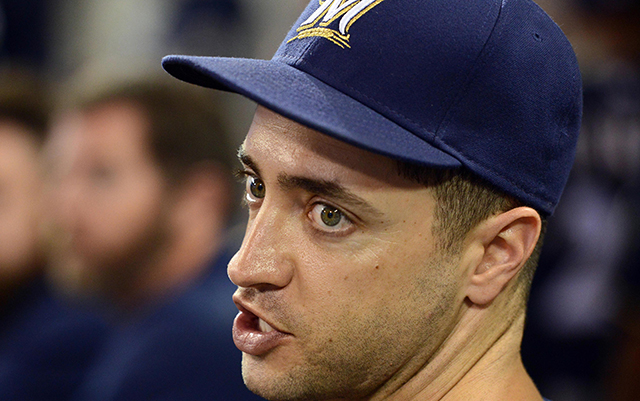 ...Money, age, health and reputation. Coming off the the worst season of his career and a long suspension in 2013 for having ties to performance-enhancing drugs, Braun bounced back in 2015 to finish ninth in slugging percentage and eighth in stolen bases in the National League over 140 games.
So he's still a valuable player. But he just turned 32, is coming off surgery on his back, starts a five-year, $105 million contract extension this season (that includes extensive no-trade protection), and he has the Biogenesis baggage. All of that makes him tough to move, reports Tom Haudricourt of the Milwaukee Journal Sentinel. The Brewers also probably will look to trade catcher Jonathan Lucroy and outfielder Khris Davis in 2016.
Jimmy Rollins might switch positions in order to find work
Teams are interested in Rollins, who is a free agent, as a second baseman in 2016, reports Ken Rosenthal of Fox Sports.
Rollins, who has played parts of 16 seasons in the major leagues, mostly with the Phillies, has been used at shortstop for 19,214 2/3 innings. He's played one out at second base -- Aug. 5, 2002.
Rollins, 37, is coming off his career-worst season at the plate, batting .224 with a .643 OPS, 13 home runs and 12 stolen bases in 144 games.
Mets co-owner Steven Cohen gets good legal news from SEC
A hedge-fund manager in his day job, Cohen had been on the hook for federal charges related to insider trading, but Robert Reich reports it was just a matter of time before authorities had to settle with him. Unrelated to the charges, Cohen reportedly bought a 4 percent stake in the Mets sometime between the 2011 and 2012 seasons.
How will MLB punish the Cardinals in the wake of the Chris Correa plea?
Jeff Passan of Yahoo! Sports would like to see the league throw the book at the Cardinals, who benefited from Correa's illegal intrusion into Houston's database.
Shortstop Ian Desmond seems like a fit for the San Diego Padres
But will they ultimately sign him? Dennis Lin of the San Diego Union-Tribune says the Padres are keeping tabs on Desmond and Alexei Ramirez (formerly of the White Sox) to fill the position for next season (and beyond, presumably).
Desmond is the better hitter, but either player would be an upgrade over the list of players the Padres used at short in 2015 -- a platoon of Alexi Amarista and Clint Barmes, along with auditions by Will Middlebrooks and Jedd Gyorko.
Getting creative with Chris Davis
As he said he might at the start of the offseason, agent Scott Boras has been selling teams on the idea of slugger Chris Davis being able to play the corner outfield spots, reports ESPN's Buster Olney.
Davis has put in time in left and right field in recent seasons, putting in 569 innings out there, and even third base at times for the Orioles, when manager Buck Showalter rolled the dice. Indications are that Davis remains best-suited to play first base, or DH.
There was this, though:
Who could ride to the Nationals' rescue in center field?
Perhaps Ben Revere, who would have to be acquired in a trade with the Blue Jays. Now that Denard Span is officially gone to the San Francisco Giants, the Nationals are facing the reality of using Michael Taylor full-time in center field.
While his defense is highly regarded, Taylor's offensive output isn't ideal. A player like Ben Revere, who hits left-handed and uses great speed on both sides of the ball, could make a good platoon partner, reports Jon Heyman of MLB Network.
Show Comments
Hide Comments