MLB rumors, injuries and news roundup for April 13
The retirement of a veteran journeyman and several injury updates headline Sunday's daily recap.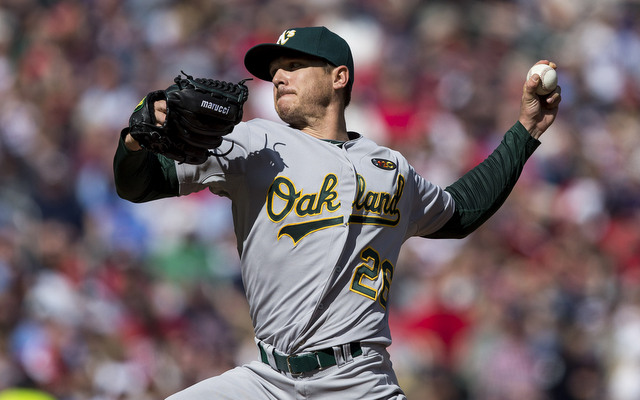 More MLB: Power Rankings | Expert Picks | Latest news & notes | Fantasy news
The second full week of the regular season is officially complete. Here is a recap of Sunday's news from around the league.
RETIREMENTS
RHP Joe Blanton: The veteran right-hander has reportedly called it a career.
TRADES
New York Mets : Traded C Blake Forsythe to the Oakland Athletics for future considerations, the team announced.
ROSTER CUTS
Los Angeles Dodgers : Released UTIL Brendan Harris from their Triple-A affiliate. (MLB Daily Dish)
RUMORS & SPECULATION
OF Alfonso Soriano : Has indicated he will retire following the season if he has a poor year. If not, he'd like to continue playing through 2016. (ESPN)
INJURY UPDATES
Athletics: OF Coco Crisp has a minor hamstring problem and will sit Monday as a precaution (Bay Area News Group) ... LHP Scott Kazmir was removed from Sunday's start with a sore triceps, but it is not a big concern and he is not expected to miss a start. (MLB.com)
Toronto Blue Jays : OF Colby Rasmus left Sunday's game with a tight hamstring, but it is not considered serious (National Post) ... IF Maicer Izturis was placed on the 15-day DL with a left knee sprain, the team announced.
St. Louis Cardinals : IF Mark Ellis (knee) will begin a minor league rehab assignment. (St. Louis Post Dispatch)
Chicago Cubs : Top prospect IF Javier Baez has been placed on the Triple-A DL with a left ankle sprain, the team announced.
Dodgers: RHP Chad Billingsley (Tommy John surgery) has been cleared to throw a bullpen session on Tuesday (Orange County Register) ... RHP Brian Wilson (elbow) says he is ready to be activated off the DL after throwing in simulated games and making minor league rehab appearances (Orange County Register) ... OF Carl Crawford did not play Sunday due to tightness in his side. It's unclear how long he will be out. (MLB.com)
Washington Nationals : OF Nate McLouth was scratched from Sunday's game with a sore knee. He will be reevaluated on Monday, the team announced ... OF Denard Span (concussion) hopes to take batting practice on Monday. (Washington Post)
San Diego Padres : RHP Josh Johnson (forearm) will be reevaulated this week, and there is some concern because he does not appear to be healing as quickly as expected. (Fox Sports San-Diego)
Philadelphia Phillies : RHP A.J. Burnett (groin) will undergo an ultrasound exam on Monday. He threw a bullpen session on Sunday but admitted to still feeling some discomfort. (MLB.com)
Texas Rangers : 3B Adrian Beltre (quad) was placed on the 15-day DL, retroactive to April 9.
Tampa Bay Rays : Placed RHP Alex Cobb on the 15-day DL with a left oblique strain.
Cincinnati Reds : An MRI showed a flexor mass strain but no problems with the ligament in RHP Mat Latos ' elbow. He will be shut down 10-14 days ... LHP Sean Marshall (shoulder) could be activated off the DL as soon as next week. (Cincinnati Enquirer)
Boston Red Sox : 2B Dustin Pedroia (sore wrist) was a late scratch and is heading back to Boston for tests ... RHP Koji Uehara (shoulder) will undergo tests on Monday (Boston Globe) ... OF Shane Victorino (hamstring) will begin a minor league rehab assignment on Tuesday. (Providence Journal)
Colorado Rockies : LHP Brett Anderson was diagnosed with a broken left index finger and will miss several weeks ... RHP Jhoulys Chacin (shoulder) will make a minor league rehab start on Tuesday. (Denver Post)
Minnesota Twins : An MRI revealed a hairline fracture in OF Josh Willingham 's wrist. He does not need surgery but will see some specialists. The team is hopeful he will not miss more than the 15-day minimum on the DL. (St. Paul Pioneer Press)
Chicago White Sox : 2B Gordon Beckham (oblique) has been cleared to resume a minor league rehab assignment. (MLB.com)
New York Yankees : SS Derek Jeter (sore quad) is day-to-day ... 2B Brian Roberts is out with a back problem. An MRI came back negative and he will be reevaluated in a few days, the team announced ... C Francisco Cervelli left Sunday's game with an apparent hamstring problem suffered while running out a ground ball. There has been no update on his status.
MISCELLANY
Milwaukee Brewers : They have MLB's best record at 10-2 and have done it in a variety of ways.
Red Sox: How far off was their low-ball contract offer to LHP Jon Lester ?
Show Comments
Hide Comments