MLB rumors, injuries and news roundup for May 12
Monday's daily recap including injury updates on Chris Sale, Kole Calhoun, Alex Cobb, Carlos Beltran, Bryce Harper and Anibal Sanchez, among others.
More MLB: Power Rankings | Expert Picks | Latest news & notes | Fantasy news
Obviously, Monday's huge story was Jose Fernandez landing on the 15-day DL with a right elbow injury. Jon Heyman of CBSSports.com hears the injury is "worrisome." The Miami Marlins ace is heading back to Miami for addition tests. Tommy John surgery may be in his near future, unfortunately.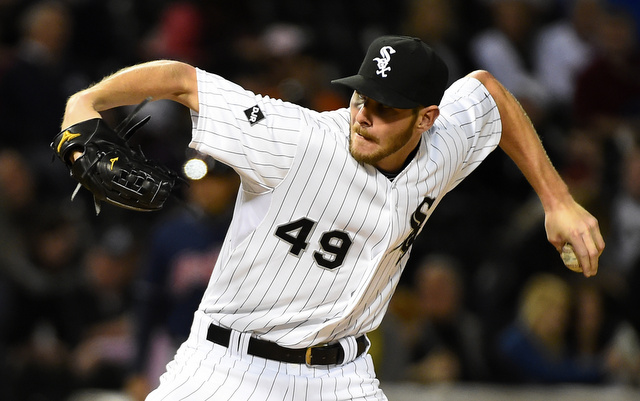 Here is the rest of Monday's news and notes from around the league:
RUMORS & TRANSACTIONS
San Francisco Giants : Activated LHP David Huff (quad) off the 15-day DL, the team announced. OF Juan Perez was sent to Triple-A to clear a roster spot.
New York Mets : Demoted RHP Jenrry Mejia to the bullpen after three poor starts. RHP Rafael Montero will take his rotation spot.
Washington Nationals : Signed UTIL Greg Dobbs to a minor league contract, the team announced.
Baltimore Orioles : Spoke to the Houston Astros about their extra catchers recently. The O's are looking for catching help in the wake of C Matt Wieters ' elbow injury. (MASN Sports)
San Diego Padres : 1B/OF Kyle Blanks could soon be traded. The Oakland Athletics are one possible suitor and prospect OF Jake Goebbert may be in play. (MLB Daily Dish)
Philadelphia Phillies : Outrighted UTIL Jayson Nix off the 40-man roster, the team announced.
Chicago White Sox : Outrighted RHP Maikel Cleto off the 40-man roster, the team announced. LHP David Purcey and IF Alex Liddi were also released.
INJURY UPDATES
Los Angeles Angels : OF Kole Calhoun (ankle) has started running the bases (MLB.com) ... 3B Ian Stewart was placed on the 15-day DL with a left hand contusion, the team announced.
Astros: RHP Matt Albers (shoulder) is in a "holding pattern" after feeling discomfort over the weekend. (MLB.com)
Athletics: OF Coco Crisp (neck) was tentatively scheduled to take batting practice on Monday. (MLB.com)
Toronto Blue Jays : OF Colby Rasmus left Monday's game with hamstring tightness and may be headed to the DL. (National Post)
Milwaukee Brewers : May activate OF Ryan Braun (oblique) off the 15-day DL on Tuesday.
St. Louis Cardinals : RHP Joe Kelly (hamstring) has resumed playing catch. (MLB.com)
Los Angeles Dodgers : 3B Juan Uribe (hamstring) was available off the bench on Monday. He is still not ready to rejoin the lineup full-time. (MLB.com)
Seattle Mariners : 1B/OF Logan Morrison (hamstring) did some running drills and will take batting practice on Monday (MLB.com) ... OF Michael Saunders (knee) is "still a little tender" according to manager Lloyd McClendon. He is not expected to play much this week. (News Tribune)
Mets: Placed RHP Gonzalez Germen on the 15-day DL with a virus, the team announced.
Nationals: OF Bryce Harper (thumb) had stitches removed on Monday but has not yet been cleared to resume baseball activities. (MASN Sports)
Padres: Expected to activate OF Carlos Quentin (knee) off the DL on Tuesday.
Phillies: IF Freddy Galvis will miss 6-8 weeks with a broken clavicle. He suffered the injury in Triple-A over the weekend. (CSN Philly)
Texas Rangers : An MRI on LHP Martin Perez 's elbow revealed "no hard evidence of a tear to the ulnar collateral ligament." He will undergo more tests and miss at least one start (Dallas Morning News) ... RHP Neftali Feliz (arm fatigue) is likely to be activated off the Triple-A DL on Tuesday. (Dallas Morning News)
Tampa Bay Rays : RHP Alex Cobb (oblique) is expected to begin a minor league rehab assignment on Saturday. (Charlotte Sun)
Detroit Tigers : RHP Rick Porcello was removed from Monday's start as a precaution due to tightness in his side (MLB.com) ... RHP Anibal Sanchez (blister) threw 60 pitches in a simulated game. (MLive.com)
White Sox: LHP Chris Sale (elbow) will begin a minor league rehab assignment on Thursday. (Chicago Sun-Times)
New York Yankees : LHP CC Sabathia (knee) will see Dr. James Andrews for a second opinion and it is considered precautionary (ESPN New York) ... RHP Shawn Kelley (back) is still day-to-day and not yet available (Newsday) ... OF Ichiro Suzuki was unavailable on Monday due to a sore back. He hurt himself attempting a sliding catch on Sunday (MLB.com) ... OF Carlos Beltran will undergo an MRI on his hyper-extended right elbow. He hurt himself taking swings in the batting cage. (New York Daily News)
MISCELLANY
RHP Brandon Backe: A jury determined four Galveston, Texas police officers used excessive force during a 2008 wedding party and awarded a total of $48,900 in damages to injured plaintiffs. Backe was seeking upwards of $13 million claiming his injuries ended his career.
OF Alfonso Soriano : Soriano became the seventh player in history with 1,000 hits in both the AL and NL on Monday night. He is the only player in baseball history with 1,000 hits, 100 home runs and 100 stolen bases in both leagues.
Show Comments
Hide Comments