MLB rumors, injuries and news roundup for September 2
Updates on the injured Kris Medlen, Starlin Castro, Homer Bailey, Jonathan Gray and Justin Verlander headline Tuesday's daily recap.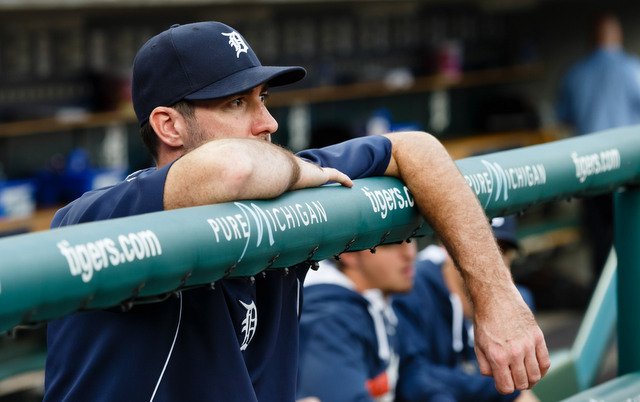 Another great day of baseball is in the books. Time to recap Tuesday's news from around the league.
RUMORS & TRANSACTIONS
Los Angeles Angels : Designated both OF J.B. Shuck and RHP Michael Kohn for assignment, the club announced.
Houston Astros : Designated both RHP Paul Clemens and RHP David Martinez for assignment, the team announced ... Among the candidates for the team's now-vacant managerial position are Boston Red Sox bench coach Tony Lovullo, Texas Rangers bench coach Tim Bogar, Tampa Bay Rays bench coach Dave Martinez, Detroit Tigers third base coach Dave Clark and Chicago White Sox third base coach Joe McEwing. (ESPN and MLB.com)
Toronto Blue Jays : Designated both OF Darin Mastroianni and UTIL Matt Hague for assignment, the club announced. RHP Neil Wagner was also released.
Milwaukee Brewers : Designated OF Caleb Gindl and released RHP Hiram Burgos for assignment, the club announced.
San Diego Padres : Designated both IF Chris Nelson and LHP Troy Patton for assignment, the team announced.
Pittsburgh Pirates : Designated UTIL Michael Martinez for assignment, the club announced.
New York Yankees : Designated OF Zoilo Almonte for assignment and released RHP Matt Daley, the team announced.
INJURY UPDATES
Oakland Athletics : Hopeful OF Coco Criso (neck) will be able to return to the lineup this weekend (MLB.com) ... LHP Sean Doolittle (intercostal) played catch on Tuesday. (Bay Area News Group)
Blue Jays: 3B Brett Lawrie (oblique) will miss the rest of the season.
Atlanta Braves : RHP Kris Medlen (Tommy John surgery) has started throwing as part of his rehab (Atlanta Journal-Constitution) ... OF Justin Upton is day-to-day with a triceps issue. (Atlanta Journal-Constitution)
Brewers: OF Carlos Gomez (wrist) will miss at least another week.
St. Louis Cardinals : RHP Michael Wacha (shoulder) will return to the rotation on Thursday.
Chicago Cubs : SS Starlin Castro left Tuesday's game with an ankle injury and preliminary tests are negative. He is heading for additional x-rays and an MRI, however. (MLB.com)
San Francisco Giants : OF Michael Morse has an oblique strain and will not play during the rest of the team's road trip. (CSN Bay Area)
Washington Nationals : 1B Adam LaRoche's back problem is improving after taking muscle relaxors. (Washington Post)
Cincinnati Reds : Discussing surgery for RHP Homer Bailey , who has a flexor mass injury in his elbow. (MLB.com)
Colorado Rockies : Top prospect RHP Jonathan Gray has been shut down for the season with shoulder fatigue. (Denver Post)
Kansas City Royals : IF Christian Colon left Tuesday's game with a broken finger and is done for the rest of the year, the team announced.
Tigers: RHP Justin Verlander admitted his shoulder is "kind of fatigued," but he will not be shut down unless it gets worse (MLB.com) ... RHP Joakim Soria (oblique) threw off flat ground for the first time. (MLive.com)
Yankees: RHP Masahiro Tanaka (elbow) was cleared to resume throwing after tests on his sore arm came back clean ... UTIL Martin Prado left Tuesday's game with a hamstring injury and will have tests on Wednesday, the team announced.
MISCELLANY
Cardinals: Moving trade deadline pickup RHP Justin Masterson to the bullpen.
Philadelphia Phillies : Manager Ryne Sandberg may be having his lineups dictated to him from his bosses.
Show Comments
Hide Comments