MLB Stock Watch: Kershaw nearly perfect; tiny Altuve stands tall
Clayton Kershaw's stock can't possibly be topped after pitching arguably the best game in baseball history. As for another ace, what's up with Justin Verlander?
More MLB: Power Rankings | Expert Picks | Latest news & notes | Fantasy news
It wasn't a perfect game but it may have been the best game ever thrown. By anyone. Ever.
Noted numbers guru Bill James has a formula to rate all games, and by his measure Clayton Kershaw  near-perfect game was the best no-hitter ever thrown. In fact, the only game in history that topped it was Kerry Wood's 20-strikeout, one-hitter.
Tough to pick against a two-time Cy Young winner like Kershaw when he throws a no-hitter, strikes out 15 and walks none, with only a Hanley Ramirez throwing gaffe between Kershaw and perfection in the 8-0 win over Colorado. Nolan Ryan is the only other pitcher to strike out 15 in a no-hitter, something he did twice. But Ryan walked hitters in those gems. The most amazing thing of all about Kershaw's no-hitter very likely was the 107 pitches, which is incredible efficiency considering he needed at least 45 pitches for all those strikeouts.
Someone pointed out that Kershaw's historic performance was against a Colorado Rockies lineup without Carlos Gonzalez and Michael Cuddyer . And to that, I say, who cares?
If it wasn't the best-pitched game ever, it's certainly in the top four or five. So the race among Bulls is for places two and three, with lots of great choices.
Here are the Bulls and Bears in this week's Stock Watch.
1. Clayton Kershaw, SP, Los Angeles Dodgers : Beyond the brilliant gem, Kershaw has 40 strikeouts and one walk in June. He's the best, and there should be no question about that. Despite missing a month, he has once again become a favorite in the NL Cy Young competition (though Adam Wainwright , who came back and pitched his usual stellar game this week after missing a game, and Johnny Cueto lead statistically at the moment.)
2. Jose Altuve , 2B, Houston Astros : The diminutive Altuve trails Robinson Cano by a whopping 740,000 votes in All-Star balloting (he's fifth at second base) but he leads everyone in the AL in batting average (.336), hits (103) and stolen bases (26). For the week, Altuve was 13 for 24 and had a 1.218 OPS. For the year, nobody's been better. It's OK if Cano, who's helping turn around the Seattle Mariners , starts the game, but Altuve has to be an All-Star.
3. J.D. Martinez , OF, Detroit Tigers : Released by Houston in the spring, Martinez is making the most of what might have been his final shot in Detroit. He was 12 for 27 this week, with four home runs, 11 RBI and a 1.464 OPS. Overall, he has seven homers, a .310 average and .937 OPS. His revamped swing may have benefited the Astros, but he still doesn't walk much, so he may not have been a perfect fit there.
Honorable Mention: Mike Trout , OF, Los Angeles Angels ; C.J. Cron, DH, Angels; Gregory Polanco , OF, Pittsburgh Pirates ; Corey Dickerson , OF, Rockies; Devin Mesoraco , C, Cincinnati Reds ; Carlos Santana , 3B, Cleveland Indians ; Scooter Gennett , 2B, Milwaukee Brewers ; Aramis Ramirez , 3B, Brewers; Starlin Castro , SS, Chicago Cubs ; Edwin Encarnacion , 1B, Toronto Blue Jays ; Ryan Howard , 1B, Philadelphia Phillies ; Alex Gordon , OF, Kansas City Royals ; Kurt Suzuki , C, Minnesota Twins ; Brad Miller , SS, Mariners; David Wright , 3B, New York Mets ; Freddie Freeman , 1B, Atlanta Braves ; Billy Hamilton , OF, Reds; James Jones , OF, Mariners; Evan Gattis , C, Braves; Steve Pearce , DH, Baltimore Orioles ; Jonathan Lucroy , C, Brewers; Latroy Hawkins, RP, Rockies; Joaquin Benoit , RP, San Diego Padres ; Wade Davis , RP, Royals; Burke Badenhop , RP, red Sox; Mark Melancon , RP, Pirates; Garrett Richards , SP, Angels; Cole Hamels , SP, Phillies; Jake Arrieta , SP, Cubs; Jordan Zimmerman, SP, Washington Nationals ; Henderson Alvarez , SP, Miami Marlins ; Brian Morris, RP, Marlins; Wainwright; Kyle Gibson , SP, Twins; Scott Kazmir , SP, A's; Tanner Roark , SP, Nationals; Delin Betances, RP, New York Yankees ; Kevin Gausman , SP, Orioles; Madison Bumgarner , SP, San Francisco Giants .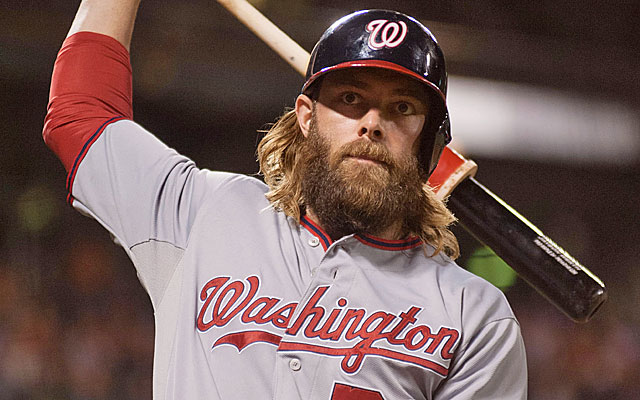 1. Jayson Werth , OF, Nationals: One of my favorite interviews has hit hard times. He was 2 for 27 with 14 strikeouts over his past seven games. Not at all like him.
2. Justin Verlander , SP, Tigers: Verlander had a nice seven-inning, one-run outing against the rival Royals, and maybe some of the slump talk will be quelled a bit. But that 7.01 ERA for June still seems crazy.
3. Melvin Upton , OF, Braves: The latest slide isn't well-timed, with rumors that the Braves may consider summoning Christian Bethancourt , which would likely mean a move of the hot Evan Gattis from catcher to left field, and cause Upton to be squeezed out of a starting job in center field. Word early was that he was hitting in bad luck. But the bad luck has continued, with a 4-for-29 week that included 11 strikeouts and a .305 OPS. He has been much better than Dan Uggla , who already lost his job. But is that enough?
Dishonorable Mention: Drew Stubbs , OF, Rockies; Josh Willingham , OF, Twins; Tommy La Stella, 2B, Braves; Jason Kipnis , 2B, Indians; Garrett Jones , 1B, Marlins; Jose Reyes , SS, Blue Jays; Eugenio Suarez , SS, Tigers; Matt Dominguez , 3B, Astros; Chase Headley , 3B, Padres; Jon Singleton , 1B, Astros; Stephen Drew , SS, Boston Red Sox , Twins; Eric Stults , SP, Padres; Matt Cain , SP, Giants.   
Show Comments
Hide Comments