MLB Stock Watch: Trout tops June's best, moves into MVP position
Your AL MVP right now? Mike Trout, hands down. Clayton Kershaw and Felix Hernandez are looking like repeat Cy Young winners, too, as we run down June's best.
More MLB: Expert Picks | Latest news & notes | Fantasy news
Mike Trout gets Stock Watch honors this time, but he's in line for an even bigger award: yes, MVP.
As some might say, it's about time.
Trout, who memorably finished second in each of his first two full seasons in the big leagues, should be the unanimous AL MVP leader now.
Not only has he been easily the best player in the American League this year, but for good measure his Los Angeles Angels are currently in playoff position. Yes, of course, I know many Trout backers the last two years decry the fact that team performance enters into the equation.
But sorry fellas, that's just reality.
Whether or not the new numbers guys believe the award for Most Valuable Player should go to the best player (they do, to a man), the reality is that there is plenty of voting precedent to suggest the word "valuable" takes into consideration how much a player's deeds and achievements affected a pennant race.
If someone wants to interpret Most Valuable as best (or even most valuable to his own team), that's actually fine by me. A few voters do, too. But since it's a league award, I still take it to mean most valuable in the league. Which is why I supported Miguel Cabrera for the award the last two years, and so did a substantial majority of the voters.
Trout and Cabrera were both eons above anyone else in the league the last two seasons, and it's fair to say Cabrera took home the hardware very likely because Cabrera's Detroit Tigers were a playoff team and Trout's Angels were not. But so far this year, it's not even a competition for AL MVP.
Trout has been the best (and most valuable) player in the league no matter what stats are used, no matter how you define the award.
There was some talk earlier this year about Trout's increased strikeout rate, but this month Trout solidified his rather large MVP lead over a fine group ( Jose Bautista , Edwin Encarnacion , Jose Abreu , Jose Altuve , etc.) with superb all-around play. He had the best OPS in baseball in June (1.230) and quite likely now is having an even better season this year than the first two.
With an eye on the full June performance, here are all the Bulls and Bears in this week's Stock Watch.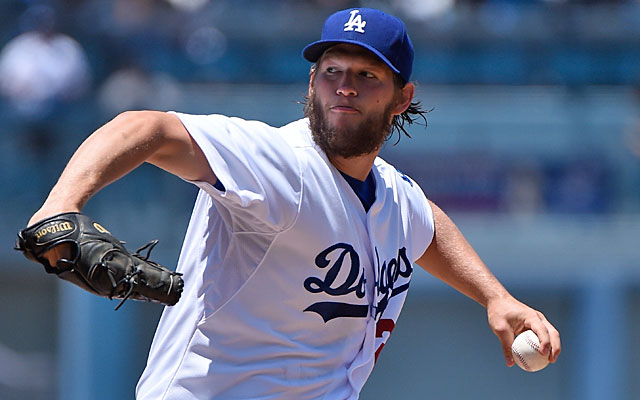 1. Mike Trout, OF, Angels: The Angels outfielder made the Mickey Mantle comparisons feel a little more real this week, when he made it 10 for 10 in steals and also hit a 489-foot homer, the longest anyone's hit this year. He is simply the best position player in the game, and there really isn't a competition for that at the moment.
2.  Clayton Kershaw , SP, Los Angeles Dodgers : No one had a better month, almost ever. Kershaw went 6-0 with a 0.82 ERA, 61 strikeouts and four walks in 44 innings in June and he pitched the Dodgers into a first-place tie with the rival San Francisco Giants after LA trailed by 9½ games only three weeks ago. For good measure he has a scoreless streak of 28 innings going, the specialty record of the Dodgers organization, which saw Orel Hershiser and Don Drysdale post the two longest such streaks in history. While a case could be made that Johnny Cueto or Adam Wainwright deserves the Cy Young award to date, Kershaw, with two under his belt already, is the probably the favorite. (*He quite likely would have been first here, but a little-known Stock Watch rule says no one can take top honors two weeks in a row.)
3. Felix Hernandez , SP, Seattle Mariners : King Felix was 3-1 with a 1.22 ERA and 54 strikeouts (compared to only six walks) over 44 1/3 innings for the month. While we don't agree that Masahiro Tanaka is an "idiot" for giving up a home run to Mike Napoli (and fairly, don't even blame Napoli for his heat-of-the-moment comment caught on TV microphones), Hernandez does have a slight lead over Tanaka for AL Cy Young on this scorecard to date.
Honorable Mention: Jose Altuve, 2B, Houston Astros ; Jose Abreu, 1B, Chicago White Sox ; J.D. Martinez, OF, Tigers; Andrew McCutchen , OF, Pittsburgh Pirates ; Anthony Rizzo , 1B, Chicago Cubs ; Ian Kinsler , 2B, Tigers; Edwin Encarnacion, 1B, Toronto Blue Jays ; Scooter Gennett , 2B, Milwaukee Brewers ; Matt Adams , 1B, St. Louis Cardinals ; Evan Gattis , C, Atlanta Braves ; Aramis Ramirez , 3B, Brewers; Garrett Richards , SP, Angels; Henderson Alvarez , SP, Miami Marlins ; Jake Arrieta , SP, Cubs; Adam Wainwright, SP, Cardinals; Jordan Zimmerman, SP, Washington Nationals , Tanner Roark , SP, Nationals; Sean Doolittle , RP, A's; Josh Beckett , SP, Dodgers; Bartolo Colon , SP, New York Mets ; David Price , SP, Tampa Bay Rays , Yu Darvish , SP, Texas Rangers ; Cole Hamels , SP, Philadelphia Phillies .
1. Brian McCann , C, and Carlos Beltran , OF-DH, New York Yankees : For $130 million total ($85 million for McCann, $45 million for Beltran), well, the Yankees aren't nearly getting their money's worth so far. McCann has a .591 OPS for June, Beltran .648 (and it took a three-hit night Sunday to get there). Overall, it's hard to separate them, at least by batting average, as McCann has a .221 batting average, and Beltran .220. There is often an adjustment period in coming to New York, but that still wouldn't explain Beltran, who spent six and a half years with the Mets. They have four-and-a-half and two-and-half years left on their deals, respectively.
2. A.J. Pierzynski , C, Boston Red Sox : He has a .393 OPS for the month, which doesn't even justify his one-year deal. In case he doesn't turn it around, here's better news: Boston has two excellent catching prospects in the minors, the brilliant defender Christian Vazquez plus all-around talent Blake Swihart.
3. Jorge De La Rosa , SP, Colorado Rockies : With Carlos Gonzalez and Michael Cuddyer out, the Rockies have slipped. It doesn't help that their starters are struggling. Starting with their ace who has a 7.11 ERA for the month.
Dishonorable Mention: Jackie Bradley Jr., OF, Red Sox; Torii Hunter , OF, Tigers; Carlos Ruiz , C, Phillies; Junior Lake , OF, Cubs; Jean Segura , SS, Brewers;   Ryan Zimmerman , LF-3B, Nationals; Chris Davis , 1B, Baltimore Orioles ; Ed Lucas , INF, Marlins; Melvin Upton , OF, Braves; Yadier Molina , C, Cardinals; Yangervis Solarte, INF, Yankees; Max Venable, OF, San Diego Padres ; Everth Cabrera , SS, Padres; Tyler Flowers , C, White Sox; Stephen Drew , SS, Red Sox; Carlos Quentin , OF, Padres; Roberto Hernandez , SP, Phillies; Jhoulys Chacin , SP, Rockies; Jake Peavy , SP, Red Sox; Eric Stults , SP, Padres; Justin Verlander , SP, Tigers.
Show Comments
Hide Comments