MLB suspends, fines umpire Fieldin Culbreth
In light of his crew allowing the Astros to make an illegal pitching change Thursday night, Fieldin Culbreth has been suspended for two games by Major League Baseball. The entire umpiring crew has been fined as well.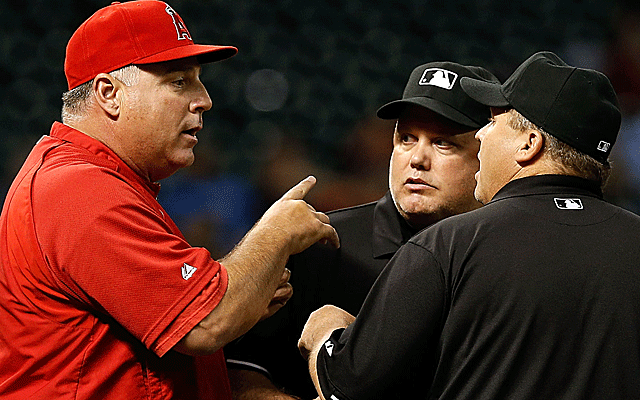 More MLB: Scoreboard | Standings | Probable Pitchers | Sortable Stats | Odds
Umpire Fieldin Culbreth has been suspended by Major League Baseball for two games in addition to being fined for his crew -- he's the crew chief -- botching a rather obvious rule in the Astros-Angels game Thursday night in Houston, confirms Jon Heyman of CBSSports.com.
The other members of the crew -- Brian O'Nora, Bill Welke and Adrian Johnson -- were all fined as well but not suspended.
While suspensions of umpires are relatively rare, they aren't unprecented. In 2007, Mike Winters was suspended for provoking Milton Bradley -- said provokation actually led to Bradley tearing his ACL while being held back from charging Winters. Bob Davidson was suspended last season for one game for "repeated violations" in handling situations. Basically, he was constantly picking fights with players or managers.
Still, a suspension for a blatant rules violation doesn't happen often because the MLB umpires rarely botch a rule so blatantly.
This ruling by MLB came less than 24 hours after Culbreth's crew allowed the Astros to make a pitching change without Wesley Wright having even thrown a live pitch. Angels manager Mike Scioscia filed an official protest before Hector Ambriz -- Wright's replacement -- had thrown a pitch.
The move was a clear violation of Rule 3.05. Here are the pertinent parts of the rule that apply in this situation:
(b) If the pitcher is replaced, the substitute pitcher shall pitch to the batter then at bat, or any substitute batter, until such batter is put out or reaches first base, or until the offensive team is put out, unless the substitute pitcher sustains injury or illness which, in the umpire-in-chief's judgment, incapacitates him for further play as a pitcher.
(c) If an improper substitution is made for the pitcher, the umpire shall direct the proper pitcher to return to the game until the provisions of this rule are fulfilled. If the improper pitcher is permitted to pitch, any play that results is legal. The improper pitcher becomes the proper pitcher as soon as he makes his first pitch to the batter, or as soon as any runner is put out.
Rule 3.05(c) Comment: If a manager attempts to remove a pitcher in violation of Rule 3.05(c) the umpire shall notify the manager of the offending club that it cannot be done. If, by chance, the umpire-in-chief has, through oversight, announced the incoming improper pitcher, he should still correct the situation before the improper pitcher pitches. Once the improper pitcher delivers a pitch he becomes the proper pitcher.
Wright was not injured, and in fact, after the game Astros manager Bo Porter noted that he thought he was allowed to change pitchers to counter the Angels calling up a pinch-hitter.
This all happened just one day after the umpires in Cleveland missed a rather obvious home run even after looking at the monitor in a replay review situation. MLB had to admit error there and again had to do so Friday in looking at the pitching change situation that was allowed to happen in Houston.
News of the discipline was first reported by Ken Rosenthal of Fox Sports.
Show Comments
Hide Comments