MLB to introduce manager challenges to replay system
Major League Baseball -- in a 'historic moment,' according to Bud Selig -- will expand replay and give managers the option to challenge calls.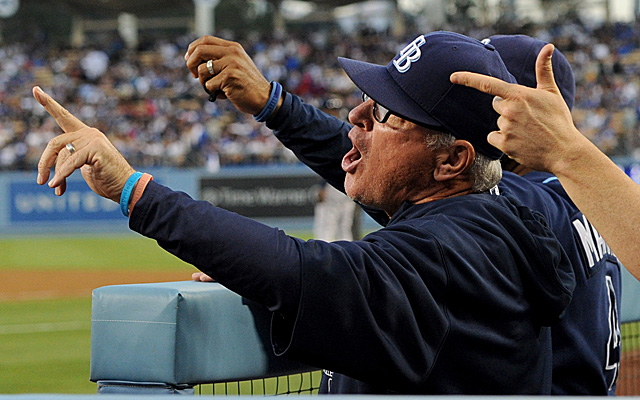 More MLB: Scoreboard | Standings | Probable Pitchers | Sortable Stats | Odds
With more and more call for expanded instant replay, Major League Baseball is prepared to take a huge step. MLB will implement a challenge system similar to that used in the NFL, per the Associated Press.
The changes will reportedly be finalized at the owners' meetings this coming November -- where a 75 percent vote is needed for approval -- so expect them to be implemented in time for next season.
Via the AP:
Managers will be allowed two challenges over the first six innings of games and one after the seventh inning. Calls that are challenged will be reviewed by a crew in MLB headquarters in New York City, which will make the final ruling.
Braves president John Schuerholz is a member of the replay committee and he noted that the umpires are collectively on board with the change. He also said that 89 percent of incorrect calls would be reviewable. There's no specific word on whether or not this includes balls and strikes.
Commissioner Bud Selig called this a historic moment for baseball, which makes it sound like the vote in November is a mere formality.
On one hand, I'm glad MLB is finally deciding to use the technology available. On the other, I'm worried about manager challenges. I don't understand why the NHL system isn't used instead. That is, this crew in the MLB headquarters watching the games, why can't they just decide when calls should or should not be reviewed? Why leave it up to the managers?
My initial question on the manager challenges is: How can we be sure they are challenging the call instead of buying time? For example, getting a reliever ready ASAP in the ninth inning during a "challenge" could be a stall tactic. How do we safeguard against that?
Show Comments
Hide Comments