MLB trade deadline needs: NL East
As we continue our stroll through each division to look at needs heading to the trade deadline, we touch today upon the NL East.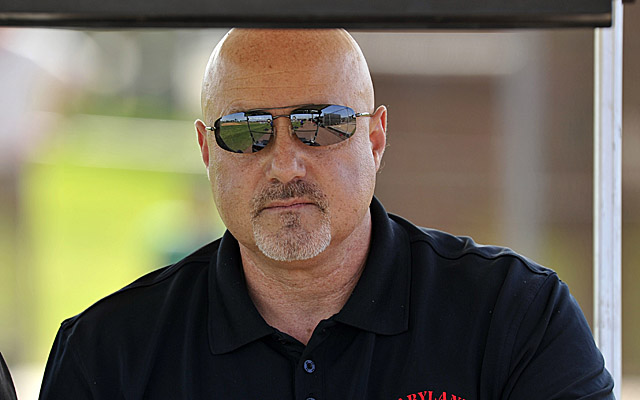 More: NL Central | AL Central | NL West | AL West
With the July 31 non-waiver trade deadline just around the bend, we've been taking quick tours of each of baseball's six divisions and examining what the teams of each division need as said deadline approaches. Up now is the NL East, a division with two obvious contenders, two maybe-possibly-could-be-but-probably-not contenders and one of the worst teams in the NL. 
Washington Nationals
With Ryan Zimmerman hurt and Anthony Rendon back at third base, it wouldn't hurt for the Nationals to grab a veteran second baseman. I'd guess that Chase Utley is impossible to land, but he'd be the absolute, perfect fit. They could, of course, add a third baseman and swing Rendon back to second. There were recent reports that they called the Texas Rangers about Adrian Beltre -- talk about an impact trade that would've been -- but were denied.
In reality, the Nats probably won't be able to swing a deal for players of such stature, but there could be a match with the Arizona Diamondbacks on either Martin Prado (which would make a ton of sense, given that he can play almost anywhere and adds nice depth at several spots) or Aaron Hill .
Otherwise, Washington's talented and deep at many spots. They don't need much tinkering, so it might be a case of either a home run or nothing.
Atlanta Braves
Given the significant injuries to the rotation and the offensive inconsistencies, it's pretty remarkable that the Braves are in such good shape in the standings. They have several areas where they could stand to improve.
The Braves have been heavily connected to trade talks for Andrew Miller of the Boston Red Sox , which makes sense given their need to a lefty in the late innings.
The club has also made very little secret of its wish to acquire better bats off the bench. I wonder about the Chicago Cubs as a match. Justin Ruggiano (.293/.358/.449 entering Sunday) and Chris Coghlan (.272/.349/.457) are both having good seasons and could probably be had on the cheap. In fact, either one could take away some playing time from Melvin Upton down the stretch.
I don't think it would hurt to add a starting pitcher, but the Braves don't appear to be heading down that path. That's not really the biggest problem, though, as Atlanta entered Sunday ranking 11th in the NL in runs scored.
Grabbing an outfielder would definitely help, as already mentioned, and it couldn't hurt to discuss some possible third base upgrades. Chris Johnson 's average is back where it belongs this season and his 11 walks against 103 strikeouts is awful. Could they get back together with Arizona and bring Prado back? He'd be a nice fit.
Miami Marlins
It's rather difficult to see the Marlins doing much this time around. They are close enough to contention that they shouldn't be dealing veterans with value like Casey McGehee . They also have enough good, young, cost-controlled talent that it's not a stretch to see them in contention next season -- especially with Jose Fernandez back and healthy -- and even 2016.
Though it sounds pretty boring, the Marlins' biggest need right now is to just stand pat. Well, I would say to talk extension with a no-trade clause for Giancarlo Stanton (he's a free agent after 2016), but this is the Marlins we're talking about. Until they prove otherwise, we have to assume he'll be playing elsewhere by 2017 at the latest.
New York Mets
Though they're only on the periphery of contention (seven back of the second wild-card heading into Sunday), they are close enough that they probably can't justify selling off veterans -- even though Bartolo Colon 's name has been bouncing around the rumor mill. Plus, with Matt Harvey coming back next season and lots of promising young pitching in the system, the Mets could well be on the verge of a breakout season in 2015. So the eyes need to stay right there. Any move made has to be with improving the ballclub for 2015 in mind.
If they are somehow able to pull off the rumored blockbuster for Troy Tulowitzki and Carlos Gonzalez , that would be incredible.
If not, left field and shortstop are the two areas where the Mets need to improve most before next season. Calling the Cubs about, say, Javier Baez in exchange for a young, stud pitching prospect would make sense, for example.
Now might be the time, but they could also conceivably wait for the offseason to address these needs.
Philadelphia Phillies
The Phillies came into Sunday trailing in the division by 12.5 games. They were 11 out in the wild-card race. Of their eight regular starting position players and five rotation guys, seven are at least 34 years old. It doesn't appear that they have much in the way of young talent in the pipeline coming soon, either.
Basically, they really should blow this thing up. Even if they have to eat a large portion of the money remaining on some of these colossal deals, GM Ruben Amaro should be looking to trade all of the following players: Ryan Howard , Cliff Lee , Jimmy Rollins , Chase Utley, A.J. Burnett , Jonathan Papelbon , Marlon Byrd , Carlos Ruiz , Antonio Bastardo and, yes, Cole Hamels (he's 30, so it's not like he has to be kept as a centerpiece for the rebuild).
It's going to get worse before it gets better regardless of how its done, so rip that band-aid off and embark upon a sizeable rebuilding project.
Obviously, there are many complications, like Howard being untradeable, Lee struggling as he returns from injury, Utley not wanting to waive his no-trade clause and some of the almost excessive money left on the contracts of Howard, Lee and Hamels. I get that. We're writing about what each team needs to do, though, and they need to try and move everyone.