MLB Wednesday scores, highlights, news, updates: Garrett wows, Russell walks off
Cubs' Addison Russell walks off, Cardinals' Dexter Fowler is the offense and more from Wednesday
It's a full 15-game slate of baseball for Wednesday, so let's dig right in ... 
Final scores
St. Louis Cardinals 2, Pittsburgh Pirates 1 (box score)
Chicago Cubs 7, Milwaukee Brewers 4 (box score)
Oakland Athletics 9, Texas Rangers 1 (box score)
Seattle Mariners 10, Miami Marlins 5 (box score)
New York Yankees 9, Chicago White Sox 1 (box score)
Toronto Blue Jays 3, Boston Red Sox 0 (box score)
Rays 8, Tigers 7 (box score)
Mets 5, Philadelphia Phillies 4 (box score)
Baltimore Orioles  2,  Cincinnati Reds  0 (box score)
Nationals 14,  Atlanta Braves  4 (box score)
Houston Astros 5, Los Angeles Angels 1 (box score)
Kansas City Royals 2, San Francisco Giants 0 (box score)
Padres 1,  Arizona Diamondbacks 0 (box score)
Dodgers 4,  Colorado Rockies  2 (box score)
Cleveland Indians at Minnesota Twins  postponed
Addison Russell

sinks Brewers with walk-off homer

For the second straight day, the Cubs mounted a comeback against the visiting Brewers. On Tuesday, the Cubs came back from down 5-0 to win, and on Wednesday they found themselves down 4-1 at one point.

The Cubs, though, worked their way back, and it was 4-4 when Addison Russell stepped in with two on and two out in the bottom of the ninth. Forthcoming: action-sports footage ... 
That's a walk-off, and that's two straight wins for the Cubs after losing four in a row. That also nudges their record back above the .500 mark.
Now for some digits on that homer ... 
Russell doesn't yet hit for high averages, and he doesn't draw enough walks to lift his OBP into plus territory. But that kind of power from standout defensive shortstop? That makes him a special player, and bear in mind he's still just 23 years old. 
That was his first walk-off home run, but it surely won't be his last. 
The Reds may have something in
Amir Garrett
As you see above, the Reds fell to the Orioles by a count of 2-0. Yes, the Reds lost, but consider what they got from rookie lefty Amir Garrett on Wednesday night ...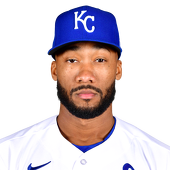 Amir Garrett
SP / Cincinnati (vs. BAL)
IP:
7
H:
7
R:
2
ER:
2
SO:
12
BB:
1
HR:
0
And regarding what you see above, here's this note from Reds media relations:
With 12 strikeouts so far tonight (through the sixth inning), Amir Garrett has tied the modern club record for strikeouts in a game by a rookie lefthander (Dennys Reyes, 8/20/1998 at Pit). #Elias

The modern club record for strikeouts in a game by a rookie is 15 by Gary Nolan on 6/7/1967 vs SF.
After that gem, Garrett now boasts an ERA of 1.83 and a K/BB ratio of 7.00 after three starts. The soon-to-be 25-year-old has a fastball-slider-changeup mix, so he's got enough to attack both sides. He's also got an interesting back-story, as Garrett also played college basketball after the Reds drafted and signed him in 2011.
Cincy's got a number of interesting young arms in the system, and right now Garrett is foremost among them. 
Bryce Harper

hits grand slam

Harper homered twice against the Braves on Wednesday night, and the second of those happened to plate four runs ... 

That's the third grand slam of Harper's career (each of the other two came last season), and that's his sixth homer of 2017. Speaking of 2017, Harper presently owns a slash line of .380/.492/.820. While that's not the best line belonging to a player in this game ( Freddie Freeman , thou art on fire), it's obviously an ultra-high level of production.

After a down 2016, much is expected of Harper in this, his age-24 season. Thus far, he's delivering in a big way. 
Dexter Fowler

goes off

The Cardinals this offseason signed center fielder Dexter Fowler to an $82.5 million deal, but coming into Wednesday's series finale against the Pirates, Fowler was batting just .143/.226/.196 in 14 games. Those paltry numbers include his Tuesday night, when he notched a triple and a walk. Suffice it to say, Fowler entered the week struggling badly. 

Because of Fowler's history, we knew this wasn't going to last. In case you doubted the obvious, Fowler on Wednesday showed you a thing or two. Two, actually. First, he ripped a 2-0 fastball from Gerrit Cole for a home run to right center in the third. Then he came up again in the fifth  ... 
That made for the fourth two-homer game of Fowler's career. You'll also note based on the final score of 2-1 that Fowler accounted for the only St. Louis runs of the day. On that note ... 
So there's a little history to go along with it. Those two homers in tandem with a single raised Fowler's batting line to .183/.258/.333. That's still not good, but it's a lot better than it was two days ago. Yes, Dexter Fowler will be fine. 
Ichiro leaves Safeco Field in style
Wednesday afternoon, future Hall of Famer Ichiro Suzuki played what may be his final game at Safeco Field. And in his final at-bat, he hit a home run.
What an awesome moment, with the Mariners' fans giving him a huge ovation. You can read more about Ichiro's blast here.
Judge crushed a monster home run
At 6-foot-7 and 282 pounds, Yankees outfielder Aaron Judge is literally the largest position player in MLB history. He uses that frame to generate tremendous leverage, so when he gets a hold of a pitch, he can hit it a mile.
Judge hit a ball nearly to the Yankee Stadium concourse beyond the left field bleachers Wednesday night:
Judge now has five home runs in 15 games this season. Here's more on Wedneday's monster homer.
Iglesias hurt during walk-off error
The end of Wednesday's game added insult to injury for the Tigers. Starting shortstop Jose Iglesias stumbled at second base turning what should have been an inning-ending double play, but he instead threw the ball away. Two runs scored and the Rays walked off with the win.
Iglesias stumbled right into Brad Miller , the baserunner, who inadvertently kneed him in the chin. The Tigers will know more about Iglesias' status on Thursday.
Quick hits
Red Sox LHP

David Price

(elbow) may not be progressing as hoped during his rehab. Peter Abraham of the Boston Globe has the details. 
Cubs 1B

Anthony Rizzo

wants stronger PED testing in light of the

Starling Marte

suspension. 
The Cubs are taking steps to prevent employees from selling their World Series rings. 
Derek Jeter and Jeb Bush are reportedly teaming up to make a run at buying the Marlins. 
Marlins CF

Christian Yelich

made a heck of a catch against the Mariners on Wednesday. 
Roger Clemens has some strong accusations regarding the Mitchell Report. 
The

New York Mets

' pitching coach says

Steven Matz

and

Seth Lugo

threw without any problems on Wednesday (Kristie Ackert via Twitter).
The Rangers have signed INF

Josh Wilson

to a minor-league contract. 
Free agent OF

Angel Pagan

says he'll sit out the 2017 season in order to spend time with his family. 

Washington Nationals

manager

Dusty Baker

says

Blake Treinen

will return to a setup role and that

Koda Glover

and

Shawn Kelley

will share closer duties (Jorge Castillo via Twitter).
The Nationals have placed LHP

Sammy Solis

on the 10-day DL with elbow inflammation. To take his place on the roster, the Nats have recalled RHP

Joe Ross

, who'll start Wednesday. 
The

San Diego Padres

have placed RHP

Jarred Cosart

on the 10-day DL with a strained right hamstring. 

Detroit Tigers

OF

Justin Upton

is not likely to play during his team's series against the

Tampa Bay Rays

because of a forearm injury. 
The

Los Angeles Dodgers

have placed 2B

Logan Forsythe

on the 10-day DL with a fractured right big toe.
Show Comments
Hide Comments