MLB Weekday Watch List: The trade deadline approaches
What to watch in baseball this week? The trade deadline, of course.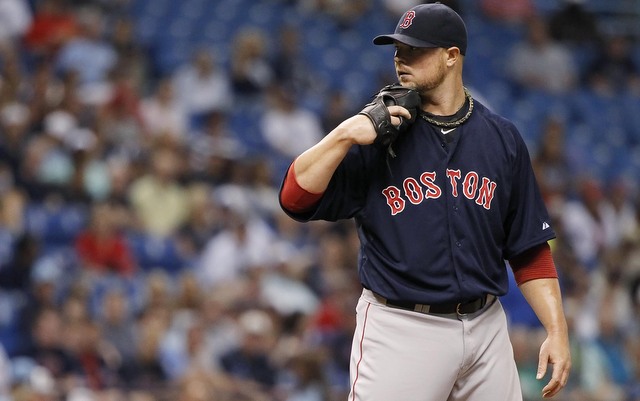 More MLB: Power Rankings | Expert Picks | Latest news & notes | Fantasy news
It's Monday morning! Let's celebrate by looking ahead to the upcoming week around baseball. Here's the stuff to keep an eye on.
1. The trade deadline!
This year's non-waiver trade deadline is 4 p.m. ET on Thursday. There have already been a handful of trades over the past few weeks -- Jeff Samardzija to the Oakland Athletics , Chase Headley to the New York Yankees , Joakim Soria to the Detroit Tigers , Huston Street to the Los Angeles Angels , etc. -- and there surely will be a bunch more over the next several dozen hours or so.
Jon Lester has surpassed David Price as the AL East ace most likely to be dealt thanks to the Tampa Bay Rays  recent hot streak, though that doesn't mean Price is off the table. The Philadelphia Phillies have several pieces to move, most notably Cliff Lee , Cole Hamels , A.J. Burnett , Jonathan Papelbon and Marlon Byrd . The Minnesota Twins , Arizona Diamondbacks , Miami Marlins , Texas Rangers , Colorado Rockies , San Diego Padres and Chicago Cubs all have veterans to offer as well.
As of right now, nine AL teams and eight NL teams are within four games of a postseason spot. More than a few of them will be looking to bolster their rosters for the stretch run. Expect plenty of rumors -- keep track of everything with our own Jon Heyman -- and speculation, as well as some actual trades this week. It'll be a blast.
2. Felix Hernandez vs. Corey Kluber on Wednesday
It's the best pitcher in the AL against maybe the most underappreciated pitcher in baseball in the top pitching matchup of the week. Hernandez has thrown at least seven innings and allowed no more than two runs in each of his past 13 starts, tying Tom Seaver's major-league record. Kluber has a 2.77 ERA with 162 strikeouts and only 30 unintentional walks in 149 1/3 innings this year.
Of course, this series is about more than one great pitching matchup. Both the Seattle Mariners and Cleveland Indians are fighting for the second wild-card spot -- Seattle is 1½ games back, Cleveland 3½ games back -- which makes these head-to-head matchups so important this time of the year. It's not often you get to control what you and one of your direct competitors do on a given night.
3. Atlanta Braves at Los Angeles Dodgers
This isn't just a rematch of last year's NLDS, it's a meeting between two of the four best teams in the NL. The Dodgers have been surging these past several weeks while the Braves have been kind of floudering around .500 for two months now. Both the NL East and NL West are up for grabs, and if things don't come together for these teams as they hope, they'll be battling for a wild-card spot.
Show Comments
Hide Comments