MLB Weekend Series Rankings: Braves, Marlins meet again in Miami
There are several intra-division rivalry series this weekend, including some bitter AL East and NL East matchups.
More MLB: Power Rankings | Expert Picks | Latest news & notes | Fantasy news
Another weekend of baseball is upon us. Let's dive in with the "hoagie" scale to ranking the upcoming series (plural!), listing each in order of how hungry we are to consume them. Subjectively, of course.

| | | |
| --- | --- | --- |
| | at | |
Los Angeles Angels (30-23) at Oakland Athletics (32-22)
Friday: RHP Garrett Richards (4-1) vs. LHP Drew Pomeranz (4-2)
Saturday: LHP Tyler Skaggs (4-2) vs. LHP Tommy Milone (3-3)
Sunday: RHP Jered Weaver (6-3) vs. RHP Sonny Gray (5-1)
The Athletics have been the most impressive team in baseball so far this season, at least in my opinion given how they excel on both sides of the ball. They rank second in runs scored (270) and first in fewest runs allowed (170) among the 30 clubs. That said, they have hit the skids of late, dropping two of four to the Tigers earlier this week and six of their past eight games overall.
The Angels, meanwhile, have managed to sneak to within 1½ games of the AL West lead. Division titles are not won in May, but this weekend is a great opportunity for the Halos to show they belong and are legitimate contenders after a run of disappointing years. The pitching matchups are in their favor -- at least on paper and for the first two games, anyway -- but I get the sense this will be an exciting and high-scoring series.
| | | |
| --- | --- | --- |
| | at | |
San Francisco Giants (35-19) at St. Louis Cardinals (29-25)
Thursday: Giants 6, Cardinals 5
Friday: LHP Madison Bumgarner (6-3) vs. RHP Adam Wainwright (8-2)
Saturday: RHP Matt Cain (1-3) vs. RHP Michael Wacha (3-3)
Sunday: RHP Tim Hudson (5-2) vs. RHP Lance Lynn (6-2)
This series will be entertaining -- Thursday night's opener was most definitely entertaining, right down to the final out -- for the simple reason that it is a matchup between the defending NL champs and the team with the best record in baseball at the moment. That Bumgarner-Wainwright game is the best pitching matchup of the entire weekend, hands down.
It's worth noting Cain is not guaranteed to make his start Saturday due to a lingering hamstring problem. Manager Bruce Bochy told Hank Schulman of the San Francisco Chronicle they will decide Friday whether to let him make that start.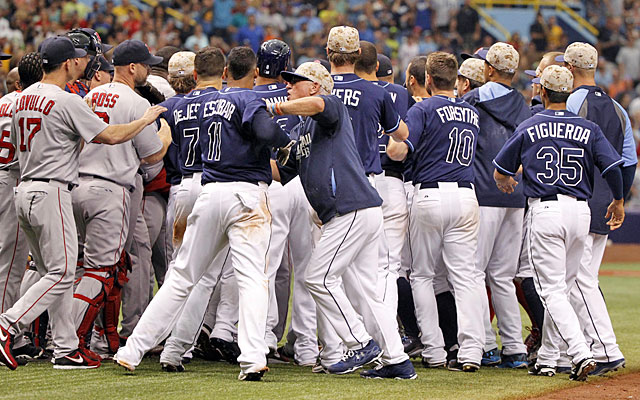 | | | |
| --- | --- | --- |
| | at | |
Tampa Bay Rays (23-31) at Boston Red Sox (24-29)
Friday: LHP David Price (4-4) vs. RHP Brandon Workman (0-0)
Saturday: RHP Jake Odorizzi (2-4) vs. RHP Rubby De La Rosa (0-0)
Sunday: LHP Erik Bedard (2-3) vs. LHP Jon Lester (5-6)
Remember when the Rays swept the Red Sox to extend their losing streak to 10 games last week? Tampa Bay hasn't won since and Boston hasn't lost since. The Sox just swept four games from the Braves while the Rays lost three straight to Blue Jays. Kind of funny how the roles reversed so soon, no? That's baseball.
Anyway, there is legitimate bad blood between these two franchises and it goes back a long way. The feud was rekindled last week with a benches-clearing incident following a Yunel Escobar stolen base with a five-run lead, which was totally silly on the part of the Red Sox, by the way. Even though the Sox and Rays are sitting in fourth and fifth place in the AL East, respectively, these games are always hard-fought and entertaining.
| | | |
| --- | --- | --- |
| | at | |
Atlanta Braves (28-25) at Miami Marlins (28-25)
Friday: RHP Julio Teheran (4-3) vs. RHP Tom Koehler (4-4)
Saturday: RHP Ervin Santana (4-2) vs. RHP Jacob Turner (1-2)
Sunday: RHP Aaron Harang (4-4) vs. RHP Nathan Eovaldi (4-2)
The Braves were just swept in a four-game home-and-home series against the Red Sox, which means they've fallen into a first-place tie with these Marlins in the NL East. Same records obviously, but the Fish have a huge edge in run differential (plus-24 to plus-4). It's also worth noting Miami is outstanding at home (20-8), so much so that Atlanta accused the Marlins of stealing signs earlier this season. It's a shame Jose Fernandez blew out his elbow for many reasons, including his absence from this series.

| | | |
| --- | --- | --- |
| | at | |
Baltimore Orioles (26-26) vs. Houston Astros (23-32)
Thursday: Astros 3, Orioles 1
Friday: RHP Miguel Gonzalez (3-3) vs. LHP Brett Oberholtzer (1-6)
Saturday: RHP Chris Tillman (4-2) vs. LHP Dallas Keuchel (6-1)
Sunday: LHP Wei-Yin Chen (5-2) vs. RHP Scott Feldman (3-2)
Do you know which team has the longest active winning streak in baseball right now? That would be the Astros, who have won six straight. They've won 11 of 16 games as well. Rookie outfielder George Springer has been a monster over the past week, hitting .407 with seven home runs in the team's past seven games. Keuchel has been awesome as well, allowing four earned runs total in his past four starts (34 1/3 innings). Could the Astros have multiple All-Stars this year? Jose Altuve  has been great as well.
The Orioles, on the other hand, have lost three straight and 12 of 18 overall. Nelson Cruz has been a one-man army this season, hitting 19 homers with 49 runs driven in. His one-year, $8 million contract has been the best free-agent signing of the offseason, dollar for dollar. Now Baltimore just needs some other players to step up and get it out of this rut. There is still two-thirds of the season to go, so the O's aren't out of it by any means.
| | | |
| --- | --- | --- |
| | at | |
Kansas City Royals (25-28) at Toronto Blue Jays (32-23)
Thursday: Royals 8, Blue Jays 6
Friday: LHP Jason Vargas (4-2) vs. LHP J.A. Happ (4-1)
Saturday: TBA vs. RHP Drew Hutchison (4-3)
Sunday: RHP Jeremy Guthrie (2-4) vs. LHP Mark Buehrle (9-1)
The Royals snapped the Blue Jays' nine-game winning streak in extra innings Thursday night, but that's alright. Toronto was bound to lose at some point, and heck, it nearly won that game anyway. The Jays still come into this weekend with the best record in the AL East by 2½ games. Kansas City, remember, fired its hitting coach on Thursday, before the eight-run outburst.
There are two things to watch this series. One: Edwin Encarnacion . He swatted two home runs Thursday night and has hit 16 in May, a new franchise record. He has two days left to break the May record of 17 home runs, which Barry Bonds (who else?) set in 2001. Two: Buehrle's continued excellence. As Jeff Sullivan at FanGraphs recently explained, Buehrle is using his sinker a little differently this year, so there is some tangible support for his sudden ace-like dominance. Could that be coming from new catcher Dioner Navarro ?
| | | |
| --- | --- | --- |
| | at | |
Texas Rangers (28-26) at Washington Nationals (25-27)
Friday: RHP Colby Lewis (4-3) vs. RHP Stephen Strasburg (3-4)
Saturday: RHP RHP Nick Tepesch (2-0) vs. RHP Doug Fister (2-1)
Sunday: RHP Yu Darvish (4-2) vs. RHP Tanner Roark (3-3)
We still have enough time. Let's petition the league and ask them to force these clubs to rearrange their rotations so we get a Darvish-Strasburg matchup. I'm not sure if we would see a better matchup this year. Unfortunately, it won't happen. Darvish is working his way back from his neck issue at the moment, so obviously keep an eye on him this weekend.
Anyway, these have been two of the most relatively disappointing teams this season, though the Rangers can at least fall back on the injury excuse. It's hard to believe how many key players they've lost this year. Serious injuries too, not just bumps and bruises. The Nationals, meanwhile, are the epitome of a team where the whole is less than the sum of the parts. They have way too much talent to be a sub-.500 squad.
| | | |
| --- | --- | --- |
| | at | |
Detroit Tigers (30-20) at Seattle Mariners (26-27)
Friday: RHP Justin Verlander (3-1) vs. RHP Hisashi Iwakuma (3-1)
Saturday: LHP Drew Smyly (2-3) vs. RHP Chris Young (4-2)
Saturday: RHP Max Scherzer (6-1) vs. LHP Roenis Elias (3-4)
These past few weeks have not been kind to the Tigers, who have dropped eight of their past 11 games. They still sit in first place in the AL Central by a comfortable 4½ games. It's a really weak division.
The Mariners have been going back and forth between "they look for real" and "they aren't for real" for several weeks now, so they are the quintessential teases. With Verlander and Scherzer lined up to start this weekend -- and with no Felix Hernandez scheduled -- this will be a good test for Seattle. It'll also be a good opportunity for Detroit to right the ship after splitting four games in Oakland.

| | | |
| --- | --- | --- |
| | at | |
Pittsburgh Pirates (24-29) at Los Angeles Dodgers (29-26)
Thursday: Pirates 6, Dodgers 3
Friday: LHP Francisco Liriano (0-5) vs. RHP Josh Beckett (3-1)
Saturday: RHP Brandon Cumpton (0-1) vs. LHP Hyun-Jin Ryu (5-2)
Sunday: RHP Edinson Volquez (2-4) vs. RHP Zack Greinke (8-1)
Get ready for a bunch of Johnny Vander Meer references this weekend. Beckett is coming off his no-hitter against the Phillies and, you know what, the Pirates are a pretty good opponent for a guy looking to throw back-to-back no-nos. Pittsburgh went into Thursday's series opener with a .248 batting average as a team, which ranked 17th out of the 30 clubs.
| | | |
| --- | --- | --- |
| | at | |
Cincinnati Reds (23-29) at Arizona Diamondbacks (23-33)
Thursday: Diamondbacks 4, Reds 0
Friday: RHP Mike Leake (2-4) vs. RHP Bronson Arroyo (4-3)
Saturday: RHP Johnny Cueto (4-4) vs. RHP Brandon McCarthy (1-6)
Sunday: RHP Alfredo Simon (6-3) vs. LHP Wade Miley (3-5)
This series started with a three-hit shutout by Josh Collmenter on Thursday, a game in which he faced the minimum 27 batters and threw only 94 pitches. Aside from that, Arizona has had some real big pitching problems this year while the Reds simply can't score, especially with Joey Votto out due to a knee/quad problem. Cueto has been brilliant and up until recently, literally every run he allowed this season had come on a home run.
| | | |
| --- | --- | --- |
| | at | |
Chicago Cubs (19-32) at Milwaukee Brewers (32-22)
Friday: LHP Travis Wood (5-4) vs. RHP Marco Estrada (4-2)
Saturday: RHP Jason Hammel (5-3) vs. RHP Wily Peralta (4-4)
Sunday: RHP Jeff Samardzija (1-4) vs. RHP Kyle Lohse (6-1)
Remember when the Brewers had the best record in baseball a few weeks ago? They've quietly gone 12-15 over the past month, yet they remain atop the NL Central (by three games!) because no one else in the division seems to want to step up. Beating up on the last-place Cubbies this weekend would be a fine way to get back on track. As always, pay special attention to Hammel and Samardzija. Their trade value fluctuates by the start, it seems.
| | | |
| --- | --- | --- |
| | at | |
Minnesota Twins (24-27) at New York Yankees (28-24)
Friday: RHP Ricky Nolasco (2-5) vs. LHP Vidal Nuno (1-1)
Saturday: RHP Kevin Correia (2-6) vs. RHP Masahiro Tanaka (7-1)
Sunday: RHP Phil Hughes (5-1) vs. RHP Chase Whitley (0-0)
Here's a fun fact: the Yankees are 72-22 against the Twins during the Ron Gardenhire era (2002-present), including postseason. Four of those 22 losses came against in-his-prime Johan Santana . The Bronx Bombers have dominated the Twinkies over the years. I'm very curious to see how Phil Hughes, who has not walked a batter in his past six starts (44 2/3 innings!), performs in his return to Yankee Stadium on Sunday. His extreme fly-ball ways were not a good fit for the ballpark at all, but he has it all working in Minnesota.

| | | |
| --- | --- | --- |
| | at | |
New York Mets (25-28) at Philadelphia Phillies (23-28)
Thursday: Mets 4, Phillies 1
Friday: RHP Rafael Montero (0-2) vs. RHP A.J. Burnett (3-4)
Saturday: RHP Jacob deGrom (0-2) vs. RHP Kyle Kendrick (1-5)
Sunday: LHP Jonathon Niese (3-3) vs. LHP Cole Hamels (1-3)
Monday: RHP Bartolo Colon (4-5) vs. RHP Roberto Hernandez (2-2)
This is an impromptu five-game game series because the two teams are making up a game that was rained out earlier this season. The Phillies dropped the opener Thursday night and have lost 14 of their past 22 games, putting them in the NL East cellar. With each additional loss, the club moves closer and closer to rebuilding, which means big names on the trade market. The Phillies do need to start over -- the Mets are in the process of doing that right now -- and it would conveniently spice up the trade deadline in a few weeks.
| | | |
| --- | --- | --- |
| | at | |
Colorado Rockies (28-25) at Cleveland Indians (24-30)
Friday: RHP Juan Nicasio (5-2) vs. RHP Corey Kluber (5-3)
Saturday: LHP Franklin Morales (3-4) vs. RHP Trevor Bauer (1-2)
Sunday: RHP Jhoulys Chacin (0-4) vs. RHP Josh Tomlin (3-2)
The Rockies got off to that scorching hot start, winning 22 of their first 36 games, but they've since lost 11 of 17 to fall back in the NL West pack. The Indians have not been good all year, but Kluber is a definite bright spot. The sabermetric crowd loves him because of his sky-high strikeout rate (10.3 K/9) and low walk rate (2.1 BB/9), two traits that have him pitching like an ace right now. He still has a ways to go before joining the truly elite, but make sure you hop on the bandwagon now. It's getting crowded.
| | | |
| --- | --- | --- |
| | at | |
San Diego Padres (24-30) at Chicago White Sox (28-27)
Friday: RHP Ian Kennedy (3-6) vs. LHP John Danks (3-4)
Saturday: RHP Tyson Ross (5-4) vs. RHP Andre Rienzo (4-1)
Sunday: LHP Eric Stults (2-5) vs. LHP Jose Quintana (3-4)
The Padres can't score, Jose Abreu and Andrew Cashner are still on the disabled list, Chris Sale isn't scheduled to pitch ... yikes. Not much to see on Chicago's south side this weekend.
Show Comments
Hide Comments