MLB Weekend Series Rankings: Top spot in NL East up for grabs
The Braves and Nationals headline our rankings of this weekend's series.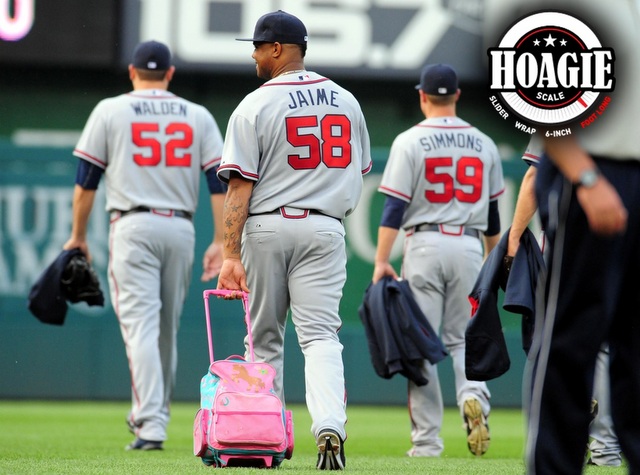 More MLB: Power Rankings | Expert Picks | Latest news & notes | Fantasy news
It's hoagie scale time, so let's check out how hungry we are to consume the 15 weekend series in major-league baseball. The bigger the sandwich, the more juicy the matchup. Let's dig in. Nom, nom, nom!

| | | |
| --- | --- | --- |
| | at | |
Atlanta Braves (37-35) at Washington Nationals (37-34)
Thursday: Braves 3, Nationals 0
Friday: LHP Mike Minor (2-4) vs. RHP Stephen Strasburg (6-5)
Saturday: RHP Julio Teheran (6-4) vs. RHP Doug Fister (5-2)
Sunday: RHP Ervin Santana (5-4) vs. RHP Tanner Roark (6-4)
Man, the Nationals just can't seem to beat the Braves. Thursday night's loss was their 18th in 26 games against Atlanta since the start of last season. That's hard to believe. Then again, Washington seems to have a knack for underperforming. They're doing it again this year after doing it last season.
The good news is that the Nats are currently in first place in the NL East, though only barely. Thursday's loss cut their lead to only a half-game over the Braves, so this weekend could leave them anywhere from 3½ games up to 2½ games back. It's only June, yeah, but these head-to-head games against division rivals are huge. The Nats needs to prove (to themselves, at least) they can beat the Braves while Atlanta simply needs to bank some wins. The pressure isn't on them.
| | | |
| --- | --- | --- |
| | at | |
Boston Red Sox (34-39) at Oakland Athletics (45-28)
Thursday: Athletics 4, Red Sox 2
Friday: LHP Felix Doubront (2-4) vs. LHP Brad Mills (0-0)
Saturday: RHP Rubby De La Rosa (2-2) vs. RHP Jesse Chavez (6-4)
Sunday: LHP Jon Lester (8-7) vs. LHP Tommy Milone (5-3)

Maybe I'm overrating this series because it is the defending World Series champions against the team with the best record in baseball. I mean, the Red Sox have not been very good this season. It seems like every time David Ortiz hits a massively clutch home run (like he did Wednesday), you expect it to be the turning point of their season, but it never is.
The Athletics, on the other hand, have a comfortable six-game lead in the AL West, the biggest division lead in the game. This weekend will be about trying to get Josh Donaldson out of his prolonged slump and seeing what Mills has to offer. Oakland acquired him from the Brewers for a dollar. Literally $1. If he isn't an All-Star for Oakland next season, I'll be stunned. That's just how it goes for the A's.
| | | |
| --- | --- | --- |
| | at | |
Detroit Tigers (37-32) at Cleveland Indians (37-36)
Friday: RHP Rick Porcello (8-4) vs. RHP Corey Kluber (6-4)
Saturday: RHP Justin Verlander (6-7) vs. RHP Trevor Bauer (2-3)
Sunday: RHP Max Scherzer (8-3) vs. RHP Josh Tomlin (4-4)
The Tigers did salvage their series vs. the Royals with a win on Thursday, but they are still in something awfully close to freefall, losing 20 of their past 30 games. Verlander is a mess (7.83 ERA in his past seven starts) and Scherzer hasn't been much better lately (6.86 ERA in his past six starts), so getting those two straightened out has to be the team's top priority. Detroit's going nowhere without them pitching effectively.
While the Tigers have been sliding in the standings, the Indians have been making a slow and steady climb, winning 13 of 19 games. They're suddenly only two games back of Detroit for second place in the AL Central. Yes, the Tigers could be in the third place by the end of the weekend if they don't starting turning things around.

| | | |
| --- | --- | --- |
| | at | |
Pittsburgh Pittsburgh Pirates (35-37) at Chicago Cubs (30-40)
Friday: RHP Charlie Morton (4-7) vs. RHP Edwin Jackson (4-7)
Saturday: RHP Vance Worley (0-0) vs. LHP Travis Wood (7-5)
Sunday: RHP Brandon Cumpton (2-2) vs. RHP Jason Hammel (6-4)

I probably have this series too high, huh? That's alright, these are my rankings and I'm looking forward to seeing Gregory Polanco , Andrew McCutchen , Starlin Castro and Anthony Rizzo (in that order!) on the same field this weekend. The Pirates were winning immediately following Polanco's callup but have hit the skids lately.
| | | |
| --- | --- | --- |
| | at | |
Baltimore Orioles (37-34) at New York Yankees (38-33)
Friday: RHP Ubaldo Jimenez (2-8) vs. RHP Hiroki Kuroda (4-5)
Saturday: LHP Vidal Nuno (1-3) vs. RHP Bud Norris (6-5)
Sunday: RHP Chris Tillman (5-4) vs. RHP Masahiro Tanaka (11-1)

The Yankees took care of business earlier this week by sweeping three games from the first-place Blue Jays to move to within 1½ games of the top spot in the AL East. The Orioles are only a game behind New York, so they'll have a chance to make up some ground this weekend as well. The race for second place isn't as sexy as the race for first, but that doesn't make it any less important.
| | | |
| --- | --- | --- |
| | at | |
Milwaukee Brewers (44-30) at Colorado Rockies (34-38)
Friday: RHP Marco Estrada (5-4) vs. RHP Christian Bergman (0-1)
Saturday: RHP Wily Peralta (7-5) vs. LHP Christian Friedrich (0-0)
Sunday: RHP Kyle Lohse (8-2) vs. LHP Tyler Matzek (1-1)
Oh man, Estrada is starting in this series? He leads baseball with 23 home runs allowed (2.5 HR/9!) and a few innings in Coors Field seem like a very bad idea. Now watch him throw eight shutout innings. Seriously though, the ball is going to fly out of the park this weekend. These are two very capable offenses.

| | | |
| --- | --- | --- |
| | at | |
San Francisco Giants (43-29) at Arizona Diamondbacks (31-45)
Friday: RHP Tim Lincecum (5-4) vs. RHP Josh Collmenter (4-4)
Saturday: RHP Ryan Vogelsong (4-3) vs. RHP Brandon McCarthy (1-9)
Sunday: LHP Madison Bumgarner (8-4) vs. RHP Mike Bolsinger (1-2)

The Giants are slumpin', man. They've lost five straight and eight of their past 10, shrinking their division lead to four games. That's still a good amount, but it was 9½ not too long ago. Will Arizona plunk anyone because for some silly reason this weekend? Probably. Gotta stay relevant somehow.
| | | |
| --- | --- | --- |
| | at | |
Texas Rangers (35-37) at Los Angeles Angels (38-33)
Friday: LHP Joe Saunders (0-2) vs. RHP Garrett Richards (6-2)
Saturday: RHP Nick Martinez (1-4) vs. RHP Jered Weaver (7-4)
Sunday: RHP Yu Darvish (7-3) vs. TBA

It wasn't too long ago that this was a pretty intense rivalry. The Angels were signing players away from the Rangers ( C.J. Wilson and Josh Hamilton , specifically) but Texas just kept beating them. Now the Rangers have a roster of injury replacement players and the Halos are clinging to hopes of contention despite a flurry of blown saves.
| | | |
| --- | --- | --- |
| | at | |
Seattle Mariners (37-36) at Kansas City Royals (39-33)
Friday: RHP Hisashi Iwakuma (5-3) vs. RHP James Shields (8-3)
Saturday: RHP Chris Young (6-4) vs. LHP Jason Vargas (7-2)
Sunday: LHP Roenis Elias (6-5) vs. RHP Yordano Ventura (5-5)
Kansas City's 10-game winning streak ended Thursday, otherwise I would have had this higher in the rankings. Winning streaks that long are pretty cool. Both teams are vying for playoff position -- the Mariners as a wild-card club and the Royals as the AL Central champ. Iwakuma vs. Shields will be a fun old-school pitching showdown while Elias vs. Ventura features two rookies having strong first full seasons in the show.
| | | |
| --- | --- | --- |
| | at | |
Toronto Blue Jays (41-33) at Cincinnati Reds (35-36)
Friday: RHP Liam Hendriks (1-0) vs. RHP Mat Latos (0-0)
Saturday: LHP J.A. Happ (6-3) vs. RHP Mike Leake (4-6)
Sunday: RHP R.A. Dickey (6-5) vs. RHP Johnny Cueto (6-5)
This series gives us three of the very best hitters in baseball in Jose Bautista , Edwin Encarnacion and Joey Votto , all in one park. They aren't just meathead sluggers who swing from the heels. They're all highly intelligent hitters who know the strike zone and work an at-bat as well as anyone. They're hitting marvels.
| | | |
| --- | --- | --- |
| | at | |
Philadelphia Phillies (33-38) at St. Louis Cardinals (39-34)
Thursday: Phillies, 4, Cardinals 1
Friday: RHP A.J. Burnett (4-6) vs. LHP Jaime Garcia (3-0)
Saturday: LHP Cole Hamels (2-3) vs. RHP Adam Wainwright (9-3)
Sunday: RHP Kyle Kendrick (3-6) vs. RHP Carlos Martinez (0-3)
This series is all about the health of Wainwright, who missed his last start with a minor elbow issue. Of course, it's not really minor when you're talking about your ace's pitching elbow. The Cardinals do have a ton of pitching depth but no team can replace someone of Wainwright's caliber. If he looks strong Saturday, great. If not, there will be some understandable concern.
| | | |
| --- | --- | --- |
| | at | |
Los Angeles Dodgers (40-34) at San Diego Padres (31-42)
Friday: RHP Dan Haren (7-4) vs. RHP Ian Kennedy (5-8)
Saturday: RHP Josh Beckett (4-4) vs. RHP Tyson Ross (6-6)
Sunday: LHP Hyun-Jin Ryu (8-3) vs. LHP Eric Stults (2-9)
I decided not to rank this in the lower tier for two reasons. One, there is always a chance of a no-hitter whenever the Padres play at home in Petco Park. This club simply can't generate any offense. Two, there were some fireworks between the Dodgers and Kennedy last season while he was with the D-Backs. He threw at Zack Greinke up around his head, remember. Will that carry over? Always a possibility.

| | | |
| --- | --- | --- |
| | at | |
Houston Astros (32-42) at Tampa Bay Rays (29-45)
Thursday: Rays 5, Astros 0
Friday: RHP Jarred Cosart (6-5) vs. LHP David Price (5-6)
Saturday: RHP Brad Peacock (2-4) vs. RHP Jake Odorizzi (2-7)
Sunday: LHP Dallas Keuchel (8-4) vs. LHP Erik Bedard (3-5)
The Astros have cooled down following their recent hot streak, so this is now a battle for the first overall pick in the 2015 amateur draft. The Rays are currently have a one-win edge (on the Cubs) in that race.
| | | |
| --- | --- | --- |
| | at | |
New York Mets (33-40) at Miami Marlins (36-36)
Thursday: Mets 1, Marlins 0
Friday: RHP Daisuke Matsuzaka (3-0) vs. RHP Henderson Alvarez (3-3)
Saturday: RHP Jacob deGrom (0-4) vs. RHP Tom Koehler (5-5)
Sunday: LHP Jonathon Niese (3-4) vs. RHP Anthony DeSclafani (1-1)
This series can be summed up with one tweet:
Matt Harvey

made a beeline for

Jose Fernandez

during BP in Miami. They appeared to be comparing elbow scars. — Andy Martino (@MartinoNYDN) June 19, 2014
Saddest tweet ever.
| | | |
| --- | --- | --- |
| | at | |
Chicago White Sox (35-38) at Minnesota Twins (33-38)
Thursday: Twins 4, White Sox 2
Friday: RHP Hector Noesi (2-5) vs. RHP Ricky Nolasco (4-5)
Saturday: RHP Andre Rienzo (4-4) vs. RHP Kevin Correia (3-8)
Sunday: LHP John Danks (6-5) vs. RHP Phil Hughes (7-3)
The AL Central clubs are starting to fall into place and these two are at the bottom. Can't say that's surprising. No Chris Sale this weekend? Blah.
Show Comments
Hide Comments