Mookie Wilson: 'I have become a hood ornament for the Mets'
In his upcoming autobiography, former Mets outfielder Mookie Wilson says he has been stripped of his responsibility within the organization.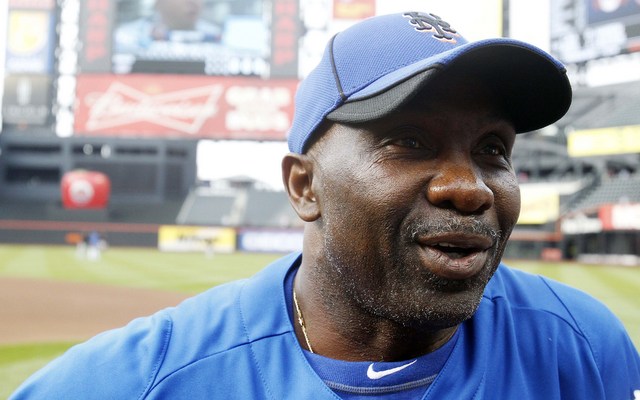 More MLB: Power Rankings | Expert Picks | Latest news & notes | Fantasy news
Former Mets outfielder outfielder Mookie Wilson will always be remembered as the player who hit the ground ball that scooted through Bill Buckner's legs during the 1986 World Series. He was also the franchise's all-time stolen base king until Jose Reyes broke his record a few years ago.
These days Wilson serves as a club ambassador and spring training instructor, but in his soon to be released autobiography, he says he has been stripped of all responsibilities and is owed an explanation for being removed from the coaching staff following the 2011 season. The Mets replaced Wilson as first base coach as part of a coaching staff shakeup.
Here is an excerpt from Wilson's book Mookie: Life, Baseball and the '86 Mets, courtesy of the New York Post's Mike Puma:
"It's sad to admit this, but I have basically become a hood ornament for the Mets. I have no decision-making role at all in my job description. I would have liked an explanation as to why I was moved from first base coach to the ambassadorship, but none was ever given.

"I feel that I deserve to hear just some words to justify the actions of an organization that I have honored and promoted every day of my nearly thirty-year existence in it."

"I understand that jobs come and go in the baseball business, but sometimes management loses sight of how these moves play with people's lives. When you have no stability and don't know what you're doing from one year to the next, it's very difficult to do anything. One year you're making $100,000, the next year just $40,000. Where's the reasoning? How can people live under those circumstances?

"For as difficult as it is, I don't think it really bothers team management, and that troubles me. I don't care about not having a job. If they fire me because they have a better replacement, that's fine. But when no information is given as to why a move is made, it's much worse than getting an explanation I might disagree with. They just dictated my career as a player and a coach and it wasn't right."
The Mets were aware of the book and issued the following statement after Puma approached them about Wilson's comments:
"We are pleased that Mookie accepted our offer to rejoin the organization in 2012 and continue with us in spring training and during the season as a roving instructor and Club Ambassador."
Wilson was in camp with the team as a spring training instructor this year and in fact he still draws a paycheck from the team. He writes that manager Terry Collins told him his firing after 2011 was not the manager's decision. The team had just completed its first season under Collins and GM Sandy Alderson, and Collins originally picked Wilson for his coaching staff.
For what it's worth, Wilson is not concerned about making these comments in the book despite still having a relationship with the team.
"I figured it wasn't that flattering, but I don't think the language was that strong," Wilson told The Post. "I didn't want to do something and write something that is not truthful. I'm trying to be honest with myself and my situation."
Wilson's autobiography will be released on Tuesday.
Show Comments
Hide Comments