Most important players for the second half in each division
With the playoff races set to heat up in the second half, here are the most important players in each division, relative to their team's postseason chances.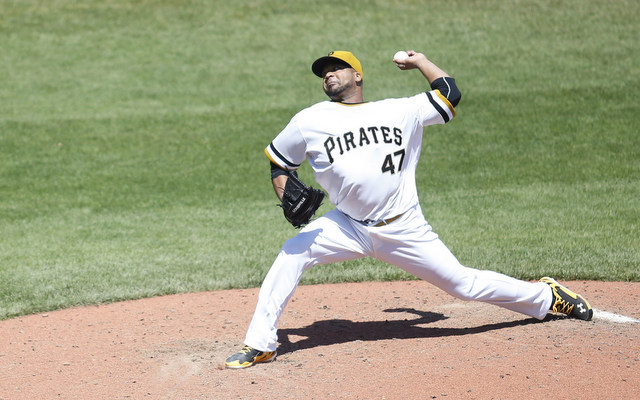 More MLB: Power Rankings | Expert Picks | Latest news & notes | Fantasy news
With the playoff races set to heat up in the second half, some players will inevitably play bigger roles in who does and does not get to play in October. Here, in my totally subjective opinion, are the most important players in each division with regards to those races for postseason spots.
AL East: C Brian McCann, Yankees
Coming into Monday, McCann was hitting a weak .224/.283/.372 (81 OPS+) with 10 home runs in 78 games. The power production is fine, but if the Yankees wanted a sound defensive catcher with a .283 OBP and an 81 OPS+, they could have simply played a youngster like Francisco Cervelli or John Ryan Murphy rather than sink five years and $85 million into McCann. Carlos Beltran (elbow, knee) is banged up and relegated to DH duty, but McCann is perfectly healthy. Getting him back to being the Brian McCann of old (116 OPS+ in 2013) will help the team's beleaguered offense more than any realistic trade pickup. The Yankees are currently 3.5 games back of both the top spot in the AL East and the second wild-card.
NL East: OF Bryce Harper, Nationals
A torn thumb ligament limited Harper to only 28 of Washington's first 87 games. They went 48-39 in those 87 games and currently sit a half-game back of the Braves in the division race. Harper hasn't hit a whole lot even when healthy -- .269/.333/.385 (99 OPS+) with one home run -- but this is a guy kid who managed a .274/.368/.486 (133 OPS+) batting line with 20 homers on a hobbled knee as a 20-year-old last summer. Getting that guy back into the lineup in the second half would be a huge upgrade for the Nats and potentially put them over the top in their battle with Atlanta.
AL Central: 1B Eric Hosmer, Royals
Hosmer was better than I realized last season: .302/.353/.448 (119 OPS+) with 34 doubles and 17 home runs. I knew he was good, just not that good. Considering he was only 23 and in his second full season as a big leaguer, that's pretty darn impressive. This season has been much worse, however. Hosmer is hitting a soft .254/.299/.349 (79 OPS+) with four homers through the team's first 87 games. He has hit 22 doubles, but the over-the-fence power and on-base ability just isn't there. With both Mike Moustakas and Billy Butler getting their seasons back on track in recent weeks, Kansas City now needs Hosmer to return to being an effective three-hole hitter to boost their lineup. The Royals are four games back of the Tigers in the AL Central but only 2.5 games back of the second wild-card spot.
NL Central: LHP Francisco Liriano, Pirates
Last season, the Pirates had the fifth lowest rotation ERA (3.50) in baseball. This season it's a 3.92 ERA that ranks 17th among MLB rotations. Gerrit Cole has been dealing with shoulder and lat problems, Wandy Rodriguez has already been released, and Charlie Morton has battled inconsistency. Liriano was a borderline ace (3.02 ERA) a year ago, but this season he pitched to a 4.60 ERA in 14 starts before an oblique injury sent him to the disabled list. If you're a believer in sabermetrics, the biggest upgrade the Pirates could make in the second half is getting Liriano back and pitching closer to his 3.49 xFIP rather than his 4.60 ERA. Pittsburgh has climbed to within 4.5 games of the top spot in the NL Central and only 1.5 games back of the second wild-card.
AL West: DH Corey Hart, Mariners
The Mariners have been one of the hottest team in baseball these last few weeks, and they currently hold a wild-card position despite sitting seven games back of Athletics in the AL West. Robinson Cano and Kyle Seager (both 135 OPS+) have been outstanding in the middle of the lineup, but the club sorely lacks a right-handed complement. Hart was expected to be that guy, but he is hitting only .208/.292/.342 (81 OPS+) with five home runs in 40 games around a hamstring injury. Seattle as a team is hitting only .246/.295/.348 (81 OPS+) against left-handers, which is kind of a big deal in a division with C.J. Wilson, Scott Kazmir, Dallas Keuchel, Tyler Skaggs, and eventually Derek Holland. Getting Hart back to his 2012 form (120 OPS+, hurt all of 2013) will help balance the lineup out in a big way.
NL West: RHP Matt Cain, Giants
Last week I wrote about Cain's importance to the Giants and nothing's changed. The Giants play in a pitcher's park in a pitcher's division, and now right their collective staff is merely good and not great. Cain's general mediocrity (4.27 ERA) has been a problem dating back to last season. There's nothing they can do about 2013 now though. San Francisco already blew their comfy 9.5-game division lead -- they came into Monday a half-game back of the Dodgers in the NL West -- and they're not going to get it back without Cain pitching like a top of the rotation starter.
Show Comments
Hide Comments