My pick: Bryce Harper to become youngest MVP of all-time
If Bryce Harper wins the NL MVP this season, he'll become the youngest MVP in MLB history. He's my pick.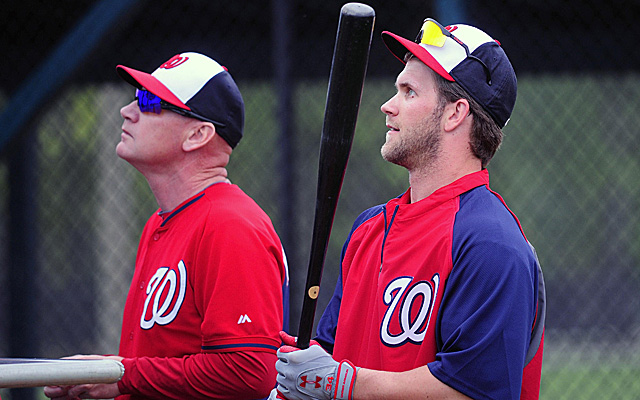 MORE: Predictions | Spring Training | Scoreboard | Team previews
Bryce Harper is my pick for National League MVP this season, and when he wins it -- hey, I've gotta exude confidence, don't I? -- he'll be the youngest player ever to win the MVP in either league. Harper won't even turn 22 until the regular season is concluded, meaning he'd break the record of Vida Blue, who won the MVP in 1971, a season in which he turned 22 years old.
So why am I picking Harper?
Well, it's obviously because the Nationals and Harper are media darlings every single season and we just haven't learned our lesson, right? The Nationals always disappoint and Harper hasn't come close to living up to his immense hype!
That's what I hear over email, on Twitter and in our comments section from many non-Nationals fans.
My response? Please.
This line of thinking is pure hilarity and we just keep seeing it. Nevermind that the Nationals were picked by pretty much everyone to finish anywhere from third to fifth just two years ago and won 98 games, the most in the majors. Nevermind that they had the best record in baseball in the last six weeks last season and appear better this year -- with the added bonus that the Braves' starting rotation is in shambles and the other three teams are still far inferior to Washington.
And when the Nationals do win the NL East, it'll be behind the phenom Harper.
Again, when I see the obvious hatred toward Harper it's rather funny. He's still only 21. Andrew McCutchen, last year's NL MVP, didn't even get to the majors until he was 22. Buster Posey, the 2012 MVP, got 17 plate appearances in his debut season at age 22. The 2011 MVP was Ryan Braun, who didn't get to the majors until he was in his age-23 season.
Harper, meanwhile, already has 1,094 plate appearances under his belt and he won't even be 22 until next season. He's hit .272/.353/.481 (125 OPS+), which is outstanding considering most guys his age are either in college or the lower levels of the minors. It's even better considering most of baseball's biggest stars were still in the minors at his age.
He's already the second player in MLB history to hit 20 homers in a season twice before he turned 21. He had the best age-19 season in MLB history when he won Rookie of the Year.
Now he's going to become the youngest MVP ever.
What gets lost in the shuffle in all the back-and-forth between Harper's hype and pushback is Harper crashing into the wall at Turner Field last season April 29. He later did the same thing in Dodger Stadium and that's what everyone remembers, but his initial crash could have derailed an MVP last year. He wasn't 100 percent, physically, the rest of the season.
Harper was hitting .356/.437/.744 with 6 doubles, 1 triple, 9 homers, 18 RBI, 18 runs, 13 walks and 15 strikeouts in 25 games before he nailed that wall in Atlanta.
Now, I'm not dumb enough to think he'd keep that line up, but on the flip-side, should we all assume his season would have turned out just as it did had he been able to avoid the two run-ins with the outfield walls? We can't prove either side, but it's pretty easy to see that being 100 percent healthy would be better than dealing with lingering injuries.
Further, Harper might not be as all-around talented as Mike Trout, but he's probably the only player in baseball who could at least present a challenge.
If he can keep himself away from those walls -- and, yes, I realize he's such a competitor that's a big "if" -- Harper has the potential to hit 35 homers while stealing 25 bases. He can approach 100 in both RBI and runs while hitting close to .300 with a very good on-base percentage (around .400, perhaps?). He has an outstanding arm from the outfield, as only four players had more outfield assists last season -- and Harper only played 122 games, by the way. If he can stay on the field, it's not out of the question that he'd lead the majors in outfield assists this time around.
I don't even think any of Harper's legions of detractors could say that paragraph above contains anything that is unattainable for him this season. If he does all that and the Nationals win the terrible NL East -- which I fully expect -- he'll become the youngest MVP of all-time.
And even then, it'll just be due to all the media hype and not because this guy is a special talent who deserves to be celebrated.
Right?
Show Comments
Hide Comments