Nationals, Braves have more wins at Citi Field in second half than the Mets
The Mets have won only four home games since the All-Star break. That's as many as the Rockies have won at Citi Field in the second half and fewer than either the Nationals or Braves.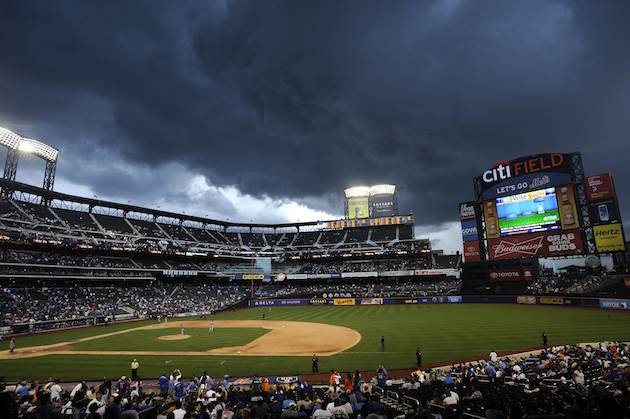 A literal black cloud hangs over Citi Field, as well as the figurative one that has been there since the All-Star break. (AP)
Sometimes you see a statistic and you're sure it's right, but you just have trouble believing it. That happened to me this morning as I was reading the always enlightening UniWatch Blog. From the news ticker section, was a link to a tweet from ESPN on Wednesday:
Per ELIAS: Most wins at Citi Field since All-Star Break-- Nationals 6, Braves 5, Rockies 4, Mets 4

— ESPN Stats & Info (@ESPNStatsInfo) September 13, 2012
Now, there's no way in heck I'm going to doubt the fine folks at Elias Sports Bureau, but I still wanted to see for myself.
Here are the games the Mets have won at home since the All-Star break:
Aug. 9, 6-1 vs. Marlins
Aug. 12, 6-5 vs. Braves
Aug. 25, 3-1 vs. Astros
Aug. 26, 2-1 vs. Astros
The Nationals' six wins at Citi Field since the break:
July 23, 8-2
July 24, 5-2
July 25, 5-2
Sept. 10, 5-1
Sept. 11, 5-3
Sept. 12, 2-0
The Braves have five wins at Citi Field in the second half:
Aug. 10, 4-0
Aug. 11, 9-3
Sept. 7, 3-0
Sept. 8, 11-3
Sept. 9, 3-2
Colorado swept its four-game series at Citi Field, Aug. 20-23.
Overall this season, the Mets are 30-41 at home and 4-21 at home since the break (meaning they were 26-20 at home at the break). The Mets are 15-17 on the road since the All-Star Game. They've been swept in six-game homestands twice during this stretch and lost five in a row to start a seven-game homestand last month.
No wonder current Nationals and former Mets manager Davey Johnson told 106.7 The Fan (via CBSNewYork.com) that "Citi Field is like a morgue here."
New York gets a break from its home field blues to go to Milwaukee for three games starting Friday and then returns home for a season-ending 10-game homestand against the Phillies, Marlins and Pirates.
For more baseball news, rumors and analysis, follow @EyeOnBaseball on Twitter, subscribe to the RSS feed and "like" us on Facebook.
Show Comments
Hide Comments